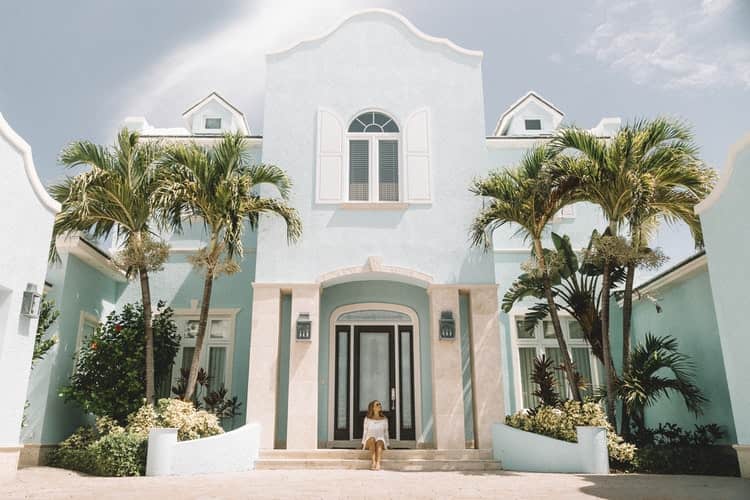 Though most people tend to focus on their living rooms, bathrooms and kitchens when renovating their homes, the truth is that there's another space that requires just as much attention – the entryway. This is literally the first area your guests see when they enter your home, and it's vital for making a great first impression. That's why you too need to focus on the entryway and spice it up as much as you can, and if you don't know how to do so, here are five ideas that might help.
Work Your Magic
The biggest problem with entryways is that most homes don't actually have one – they're so small that you go from the front door straight into the living room! If that's the case, you have to think outside the box and create an illusion of an entryway that's going to fit even the smallest space.
The absolutely best way to do that is by using furniture to create a small pathway leading your guests into the living room, and this is where a huge sofa or sectional can do wonders. Also, you can try adding a small table by your door and thus give yourself only an illusion of an entryway, but also a space for hanging your keys and putting down the mail.
Focus on the Light
No matter how big your entryway is, it has to be illuminated properly, and the only way to do so is by bringing in enough natural light. Try maximizing it with a bigger front door or by installing a fiberglass door that's going to let lots of light into your home.
If you notice this is just not enough, don't worry – there's another idea you could try. Installing a huge chandelier in your entryway isn't everyone's cup of tea, but just imagine how much light you'll have with it! And if you opt for LED light bulbs instead of your regular incandescent ones, your chandelier will actually become sustainable and energy-efficient, and that's something we all need.
Lead the Way in
Contrary to popular belief, a great entryway doesn't start at the front door, but actually in the space before it, which is why you have to pay attention to the exterior of your home as well. Create the greatest entrance ever by fixing the deck and making sure it's as inviting and spotless as possible, because that's the only way to prepare your guests for approaching the entryway inside.
You should also invest in the stone paving leading up to that front door – and make sure it matches the exteriors well, so as to invoke the very best atmosphere as soon as someone sets foot on your lawn.
Decorate it with Pictures
Just because it'stiny, it doesn't mean your entrywaydoesn't deserve some love. And the best way to show how much this space means to you is by decorating it properly. Focus on the walls first – tear down the wallpaper, fix the holes and treat it with a new coat of paint – and then think about the décor.
Creating a family gallery is one of the most special and unique ideas you could implement in your entryway. Get a bunch of old photos framed, hang them on the walls and share your family history with your visitors. Make some new photos as well and mix them with the oldones, and you'll create a one-of-a-kind private gallery all members of your family will just love.
Declutter the Space
Entryways are usually quite small and it's easy to fill them with useless clutter that shouldn't really be there at all. However, if you manage to remove what you don't need and organize what you do in a fashionable style, you'll do wonders for your entryway in a matter of minutes.
Incorporating a small bench with additional storage space into the picture is probably the most practical and efficient way to solve all of your problems and make sure you never lack space in your entryway again. These benches shouldn't be too expensive, but you can always make one of your own and thus get a completely personalized piece of furniture that's visually attractive and multifunctional. Moreover, you'll use every inch of free space you have and give your entryway the bench it deserves.
Defining the entryway and turning it into the most appealing part of your home isn't as hard as it seems – all you need are a couple of great ideas, some free time and a vision of a grand entryway your family home deserves. So, explore these projects, find a way to adapt them to your own style and you'll enjoy your new entryway sooner than you thought.