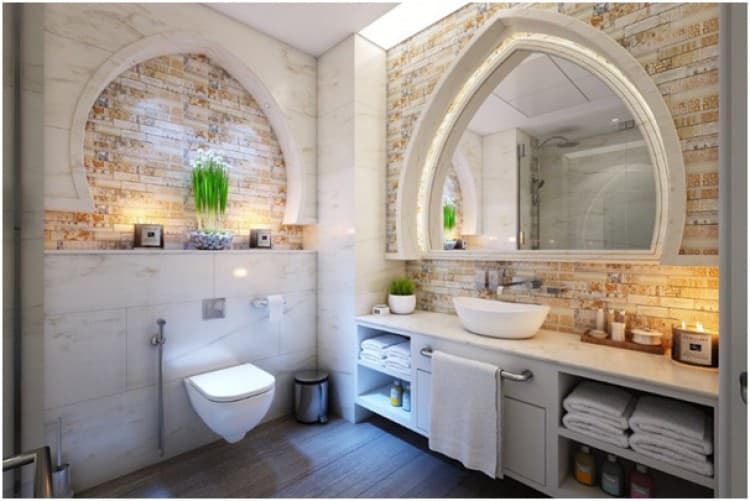 Bathrooms are next to kitchens when it comes to being the best selling point in homes. These areas are an essential part of a house, all the more if you're planning to sell it because it's where homeowners can relax and do their hygiene activities after a long day.
Updating your bathroom is one of the best ways to boost your property's value, as well as hook the interests of buyers. Buyers always closely look at the bathroom when they're touring homes for sale. Thus, making your bathroom look and feel good must be a priority.
To see the best return on investment from your time and money, here's a list of helpful tips you should keep in mind when renovating your bathroom.
Evaluate Your Current Bathroom Space
The first step to renovating your bathroom is to create a renovation plan and set a budget. It doesn't matter if your bathroom only needed a minor fix up or a gut renovation, it's vital to document your ideas so that you don't lose track of everything.
Also, making a list of wants for beautifying your bathroom like flooring, fixtures, cabinet door knobs, finishes, and other accessories will help you keep organized. This way, you'll be able to take your time and browse for the design you want and where to purchase the materials needed.
Further, evaluating your current bathroom will help you figure out which areas of the bathroom you'll need fixing or upgrading. You'll be able to lay everything out before starting the actual project. Thus, you can avoid decluttering unnecessary things that didn't need to be decluttered.
Seek the Help of a Professional Contractor or Designer
As much as you'd like to do the remodelling by yourself to save money, you still have to consult a professional designer or contractor for tasks such as electrical wiring and plumbing. Consulting professionals will also help make your job easier as well as more reliable as they'll provide you with appropriate guidance on where to splurge, and where to save.
Additionally, spending extra for guidance from a reliable expert will benefit you in the long run. If you're strict on following you're set budget and looking for home renovations company near you, you could contact home improvements melbourne who's most willing to help with your needs.
Consider Using a Neutral Colour Palette
Before presenting the entire house, you have to know that not everyone likes the same colour and patterns. Additionally, you should use removable decorative items like fabrics, towels, rugs, and other accessories.
For permanent fixtures, use a neutral color palette like light yellows, neutral tans or bright green applies because it's closely related to nature, and could make us feel relaxed and calm. You also have to keep in mind that there are neutral versions of colors in the color spectrum.
By adding white or grey in saturation, you can create a neutral version for any color.
Secure an Ideal Lighting for Your Bathroom
Similar to the lighting for outdoors, having proper indoor lighting can greatly affect the space of your bathroom. Homeowners will keep a keen eye on the lighting of the bathroom as it's where they'll relax, bathe, refresh, groom, and end their day. You could also reduce glare and shadows around the vanity by adding more lighting options.
Further, lighting options such as pendant lighting, overhead ambient lighting fixtures, and lighting sconces will provide plenty of varieties of light for the bathroom vanity set with lights. You should also look for accessories that will look appropriate for the decor of the bathroom, which will beautify the room even more.
Include Eco-friendly Upgrades to the Bathroom
You can help buyers by choosing eco-friendly options for the bathroom, and their goal is to save money in the long run. Thus, by using eco-friendly upgrades, they could save energy. Before renovating, consult your contractor to consider using eco-friendly materials such as concrete to replace the flooring.
Further, using pressure treated forestry certified wood for your shelves and countertops can provide moisture in the bathroom. You could also replace your plumbing fixtures with water-efficient ones, and bathroom windows that are new energy efficient.
Give Your Bathroom a Luxurious Vibe
Luxury details such as hand showers, spa jets in bathtubs, and quality robe hooks will significantly increase the value of your house. You don't have to spend a fortune to get them, but if your budget allows it then paying a bit more for high-quality accessories is worth the cost.
Additionally, you could also add in radiant heat floor mats and heater exhaust fans to catch their interest.
Takeaway
Before buyers make a decision, they will always look at the entirety of the property. But, one of the rooms that they'll closely inspect is the bathroom and its design. You also have to keep in mind the purpose of the renovation before stuffing the bathroom with upgrades.
Consequently, following these helpful tips to renovate the best bathroom to boost house sale should help you seal the deal in an instant.