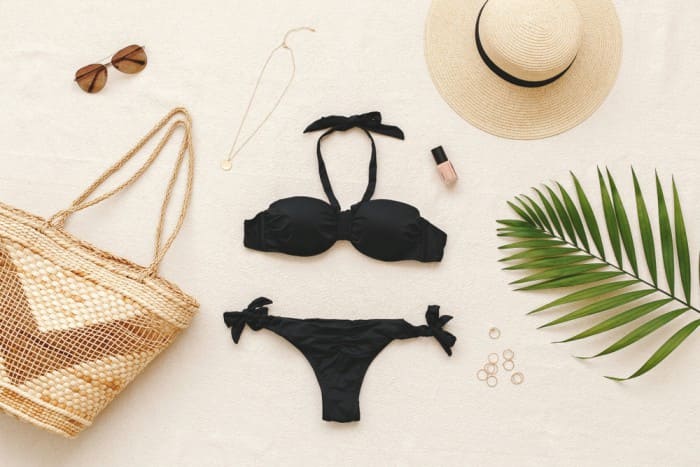 Whether you're planning a vacation in the tropics or simply heading down to a neighborhood pool or a nearby lake or beach, you're going to need a few essentials (and some nifty extras) for the perfect day under the sun. Here's some of the things you should make some space for in your beach bag.
A High-SPF, Broad Spectrum Sunscreen
It's been said a million times before, yet it still bears repeating — wear your sunscreen! The harsh rays of the sun can do a lot of bad, bad things to your skin, from sunburn to cancer. Choose a broad spectrum sunscreen with an SPF of at least 30 to block at least 97 percent of UVB rays. Remember to apply 15 to 20 minutes before you go into the water to let the product seep in properly, and then reapply after swimming or heavy sweating.
If you don't like the feeling of lotion-type sunscreens, there are a lot of spray-on options available. There are also products that are applied exclusively to the face, and sunscreen sticks for spot application for areas like your nose or under your eyes. Finally, you should also bring use high-SPF lip balm to protect the much more sensitive skin on your lips.
UV Sunglasses
Some sunglasses may be stylish indeed, but offer little in the way of UV protection. Invest in a pair of polarized lenses that block 100 percent of UV rays and absorb at least 50 percent of HEV rays. Your optometrist can help you find the perfect pair of sunnies to protect your eyes against the sun.
A Super Absorbent Beach Towel
To save some space in your beach bag, get a microfiber towel instead of the usual oversized ones. Microfiber towels are as soft as these regular towels (maybe even softer), and they're also super absorbent despite being smaller and thinner. In fact, you can use a 16" x 24" microfiber towel to dry off both your skin and hair!
A Beach Hat and Hair Oil
Some people focus too much on their skin that they forget to protect their head and hair, too. If you're not going in the water just yet, wear a beach hat to protect your scalp from the sun. A wide-brimmed hat will also give your face and neck some added protection from the sun. In addition, if you're at a place with a scarcity of big umbrellas or canopies, then a beach hat is a lifesaver. It will also help reduce the occurrence of heat-induced headaches.
At the same time, your hair also suffers damage from the sun, heat and saltwater, so it's a good idea to apply a hair oil specifically formulated to protect your locks from UV rays. Like sunscreen, make sure to re-apply the product after you get out of the water, since it will definitely be washed away after swimming.
Sand Coasters
One downside about staying by the beach is that it's a little difficult to find some place to put down your drinks or snacks. A sand coaster is basically a cup holder with little feet, so you can stick it in the sand. Bring a set of four — you never know who may need one or if you will need more. 
A Large Water Bottle
Speaking of drinks: spending hours in the beach can be fun, but it can also be tiring. The blazing heat can also dehydrate you. Don't forget to drink lots of water to cool down and rehydrate. Bring a large bottle so you don't have to refill too often. It's not only practical, but environmentally friendly, too!
There are thermos-type water bottles that can keep your water cold for about 6 to 8 hours. If you're not picky and you simply want to be able to drink water when you want or need to, then the standard BPA-free bottles will definitely do the job well enough.
Waterproof Phone Pouches + Portable Charger
It's nice to be able to take photos while enjoying your time on the beach to share with your family and friends. It's also a good way to refresh and revisit these happy memories. However, the sun, sand, and saltwater can damage your phone in some way — invest on waterproof pouches to give your phone some protection against the elements.
You should also consider bringing along a power bank, not only to be able to take more photos or perhaps blast some music from your phone, but to also keep yourself reachable in case of emergency.
Finally, you should also invest on a sturdy bag to hold all of these items, as well as pouch or a small bag to keep your valuables like your money and keys separate from the rest of your things.
Are you ready for a summer adventure? What are your beach bag must-haves?