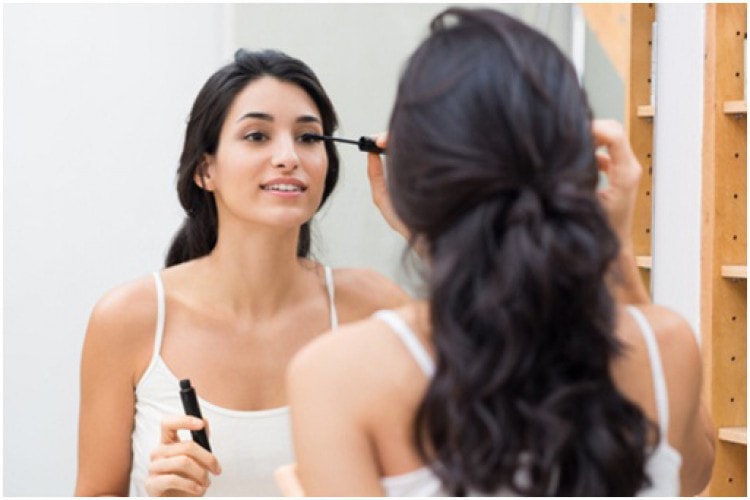 Doing makeup is fun, you can create different looks and enhance your beauty with it. But there are times when you need to do the perfect makeup in one go and in a very short time, that is the time when you need to know some of the beauty hacks that can save you from such stressful situations. So, without worrying about the time constraint to do makeup, let's get into the article to know some amazing makeup hacks. Have a look!
Easy Makeup Hacks
Get the Perfect Winged Eyeliner In One Go
 To get the perfect winged eyeliner in one go is very difficult but now you can do it with a very simple makeup hack, in which all you need to use is a bobby pin and the eyeliner you regularly use.
Steps to Follow 
Apply the eyeliner on the front side of the bobby pin that makes a V shape
Make sure the consistency of the eyeliner is liquidy or creamy otherwise it won't show up on the eyes and will get dried on the bobby pin only
Take that bobby pin and apply the V-shaped eyeliner stamp at the outer corner of your eye
Now as you have got the perfect wing, you can now complete the eyeliner look by giving a final touch.
Make Your Lipstick Last All Day Long
Beautiful colour pop on the lips look extremely gorgeous and accentuates the overall look, but keeping it on the lips all day long requires to do touch up numerous times. But to help you, there is a makeup hack for this problem too:
Steps to Follow
Apply the lipstick as usual
Grab a thin tissue paper, translucent powder and a fluffy brush
Place the tissue paper on the lips and dab translucent powder on it with the help of a fluffy brush to make the lipstick last all day long.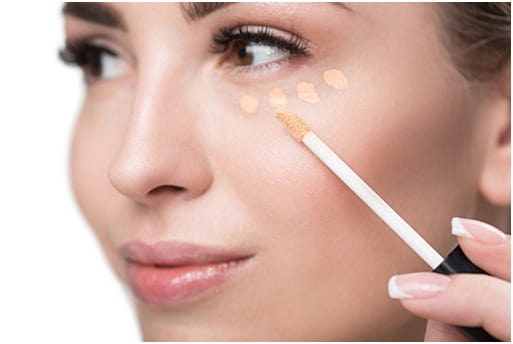 Also Read- 5 Best Eyeliner for Contact Lens Wearers
Conceal Under Eyes In Triangle
One makeup solution to hide those dark circles and puffiness under eyes is using a concealer. But most of us often make a big mistake of applying concealer in a wrong manner. We usually apply it dot wise or in a semi-circular shape, instead, we should apply concealer in a triangular shape.
Applying concealer in a triangular shape makes the under eye look very brightening as doing so flattens the area directly under the eye.
Use white Eyeliner To Make Your Eyes Look Beautiful And Brighter
Going sleepless all night or a hangover can make you look tired and fussy, but you can look fresh the very next day by applying white eyeliner on your lower waterline, it will help to make your eyes look brighter and bigger.
Make Your Lips Look Fuller
As fuller lips are in trend nowadays, so it is better to go for a makeup hack rather than going for lip injections. To get fuller lips you can draw an X shape on the cupid's bow with a shade lighter than your lipstick colour. Doing so will help to create an illusion of fuller lips because the upper lip will look brighter due to the usage of the lighter shade on cupid's bow.
Hashtag Smokey Eye
If you face problem to create a smokey eye look or you are short on time, you can simply draw a hashtag on the crease of your eyelid and smudge it with the help of an eye shadow blending brush.
Use a pencil to contour
Chiselled face shape and edgy jawline is something that everyone desires about, but getting it in a short period of time is impossible because for that you need to do exercise that will show the results in 15-20 days. But with a common makeup hack, you can fake a chiselled face and edgy jawline. All you need to do is contouring and for perfect and easy contouring, you can use a pencil. Just place the pencil under your cheekbones and apply the brown contour aligning it to the pencil.
Fork For Nose Contouring
Contouring your nose gives an extra edge to the overall look. To contour your nose with the help of a fork, you need to put the backside of the fork on the nose and using a brown shade from the contour palette smudge it in the sideline gap of the fork and in the centre gap you can use light coloured contour shade to highlight the bridge of your nose properly.
9. No More Lipstick on The Teeth
If you want to get rid of those embarrassing moments where you smile and there is a lipstick mark on your teeth, then here is a very simple hack for you, just insert the finger in your mouth, close your lips and then pull out the finger. This way the lipstick marks will get on the finger and not on the teeth.
So, these were the 9 makeup hacks that every girl needs to know.