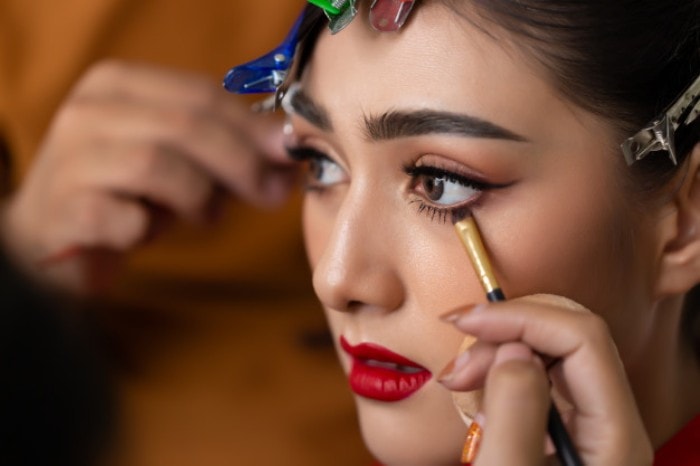 If you feel reluctant to wear a pair of glasses; A contact lens is the best choice for you. Despite bringing users a lot of benefits, wearing a contact lenses gives us several difficulties in putting the eye makeup on, especially in selecting gel eyeliners. This article introduces you tips on how to make up for wearing contact lens and the 5 best eyeliners for contact lens wearers.
Makeup Tips When Wearing Contact Lenses
It's time to say goodbye to the short-sighted glasses. Instead, with contact lenses, you can comfortably show off your sparkling eyes and curling eyelashes. It is certain that this wonderful makeup will make a great impression on other people. Nevertheless, it is not easy to wear eye makeup with contact lenses. Please refer to the tips below for beautiful makeup if you tend to use contact lenses.
Before starting your makeup, you should wash your hands and face thoroughly. If your hands are covered in dirt, your eyes will be uncomfortable and even seriously infectious. The removal of dirt on the hands and face is very necessary, especially when you have quite sensitive eyes.
The next step is to insert the contact lenses into the eyes. Therefore, you will not blur the makeup. Moreover, when you see everything clearly, your makeup will be covered more easily.
It is best to choose oil-free, irritation-free and easy-to-clean products. Then, you apply moisturizer on the face but you should avoid putting it around the eyes. It is because that moisturizer will damage the makeup or stain the glasses.
For the selection of foundation, you should choose the foundation including lightweight ingredients such as water foundation because it does not make the contact lenses dirty.
Keep in mind that you need to powder carefully, keep the eyes close to prevent powder from falling into the eyes or the glass. In addition, it is advisable not to put too much powder around the eyes. Applying a thin layer is good enough.
When wearing contact lenses, you are advised to choose a compressed, liquid or cream eye colors. Color powder can easily drop into the eyes, causing itching and discomfort. However, in case you use soft powder, you need to mix it with a little water before applying it to the eyes with a cotton swab.
Instead of using thickening mascara containing synthetic fiber,you can choose the clear mascara that does not cause irritation; then brush eyelashes carefully. You should not keep the mascara too close to the root of the eyelashes. Lightweight waterproof eyeliners are better than water-based types. To prevent pigments from sticking to contact lens that may cause irritation, you never put the eyeliner inside the eyelids.
If you want to use a hairspray, you should do that before wearing contact lens. In case you already have contact lens on, it is necessary for you to close your eyes and wait a few seconds to open your eyes.
Before going to bed, you must take off the lenses and remove the makeup with cleansing lotion and cotton swab. Besides, it is important to make sure that your hands are clean and dry when you remove the glasses. Besides, contact lenses are not allowed to be exposed to nail polish, nail remover, duo eyelash adhesive or perfume. Otherwise, the glass material will be damaged.
Before wearing contact lenses, you should keep in mind these simple and practical tips so that you will not cause eye irritation, infection or lens damage. Please carefully protect your contact lens and make up your eyes in the most impressive way so that you get an opportunity to own luminous eyes.
The 5 Best Eyeliner for Contact Lens Wearers
If you do not have enough motivation for waking up to be ready for a new working day. It is suggested that you create your own motivation by using contact lens with a variety of colors blending with your tight liners or making cat eyes. Outstanding In this season, color tones this season, jewellery tones are trending, like shimmering gold and expensive emerald, matching the colors of autumn. For choosing the right eye color, the trick is to rely on the color of the contact lenses you choose.
Blue eyeliner for brown eyes
The blue eyeliner is available on all the catwalks. Different from electric blue, navy blue is the perfect choice for both day and night. In contrast to black color, this dark blue looks lighter when it combines with brown eyes.
Suggested products include Cover Girl Perfect Point Plus Eyeliner in Midnight Blue and Eyeko Visual Eyes Liquid Eyeliner in Marine.
Gold eyeliner for chestnut eyes
Warm gold color will highlight the chestnut color inside your eyes, making them become shining under the light. Moreover, your eyes look brighter
Suggested products include Yves Saint Lauren Dessin Du Regard Waterproof and Urban Decay 24/7 Waterproof Liquid Liner.
Purple eyeliner for green eyes
There is nothing more suitable for green eyes than purple eyeliners. The plum color will contribute to enhancing the look of your eyes, while it still give you a complete confidence.
Suggested products include Aqua Eyes Waterproof Eyeliner Pencil in Black Purple and Blinc Cosmetics Eyeliner in Dark Purple.
Turquoise eyeliner for blue eyes
The cold blue eyes will be more impressive if they match the contrasting turquoise that also hiddens the golden color inside.
Suggested products include Armani Smooth Silk Eye Pencil in Color 6 and Lancome Artliner 24H Bold Color Eyeliner in Emerald 052.
Wine eyeliner for gray eyes
To highlight green in gray, you can try contrasting reddish brown. The wine color not only emphasizes the beauty of your eyes but also make your eyes look  warm and mysterious.
Suggested products include Make Up For Ever Aqua Liner in Burgundy Sparkling Plum and Estee Lauder Double Wear Stay-in-Place Eye Pencil in Burgundy Suede.
Different types of eyeliners will blend with various lenses. Hope that with the information about the 5 best eyeliner for contact lens for wearers, you can find out the best way to take care of your eyes when wearing a contact lens.