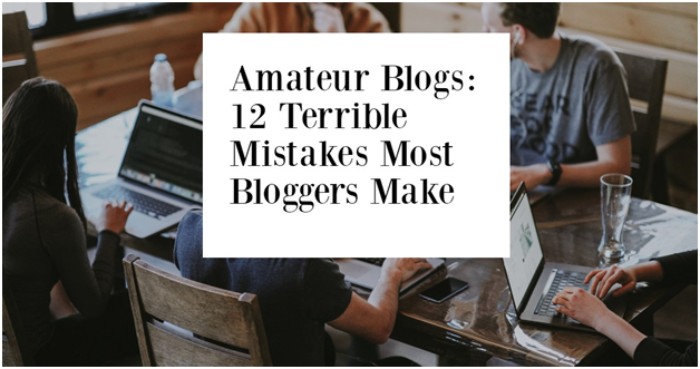 If you want to succeed as a blogger, you have to accept any mistakes you will learn as you progress. However, making an amateur can be avoided if you keep learning from your mistakes.
If you are planning to start blogging, do not think it is easy. I think you will start today and you earn a lot of money. Blogging is like a career nowadays, and that is why you need to work hard on it and avoid common mistakes. As amateur blogs, here are 12 mistakes bloggers make.
 Not Doing Keyword Research
The keyword is one of the essential things in blogging. If you want your blog to rank top, you must use keywords well. Blogging depends on the keywords you use to rank them. If people search the keyword you used, then you will be doing a great job. That is why you need to write both for people and Google to understand. The targeting keyword you used helps people to find your blog faster.
2. Plagiarised and Spun Content
If you want to make your content become a king among others, you have to make it unique. A copied content is not allowed with Google. If your content is copied somewhere, it will not value yours, and Google will bring down your blog. Make sure you publish original work. According to Google rules, content that is not original is a severe mistake that every blogger needs to avoid. Copies content ranked poorly or can be omitted from the search giving your bog poor performance.
3. Use of Difficult Blog Name
The best amateur blogs need to be easy to read. You need to avoid writing hard names that need to check on the dictionary because the reader does not have time to review the meaning of the words you used. It would be best if you avoided such mistakes to avoid costly.
It would help if you wrote a name that your reader will search for and remember it any time they want to search your blog. For example, use a blog name like: Make Money Online will make people remember it anytime they search your blog. Your blog name is supposed to be easy to spell.
4. Getting Insecure Domain Name
When you start a blog, security is the most important thing you need to check. Your blog needs to get the secure socket layer (SSL). This is why some of the bloggers make mistakes of not protecting user privacy. Such a blog that is not secure gets people not to read your post.
Because of the rising cybercrime, you need to secure your blog all the time. The secure site will help you to rank higher on Google.
5. No Self Promotion
Not promoting your site is another problem done by amateur bloggers. Blogging is highly competitive, and self-promotion is one way to get people to recognize your site. No one starts with performing well as the blogger. Every successful blog you are seeing started from amateur blogs. You are writing a blog to help people with information. If you do not promote it, nobody will notice you.
6. No Social Media Presence
Today social media has taken a large percentage of our economy. If you want to succeed in something, it is better to get the presence of social media. You can use Facebook, Instagram, or linked. Your social media will mean a lot to your readers. If you are not active on social media, readers will not take your blog seriously.
7. Not Giving Enough Time
If you want to be a successful blogger, you have to take enough of your time crafting your content. Amature bloggers do not work for money but passion. They spent a lot of time on their blogger because they know the blog's quality. You need to avoid writing in a hurry.
8. Using Free Site to Host Your Blog
When you want a successful amateur blog, you need to spend money on hosting. So avoid free hosting if you need to rank high on Google. Staring up, blogging is not easy and can cost you a lot of money. It would help if you got your blog domain name and customized it, which will need money.
9. The Use of the Wrong Niche
Most of the bloggers fail because they are in the wrong niche. That is why you need to choose the niche you are sure you can write well. The best way to develop your niche is to select the topic you are interested in writing. You cannot write everything. You have to be specific. Therefore, make sure you use the right niche and not the wrong one.
Not Maintaining an Email List.
This is another mistake for amateur blogs. The use of the email list helps to collect the names and email address of the blog readers. So, whenever you have a new blog, those are people to get first. Most of the blog fails to maintain an email list.
11. Getting discouraged by other people
If you need to become a blogger, you focus on what you do, not other people's opinions. You may post daily, but your blog does not get a share. This is normal. It should not discourage you.
No headshot of the blogger
It would help if you had a great headshot for your blog. You may think having a headshot is only for the experienced blogger, not really.
Conclusion
As amateur blogs, you need to follow the above mistakes made by another blogger to get recognized by other readers. Avoid those 12 mentioned mistakes and others as a blogger, and you will start doing great in your blogging.