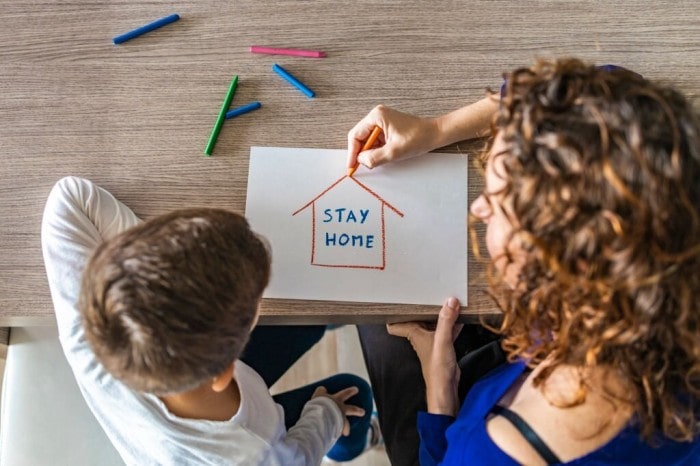 Where productivity and the actual process of doing things in lockdown are concerned, there are broadly two groups of people. The first group are channeling their inner hustle and are being super productive: they're writing the novel they never got around to and they're giving their homes a much-needed makeover (best time to do it, no?). The second group, however, are much less productive, which is in no way a bad thing: there's a global pandemic going on and concentration, for many of us, is shot. These are unprecedented times and anxieties are running high. High, we tell you!
However, if you belong to the former group then there's a good chance that you've miraculously transformed into some kind of DIY guru. We're all spending so much time in our homes that crafty DIY projects are on the up. By the time all this is over, our boredom-induced home improvement projects will have been totally worth it.
Anyway, here are the best boredom-induced home improvement projects that you can do in your home. Take a look.
1. Make your fridge doodle-able with a chalkboard
Instead of using fridge magnets or post-it notes for those passive-aggressive messages to housemates or the family, you can create a chalkboard fridge! This is done by either attaching an actual wall-mounted chalkboard to your fridge, or giving it a few coats of chalkboard paint (we recommend 3-4 coats to ensure your fridge is completely covered).
It will serve as a great source of communication in your household, whether it's for meal planning or warding people away from your precious tub of Nutella.
2. Rearrange your wall art into a visual mishmash
The days of perfectly arranged wall art are out (let's face it, it only enabled our OCD). Life is imperfect, as is art: you probably have different sized frames, so it doesn't matter anyway! Rearrange your wall art into a visual mishmash, because it will look amazing, we promise! Organised chaos is very in right now, and it gives your home that charming 'lived-in' appeal without it looking sloppy. It's a really creative and visually striking way to decorate your home.
3. Get a really good shower head, because you're worth it
Showers are where we go to escape reality, so now we're at home so much it makes sense to invest in a really powerful shower head. If you've ever gone over every single conversation you had in the past week while showering, or dreamed up elaborate scenarios under a hot downpour, you'll know what we're talking about.
If your showers are less downpour and more drip, it's probably your shower head that is the problem, and not the water pressure. These are hard times: escape them with a relaxing shower.
4. Awkward empty spaces in your home? Fill them with plants
If you have 1. Lots of awkward, empty spaces in your home and 2. Lots of plants –  then this one's for you. Plant decor is a great way to bring the outside in, which in the time of self-isolation is an invaluable and brilliant coping strategy. Just one medium-to-large sized plant will fill an empty corner and it will make a statement. A smattering of smaller plants will look fantastic, too.
When we're in our bunkers, craving outdoor time, a growing selection of plants will be a genuine saviour.
5. Bathe in leisure
If you like to read in the bath, you'll know how tricky reading in the bath can actually be. The moment of defeat when you drop your book in the bath should go down in history as one of the greatest heartbreaks (filed next to spilling a drink in the bath: annoying and weird in equal measure).
The solution is a simple end table placed gracefully beside your bath, and perhaps even a bath rack for towels and the like. This will solve a range of bathroom-based problems, from having somewhere to put your book and glasses to a surface for your drink (because we're lazy at heart and do not like reaching too far for things).
Like we said in the shower head section: you're spending loads more time at home so you need to do it right. All those minor niggles that weren't important enough to fix before lockdown have now become major niggles. Use isolation to finally sort them out!
6. Ensure your tools never go astray again
It's not just your home that would benefit from a makeover, your toolbox would too. With custom foam inserts, you can snugly house your tools (whether that's just two hammers and a bag of nails or a massive 22-piece collection) in high-quality protective foam. Your tools will never go walkabout again!
Most importantly, stay safe
The above projects should keep you good for a while and ensure the time spent indoors is as comfortable as possible. Just imagine the showers… Stay safe!
Author Bio:
Callum Dawson is a writer for The Case Farm, a UK provider of device cases and homemaking accessories.