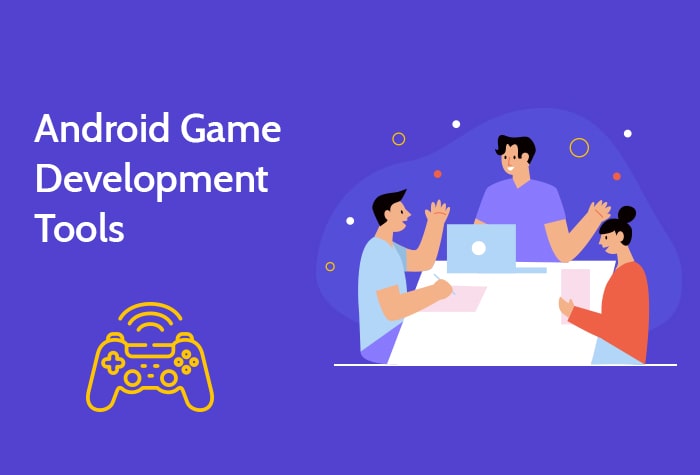 Gone are the days when smartphones were only meant to make calls and send text messages. Thanks to the evolution of the internet and other technologies, smartphones can now do a lot more than basic functionalities.
The Android gaming sector is one of the most emerging platforms out there. You can target Android users effectively through game development.
We can build virtual worlds effectively while also balancing the storylines and character evolution that players would fall in love with.
Along with Android programming skills, you must know the required tools to foster game development activities.
If these tools are used productively, they have the power to dynamically improvise the game development experience to programmers to a whole new level.
Thanks to our comprehensive experience of Android game development, we have experienced a few of the tools that have helped us achieve next-level efficiency through our game development activity.
So, for anyone who is just starting in the game development journey, we have created a list of top Android game development tools for 2020.
Without further ado, let's dive straight in and explore those tools right away.
Unreal Engine
Unreal Engine is a complete Android game development tool that you can ask for.
Along with accurate physics implementation, the tool executes 3D image rendering, photorealistic rendering, realistic animation and robust data translation for a game.
Even if you don't have the technical knowledge to write code in Android, Unreal Engine has got your back.
They have got a comprehensive video library that you can use to teach yourself about the tool.
It gives content creators the freedom to build 3D imaginary and attractive scenes for their games to make the story interactive and engaging.
If you are using Unreal Engine for educational purposes, you can use this tool for free.
But if you are creating a professional game and aspiring to monetize it, you can use it free initially, and then have to pay 5% after your game is successful.
Corona SDK
In this competitive age, smartphones and desktops both have the power to make a game viral and generate profit for the owner. So, a cross-platform app is always a good option for monetization.
Because a cross-platform application can help you target different consumer sectors, but developing a game is not an easy task.
That is when Corona SDK can help you develop cross-platform games without having to put in a lot of effort.
Along with Android and iOS smartphones, you can also cover tablets and smart TVs.
So, if you decide to scale your Android game to other devices and platforms, you can effectively do so with Corona SDK.
This tool is based on Lua, which is an open-source scripting language to be lightweight, powerful and faster.
Designing and developing breathtaking Android games would be a lot easier with Corona SDK.
Unity
Unity allows you to port your assets from other game development tools and provide a wide range of its assets to make more changes effectively on your own.
It's a highly robust platform that allows you to build real-time 3D experiences in VR, AR too. The tool allows you to implement new technologies effectively to your Android game.
Also, Unity has got an asset store where you can explore paid and free assets that can enhance the functionality of your Android game.
You can also access the Unity Learn Premium to master your skills by accessing resources or talk to experts.
Marmalade
For more than two decades, developers at Marmalade have been creating impeccable games for desktop and mobile phones.
Marmalade is headquartered in London, and a studio is also located in Lisbon. People at Marmalade are providing immersive games in development experience to developers.
You can effectively build native games for desktop and Smartphones by using the C++ coding language. You can also build 2D and 3D games by using the same programming language on Marmalade.
Buildbox
For inexperienced Android game developers, Buildbox could be the best friend to help them build robust games effectively and quickly.
By Pocket Gamer Mobile Games Awards, Buildbox is nominated for Best Game Engine and Best Innovation.
In a nutshell, you can import images, assign rules and get started quickly with Android game development activity.
You can effortlessly convert your visualization into a reality by drag-and-drop assets and on Buildbox.
This particular game development tool allows you to create mobile-friendly games for free. However, for desktop games, you have to pay a subscription cost.
AppGameKit
AppGameKit is a royalty-free tool for beginners, indies and hobbyist game developers.
With interactive features and robust structure, you can build the code of your game without indulging in technicalities.
AppGameKit allows you to create complex particle effects to make your game look more interactive and feature-rich.
You get different options, AppGameKit Classic, AppGameKit Studio AppGameKit, for different Android game development requirements.
Along with Android and iOS, you can also cover Linux, HTML5 and Raspberry Pi platforms to build your games through this tool.
Construct2
Build excellent Android games through HTML5 using Construct 2.
Without any need to write extended code, you can build dynamic Android games through Construct 2. Especially for 2D gaming development, Construct 2 is a perfect tool.
You get instant previews of your snippets to make the entire development process efficient and quick.
You get multi-platform support to reuse your code for different platforms, operating systems, and devices.
When it comes to flexibility, Construct 2 leads the way by allowing making changes to the developers with its user-friendly features.
Conclusion
These tools are either paid or free. So, make sure you choose the ideal one as per your requirement. Even if the tool is paid but solves your questions meticulously, I'd recommend you not to hold back and invest in the tool.
I hope you found this article helpful. Don't forget to share your thoughts about game development tools discussed in this article. Also, let me know which Android game development tool are you going to try next in the comments below.