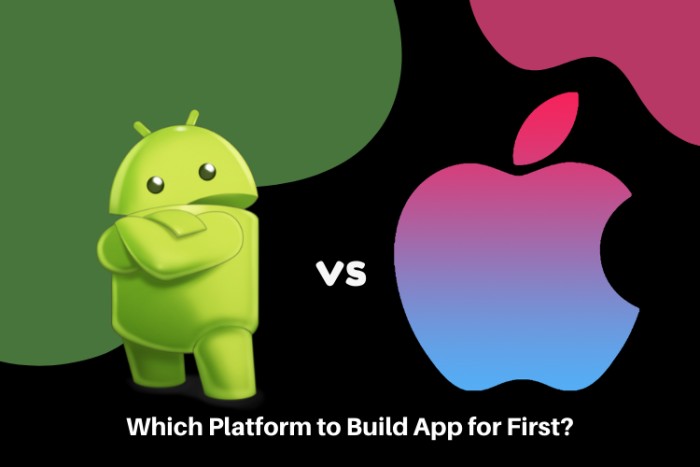 Startups and SMEs face budgetary constraints and other difficulties due to limitations of resources. In such a scenario, even if they want to come up with an app, various hurdles can act as a roadblock. What's more, even if these companies decide to develop a mobile app, a herculean task will remain as- which platform to select for developing the first app?
Here we give a quick and handy guide to choose the right platform. We have included four key factors that will help you decide the most suitable platforms from two major platforms- Android and iOS.
Major Factors to Consider for Deciding Right Platform
Both iOS and Android platforms have their pros and cons, but here we keep focus on four major areas.
Target Audience
Both Android and iOS have different users. Simply put, Android and iOS attract different audiences across the world. For example, Android OS has 87% of the market share worldwide, whereas Apple has an upper hand over Android in customer spending. You need to take the target audience into account while deciding the platform to develop an app for the first time.
If you want to address a huge audience globally then Android can be your best bet. But, if your target audience remains in Western Europe or North America, then Apple is preferable. Asia, Africa, and Latin America are Android strongholds, so you can target many people in these continents by bringing an Android app. iOS is a choice of affluent and young audience resides in Western Europe, North America, and Australia.
Delivery Time
As per one estimation, development time is almost 30-40% more for Android apps as compared to iOS apps. We can give two big reasons for such a high difference. One, Android apps are written in Java, which needs to write more code than Swift, an official programming language for iOS apps. Another reason is the vast difference in the number of devices.
Thanks to the open-source nature of Android, many smartphone makers keep on bringing new Android devices every now and then. On the other hand, Apple's iOS is a close-ended platform as the company has given stricter rules for deploying apps on the Apple App Store. Also, the review process is also longer in the App Store than Google Play.
In brief, Android apps take more time in development and iOS apps take more time in deployment.
Development Cost
The cost of app development largely depends on complexity and features. Now, Android offers more flexibility when it comes to feature integration. As a result, you can readily integrate desired features to meet your business needs in Android apps. But then, Android app development has an extensive testing process because we have many Android devices available. Also, the open environment also makes the Android platform more vulnerable to cyber-attacks and malware.
Altogether, you need to spend more on developing Android apps. Apple has more enterprise-friendly features in the devices and improved security features. As a result, iOS is a preferred choice for enterprises. However, entrepreneurs in the gaming and eCommerce sectors, as well as individuals, prefer the Android platform.
Monetization Scope
We have included this factor because the app monetization concept gains ground swiftly in individuals and enterprises alike. There are key differences in both the platforms when it comes to app monetization. Android users are not as affluent as iOS users worldwide, and therefore, they tend to spend less amount on in-app purchases. Android app owners can utilize in-app ads option to generate revenue from their apps.
As per the 9to5Mac, an Apple App Store generates almost two times more revenue than Google Play, though it has half downloads than later.
Here are other big monetization differences between Android and iOS platforms.
Apple users are affluent and tend to make in-app purchases more than the Android app users
iOS app users spend more on apps and they are more likely to pay for the premium version of apps as compared to Android app users. However, when it comes to the utility category, Android app users are willing to spend more than iOS app users
North America leads in sales for the shopping app category. It directly indicates that iOS app users like to shop online through an app
Asian users lead in-app purchases to growth with 40% more spending as compared to European users
If you want to monetize through an app or you own an eCommerce business then you should go for iOS app development. It is the best way to monetize your app without ads- either through subscriptions, freemium versions, or in-app purchases.
However, it is fair to mention that Android app revenue is steadily growing. We can expect that over the period, Google Play and third-party Android stores will overtake the App Store in the revenue aspect.
Tips to Choose the Right Platform for Developing First App
Your targeted audience and feature requirements along with development timeline and budget constraints are four determining factors for selecting the platform to develop a business app.
Simply put, if you want to come up with an MVP (Minimum Viable Product) in less time without spending a lot of money, then iOS app development is a great choice. But, if you want to target a global audience or emerging markets of Asia and Latin America, then Android is the best option.
Be it a large company or a startup, it is necessary to decide the most suitable platform for developing the first app. It is always advisable to consult a reliable mobile app development company with your business needs to make an informed decision.
Author Bio:
Robert Jackson is a content cum digital marketer at Solution Analyst, a leading mobile app development company. He is an avid reader and likes to remain updated for technological advancements in the domains of web, mobility, IoT, and emerging technologies. His articles are informative and interesting at the same time as he expresses insightful thoughts clearly.