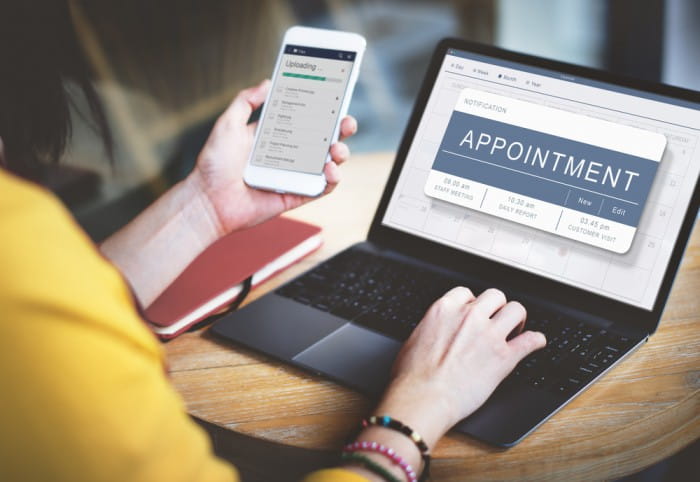 If you run a business that depends on customers making appointments, then Online Appointment Scheduling software can help your business run smoothly, and ensure you that none of your appointments are ever missed. One of the most effective ways to efficiently schedule appointments is to embrace the best-automated appointment booking software. Best appointment scheduling software can be quite difficult to find, but there are a lot of basic software systems & latest versions of larger scheduling software that are custom-made for individuals and small businesses. You don't need to get worried about to search for the best appointment software. We've got the 7 best appointment management software for your business that you never miss out. These software will help your business schedule and track appointments, accept online bookings, and send appointment reminders in easy & convenient manner. Once you use online booking software for your business, you'll see your business achieving the heights of easiness & success. Let's discuss one by one.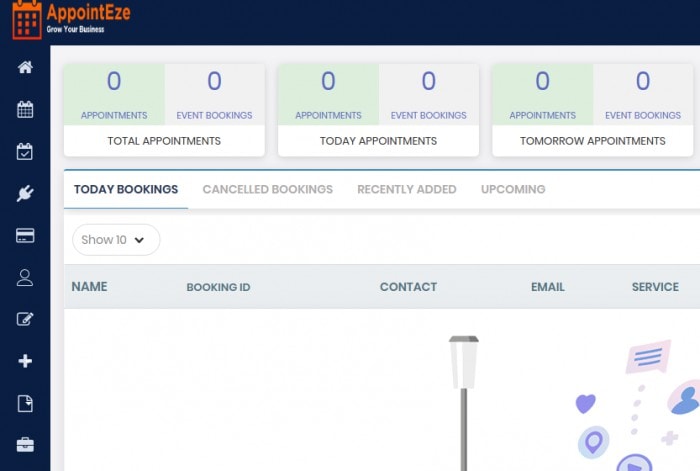 AppointEze is a simple, functional and powerful Appointment Scheduling software specially designed to help you grow and manage your business. This ultimate software allows you to accept appointments online to help your customers get the requested services in a simple and hassle-free manner. No matter what the size of your business is, AppointEze always helps you deliver the best services to your clients on time. If you are refusing to use AppointEze for your business, then have a look at the some of the best features of it.
It helps manage your appointments and schedule day accordingly.
It regularly set reminders for your Bookings.
Moreover, it accept payments from your clients as they schedule meetings with you with its classic Stripe and PayPal integrations.
To avoid booking twicely, it systematically works with your Google calendar Sync.
Besides, it automatically helps you to manage meetings with your staff members based on availability, high priority or equity.
Best of all, it allows your customers to schedule directly from your website.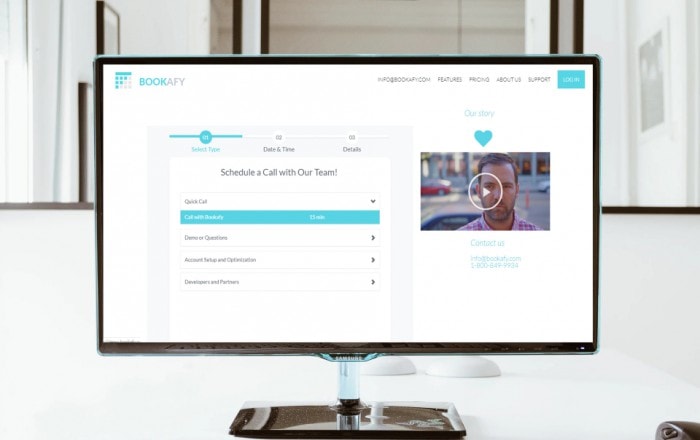 Bookafy is also one of the highest-rated online appointment booking software that is rich in features. Individuals and small businesses can book online appointments, schedule meetings, calls, and various other online services to help grow their business by waving warm goodbye to time-consuming & hectic email and phone-based appointments.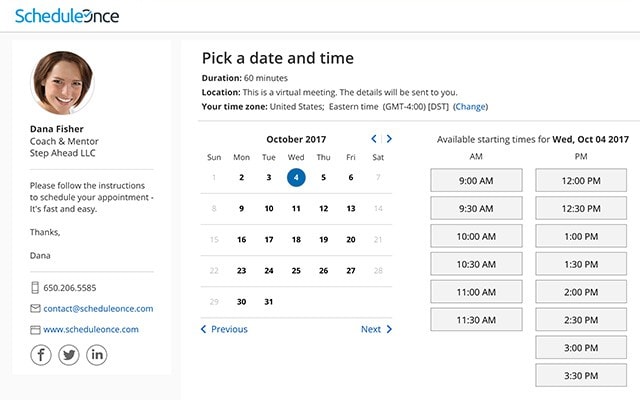 ScheduleOnce is also one of the Best Appointment Scheduling software that works on  handling packages and a plentiful of online appointments. It can help your small as well established business run smoothly & more efficiently with a comprehensive online booking system. You'll find many ways to be more productive & efficient by connecting ScheduleOnce and Zapier, which further enables you to connect with other business software to the booking service. ScheduleOnce has all the usual booking services you'd expect to find in the best appointment schedule software, but being able to account for a package of appointments makes it unique.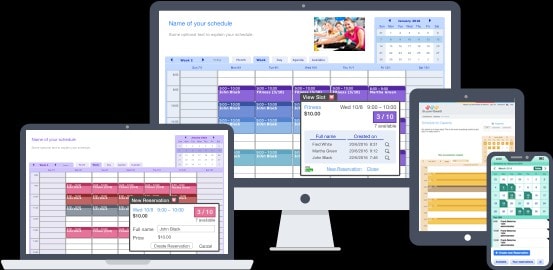 Being the best Appointment Booking software, SuperSaas allows you for a high level of detail in customizing what kind of business you run and what types of appointments you offer. It's setup is too simple and less time consuming, however, the backend interface is a little bit ugly. This amazing appointment software provides a range of appointment booking tools, such as support for several payment processing services, important email and SMS reminders for clients, secure integrations with both websites & Facebook, and many more. The free tier of SuperSaas service offers you the ability to hold up to 50 future appointments and register no more than 50 clients.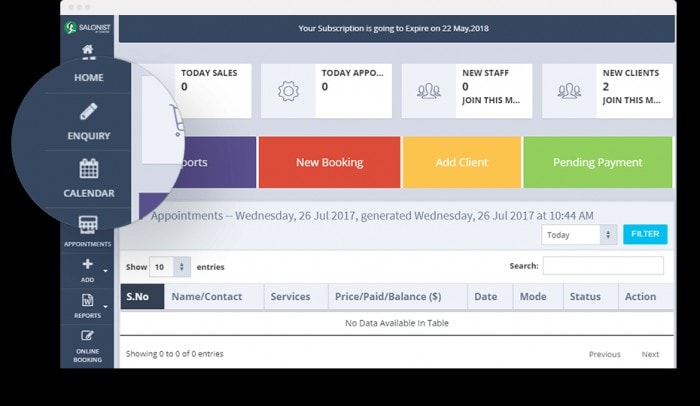 Salonist is a powerful appointment scheduling software for industry professionals working within the beauty salon industry. Beauty professionals and businesses can gather all information on appointments, and manage their appointment hassle-free. Because this amazing software offers individuals and businesses instant access to a client's appointment history, discounts, new bookings, and preferences.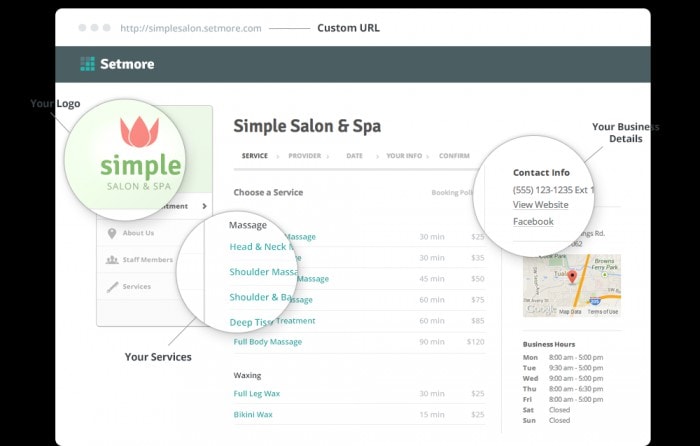 Online Appointment Scheduling software Setmore sets itself apart from other software in its class in two outstanding ways. First, it's the only service listed in this blog post that includes desktop apps, which enable you to see your appointments even if you're offline. And second, it supports integrations with a long list of business software, including Salesforce, QuickBooks, MailChimp and Zoho CRM. It basically sends reminders before an appointment to not only your clients but also your staff member. If you run a business in which your clients are more likely to book services with a particular staff member, then this software is a great choice to opt for because you can create individual booking pages for each person on your team.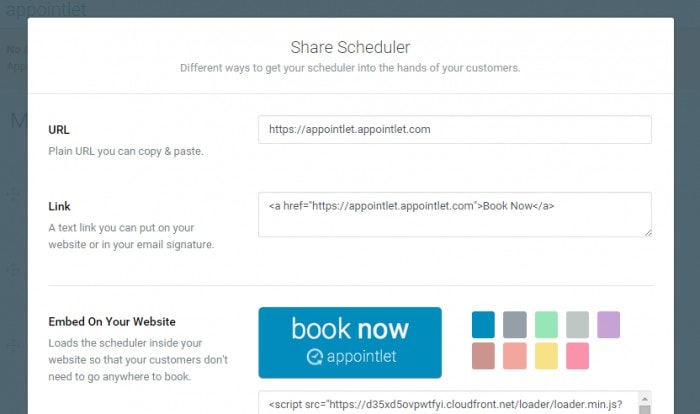 Although a huge number of appointment scheduling software are out there that offer a free tier of service, Apppointlet's is among one of the most generous booking software with plenty of awesome features. With this booking software, you can create a simple booking page with your availability that you can then share with your clients, patients, or potential customers according to your business. Apart from that, it allows you to create more than one booking page whenever you need to customize details including price, appointment duration, location, and cancellation policy.
Once it confirms a new booking from your client, it automatically syncs with your Google Calendar or Office 365 calendar as one of those calendars are required to use the Appointlet. It will also send a calendar invite to your client. Convenient options, such as the ability to add down a buffer time around bookings, help keep you manage your scheduled appointments. In the same screen that you set up different types of appointments that people can book, you also can modify reminder messages that will be sent to them before the appointed time.
Do you run a business and depends on Online Appointment Scheduling software to help book and manage appointments?
If so, we'd love to know which appointment scheduling software you use and which you will prefer to use in the future. Do let us know your viewpoints about the software you're currently using or comment us below to know more about any other software apart from above mentioned. It will help us offer you the best appointment software with new guest posts so you will remain updated with the ongoing industry scenario.