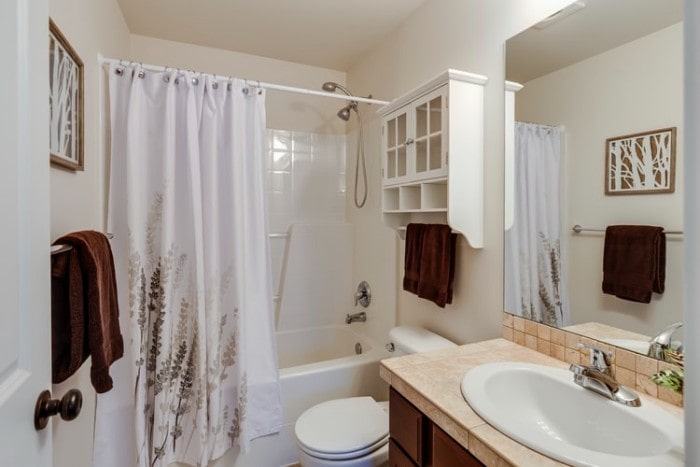 The bathroom is one of the most popular rooms for homeowners to renovate. After all, who doesn't want to do their business in the comforts of a lavish lavatory? It's similar to the feeling we get after going to a hotel, using the facilities, and finding that it's a truly refreshing experience, then thinking – why can't we have that? You can. All you need to do is put a bit of work into your tired bathroom. You don't have to spend a fortune, but changing the right things can spin a whole new look into your bathroom experience. If your bathroom is ready to be dragged into 2021, see below for some of the hottest bathroom trends.
Black Freestanding Bathtubs
For many years, white bathrooms have been the centrepiece of bathroom renovations. However, 2021 is set to smash that trend and bring about the black finished bathtub with a pristine white interior.  If you're one for the black furniture look, this is for you.
On the topic of trendsetters, you can design your slick new bathroom over on beautifulbathroom.net. There, you can use their digital platform to create your vision using the latest styles. Their helpful innovators will support you throughout the design phase and provide their expert opinions. Further, they stock product ranges that will suit any budget.
Copper-Style Bathtubs
Staying on the freestanding bathtub train, the copper finish tubs have started to populate showrooms over recent months. Although the price for an authentic copper bathtub can set you back a fair amount, you're in luck! There have been increasing numbers of copper finish tubs hitting the market, which means you can live your lavish lavatory lifestyle without the heavy price tag.
Ladder Radiators
In 2021, it's difficult to find a modern house that doesn't feature a heated towel radiator. As with everything, innovative designers have taken this and ran wild with it. One of the latest styles of towel radiators is the leading ladder radiator, which is set to ripple through the bathroom world this year.
Industrial Showers
There's nothing better than a powerful shower beating down on you after a hard day's work. If that sounds appealing, you're in luck when it comes to industrial showers. Inspired by the traditional factory metalwork, you can add an edge to your next rain shower. Although commonly found in high-end hotels, these stylish showers are set to begin jumping into people's homes.
Colour of the Year
If you've ever designed a renovation before, you likely know what the Pantone Colour of The Year is. For 2020, the colour was classic blue, which means we will see this colour trickle down into everything from high-fashion to furnishings.
Designing your new bathroom should be a fun process. If you can't afford to overhaul your entire bathroom, don't worry. You can take your time and tackle one feature at a time, implementing changes when the balance allows. With your new bathroom, you can enjoy hotel luxury from the comfort of your own home.