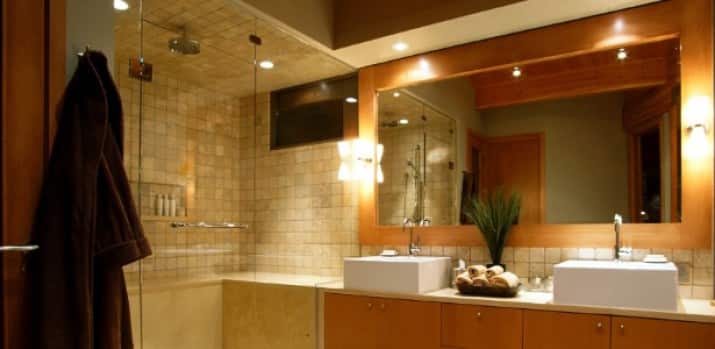 Bathroom Renovation is one of the most important things that can sparkle the appearance of a home. But you should not spend large bucks to remodel your bathroom looks. You only need some accessible bathroom renovation ideas to transform your old bathroom appearance to a classy and cool one while maintaining your budget. Check out below listed top Bathroom Renovating Ideas on a Budget.
Renew Bathroom Fixtures
Replacing old bathroom fixtures is an easy and cost-effective way to revamp bathroom looks. It may be feeling insignificant to replace light fixtures, cabinets, towel racks and basin taps, but these few upgradations can truly enhance the overall look of your bathroom. If you are creative enough, then try to recycle old pipes to create a new towel rack for your bathroom. This will be a cheap way to remodel your bathroom without spending much.
Place a New Glamorous mirror
If your bathroom mirror is appearing black from the corners and from the bottom, then it's time to replace it with a new sparkling mirror. You need not to go for an expensive mirror; either you can pick the simple one and get it framed with decorative wooden or plastic frames that are easily available in market at a pocket-friendly price. The addition of the new mirror will completely revamp the view of your bathroom. It will create an illusion of space, no matter your bathroom is big or small.
Upgrade your lighting
Perfect lighting can enhance the mood of any space, then, how about upgrading bathroom lighting fixtures? First of all, you need to analyze the lighting requirement of your bathroom like how much sunlight comes in your bathroom during the daytime; bathroom windows are wide enough or not etc. According to the needs, go for the cost-friendly bathroom lighting fixtures that are ideally designed for frosty mornings, sunny days and also perfect for chilly nights and which can also absorb any kind of moisture and humidity inside the bathe.
Best Quality Paints rather than Tiling is a perfect option
If your bathroom is seriously in a need of tile replacement, then matching up your tiles with a soothing paint will be a perfect option for a cost-effective bathroom renovation. Try to incorporate horizontal tile designs with wall paint to team up the entire bathroom look. Though painting your bathroom is an affordable option, yet it is essential to go for the best quality paint that will protect the bathroom walls as well as it will look newer for many years to come. Choose extensively moisture and heat resistant paint in light colors to brighten and enhance the bathroom space with a perfect glow.
Decorate with Fine Things
Accessories are one of the most important elements for decorating a room and it takes a lot of attention from your admirers. A bathroom décor with finest finishing touches will be an adorable option to revamping the entire bathroom look. Add a new shower curtain, green plants, waterproof rugs and more to give a classy style to your bathroom at a cheap cost.
We have covered all the necessary tips for accessible bathroom renovations. If you have some other tips except these, then do share with us, we would love to hear from you in the comments below.
Author-Bio:
Ruthie Davis is a freelance blogger. Being a homemaker too, She loves blogging on home decor, home improvement, and home maintenance.