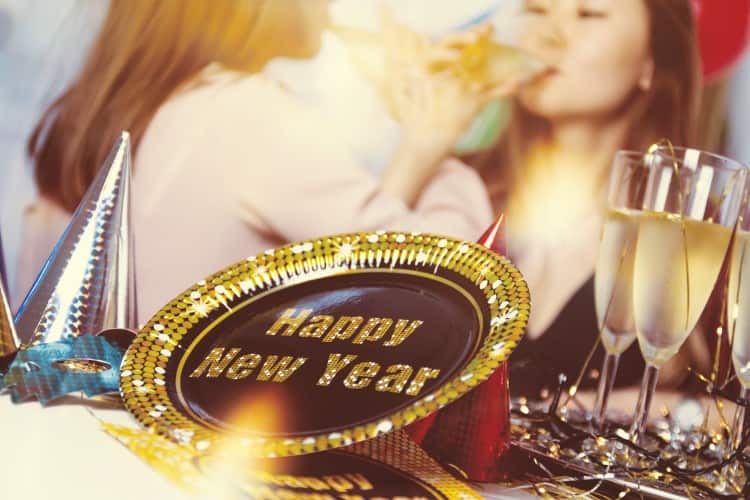 Soon enough you'll be doing the countdown to welcome the new year of 2022 which will not only bring in the new days, but also bring in new opportunities and will open many doors for us. With hardly any days to go, if you're planning a New Year Eve's bash at your place or at a friend's place, now's the right time to get prepping for it.
You see, there's a lot of expenditure involved when it comes to throwing a party and it can always form a considerably big hole in your pocket, so wherever possible, you must try to cut your costs. And for juts that, we have these 10 amazing DIY décor ideas that can be done by you without spending much money. You can thank us later! 
1. Fairy Lights
One of the cheapest form of bringing light into a part and that too with style is by arranging some fairy lights in the room. Just buy a couple of fairy lights strings, place them around in the house and watch those tiny little trinkets do their magic at a very small price. 
2. Bottle Lamp
For this, you will require glass paint or normal paint, glass bottles and some fairy lights. An easy way to make a DIY colourful lamp at your home is by reusing a wine or any other glass bottle. Paint this bottle with a wash of colour of your choice, allow it to dry, place the fairy lights in it and light it up! There you have yourselves a DIY colourful lamp! 
3. Giant Confetti
To brighten up a dull wall, cut big circles (around 5-8 cm in diameter) on colourful chart paper and stick it on the wall at random spots, properly spaced out. This hack is not only very inexpensive, but also very easy to do. 
4. Party Hats
Instead of spending a whole lot of bucks on party hats that you're probably never going to use again DIY them at home. All you'll need is chart paper, sparkle, scissors and glue. Cut the chart paper in giant triangle, fold it in a conical shape and stick the ends. Cover the hat with glue and dust some sparkle on it and you'll be good to go! 
5. Frame it up!
If you have any mirrors, painting or framed pictures in the house, wrap a string of fairy lights around it to make it stand out and instantly glam it up.
6. Balloons
Whether an adult or kid, there's no denying that we all love balloons of different shapes, colours and sizes. To give your party a small fun element, blow up some bubbles and leave them around in the house. You can also have a big balloon piñata, fill it up with chocolates, sparkle and confetti, suspend it from the ceiling in the middle of the house, and when the clock strikes 12: a.m., burst the bad boy! 
7. Cardboard Number Cut Out
Cut out the number 2,0,1,9 on a thick cardboard and either cover it in glitter or wrap some tinsel around it. You can place these four numbers together in different parts of the room to give it a New Year Party feeling. 
8. Glitter Stars
For a starry night in your room at the party, cut out stars of different sizes on cardboard, coat it with glue and then sprinkle some glitter on it. Once dried, hang them with a string or simply stick it on your walls with double sided tape. 
9. Disco Ball
Now we know what you're thinking, and no this isn't the real deal, but a cheap hack for the same. Buy a big thermacol disco ball, cover it with glue and roll it around in glitter powder. Once dried, suspend it from the ceiling. Voila! You have yourself a Disco Ball. 
10. Glitter Glass
To make you drinks extra sparkly and make the plastic glasses look more attractive, paint the glasses with glitter paint or simple sprinkle some on the after the application of glue of course.
Now that you have these ideas set in your mind for your DIY home décor, move on to the next step of party planning. Have a blast!
Happy New Year!