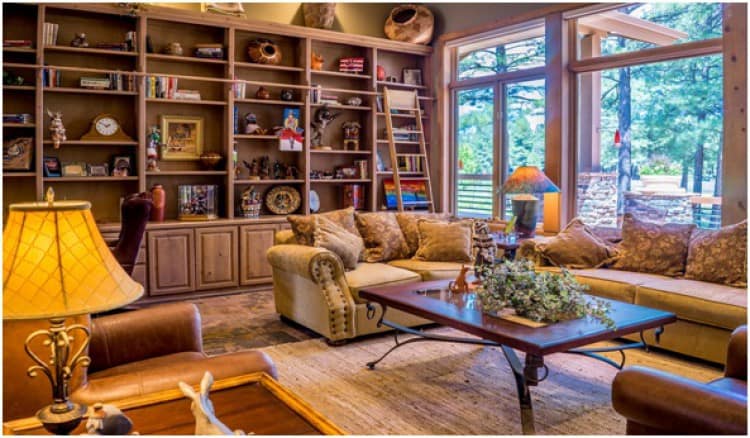 Living place is the first room that comes in contact with outside work. Renovating and decorating your living place can be a difficult task with so many factors to consider. To have a clear idea and vision about what may suit you best; you can flip through pages of LTD Catalog or go through the home décor and design ideas given below.
Colorful Seating
Colorful seating trend that is garnering popularity this year is absolutely eye-catching. Sofas, bar stools, coaches and settees all come in vivid bold colors nowadays. If you decide to go with the trend, choose a single colorful piece of furniture that will stand out in the room. Strike a balance between shades by utilizing neutral tones in other elements of design.
Statement Ceilings
Statement ceilings have been around for some time. This year inculcation of darker colors like dark browns, blacks, grays in ceiling designs has set a new trend. Apart from these colors, you should also include other shade that you have used for other factors in the room. You can also utilize materials like paint, decorative laminates, wood, wallpapers, and other wall decors to create a statement ceiling. There are various styles and designs like wainscoting, bricks + beams, paneling, patterned ceilings, coffered, molding, etc that you would like to check out.
Large Wall-arts
Current wall-art themes are large, bold and sassy. A large painting, wall-decor or a print occupy most of the part of the wall and act as the focal point in such styles. Select color or pattern from your wall-art and use in small amounts across the living room. However, experts state that any piece of art or wall decor should not take up more than four-sevenths of the wall. To measure those dimensions, multiply the width and length of the wall by 0.571.
Clutter Zone
Having a clutter zone helps in keeping other areas clutter free. Your clutter zone maybe small cabinet, organizing baskets, hooks, cubbies, wall mounted trays, etc. that can hold keys, mails, purses, dirty shoes, coats, etc. Best location for clutter zone is beside your door that frequent time and covered storage like cabinets and drawers aid in hiding clutter.
Put Your Trophies on Display
If you are a traveler or a collector of antic or vintage items than put them on display. Its great idea to feature your own collections that tell family history or mesmerizing tales than to purchase new accessories and showpieces that have no meaning or value attached to them. Books, rugs, earthenware, artwork, all can be inculcated in interior décor.
Space Friendly and Versatile
In the cosmopolitan city, small living spaces demand multi-functional and space saving furniture and utilities. Modern furniture like large ottomans that also can be utilized as a coffee table and provide secret storage, a sofa or a couch that comes with a pull out side tables and poufs have become popular among city dwellers.
Lighting
Proper lighting helps in setting up the mood and creating lighting ambiance. Right light fixtures add style and statement to your living space and by improving the room's functionality make it appear larger than it actually is. Successful lighting consists of mix and combination of many light sources that are located at different levels. These light sources can be used simultaneously or individually. When you select light fixtures consider how you would like to use the area. For the entertaining purpose, you can add a fancy large chandelier at a center and surround it with small light fixtures across the room. For art displays, you can use wall-washers, track lights, picture lights, etc. 
Final conclusion
     Colorful seating arrangements, elegant ceiling designs, large wall-arts, along with proper color schemes and lighting designs would definitely make your living room luxurious and breath-taking place to live in. Use clutter zones and display your own collections and trophies to give a personal touch to the living space. Play and experiment with colors and patterns. If you are dubious of the color schemes refer a color wheel to understand which shades can go together. Remember that opposites attract and when properly teamed, three to four vibrant colors can give you balanced results.
Author Bio
Stacy Thomas is a freelance writer who has been writing for various blogs for the last few years. In this post, he has written about the benefits of Social Media Marketing, Business, Finance, Fashion, Health as well as the LTD Catalog features related to the same.