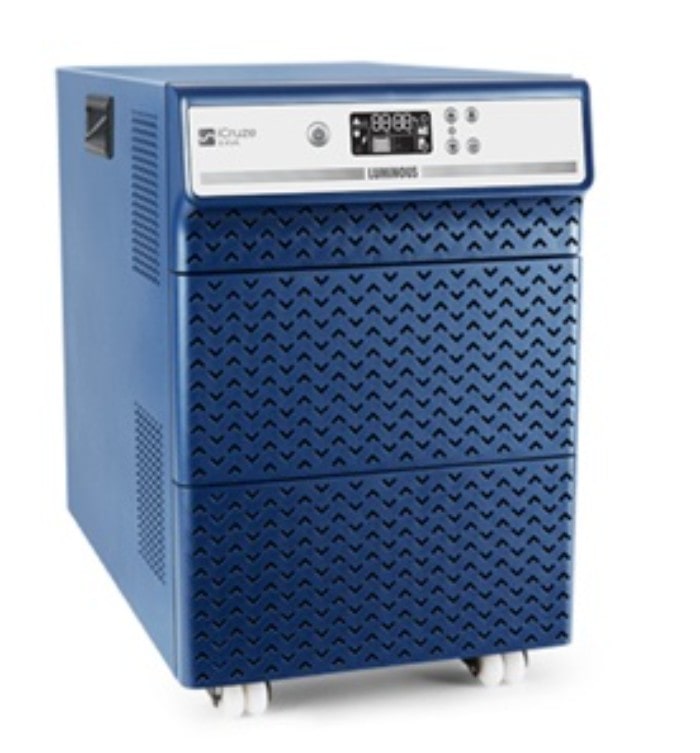 Who says a high-capacity inverter cannot run an entire home? Well, high-capacity inverters offer the perfect amalgamation of power and performance. These high-capacity power inverters are an ideal choice for running high load equipment such as an air conditioner, geysers, microwaves, washing machines, motors, and pumps in small and medium business establishments.
High-capacity inverters are considered to be the best inverter in India that are capable of taking the load of all your electrical appliances and is an excellent choice for you. A high-capacity inverter can also run sensitive equipment without any hassles since it has a power output like from a grid. With a reliable power backup, high-capacity inverters can easily run your heavy load machines.
In today's time, there are numerous appliances that have made our life easy. We depend on them for our personal and professional needs. Reliable brand such as Luminous offers some of the best high-capacity inverters in India in iCruze and Cruze series that are specially designed to cater to our industrial and residential power backup needs. Tney are available from 2KVA range and goes upto 12.5 KVA range.
Listed down below are the key features of the best inverter in India:
A high-capacity inverter can be installed easily without any hassles
A high-capacity inverter helps in the proper running of high-load equipment like an air-conditioner, microwave, and refrigerator.
It helps in the functioning of commercial establishments like petrol pumps, showrooms, deep freezers, and dental chairs.
High-capacity inverters can efficiently run sensitive equipment by providing them with pure sine wave output.
To have a better understanding of the inverter and battery status, it comes with a digital display.
It functions with zero noise and low harmonic distortion
A high-capacity inverter aids faster battery charging by running more load on a smaller number of batteries.
Some of the notable features of the best inverter in India are:
Inverter with a Smart Display
A high-capacity inverter comes with a smart display to show various parameters and statuses. For instance, the available backup time, battery charging status, percentage of load running on the inverter and mode of operation.
With a smart and intelligent display, it is easy to manage and pre-plan power backup requirements for power cuts. The inverter gives an estimate of the remaining battery runtime while in the battery mode.
Offers Comprehensive Protection through MCB
Since a high-capacity inverter deals with high power, it is important that they are covered with diverse protection methods.
However, reliable brands like Luminous leaves no stone unturned to ensure appliance safety and protection. Modern Luminous high-capacity inverters come with Miniature Circuit Breaker (MCB) rather than a fuse for better protection. Some of the advantages of using MCB over a fuse are:
MCB is more sensitive to overcurrent compared to a fuse
It is easier to identify the faulty zone as the switch operating knob comes at its off position during the tripping
Blown fuse requires rewiring. However, MCB allows quick restoration by simply switching an operation.
Multi-Stage Battery Charging with ABCC Technology
Modern high-capacity inverters support multi-stage battery charging for efficient charging of batteries. The best inverter in India supports 3 stageABCC technology for improved battery charging and durability. The three-stage technology has been explained below:
It is the first step of charging wherein the highest rated voltage and amperage is given to the battery. This stage will charge the batteries that are severely drained.
As already stated, a modern high-capacity inverter is smart enough to detect voltage and resistance from the battery prior to charging. In the absorption stage, a high-capacity inverter supplies the steady voltage with the decreasing current to charge the battery.
This stage occurs when the battery level crosses 95%. Intermittent electricity called trickle charge is supplied in this stage. It is a way in which the battery is supplied with low voltage and low current at a rate equal to the discharge rate of the battery. Therefore, neither the battery overcharges nor the internal temperature shoots up.
Hence, ABCC technology ensures faster charging and enhances battery life.
Provides Safety for Your Home
A high-capacity inverter offers some of the best and comprehensive protection features against short-circuit, reverse polarity, battery over-charge, and battery deep-discharge. The puresinewave output offers safety and noiseless operation of connected appliances.
Get a high-capacity inverter for your home today!