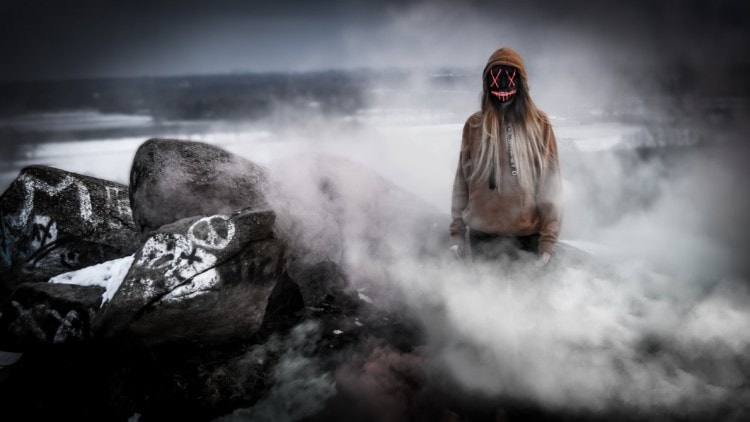 Zombie movies have gained a lot of audience in the past few years. People are getting crazy about zombie movies, series, games, etc. If we talk about web series and movies, Netflix is one of the top providers in the market. Millions of people are enjoying fiction movies, series, documentary and many other types of entertainment stuff on Netflix.
Zombies are fictional characters who are formed when a normal person gets in touch with the zombie virus. This character is hungry for flesh and wants to kill all human beings. Every zombie movie is truly horrific and full of scary moments.
Writers of such movies have put a lot of creativity and imagination on the zombie characters. Netflix is currently streaming a lot of such fictional movies. I've created a list of 7 best zombie movies on Netflix in 2021. If you're not able to watch these titles on Netflix, consider using some movies sites. Such sites are accessible from any place such as school, college, etc. and aren't blocked by firewalls.
Here Are Best Zombie Movies On Netflix In 2021
1.
I Am Legend (2007)
It's one of the top-rated zombie movies so far. This movie shows how the human race comes to end when a deadly virus hits the earth. Will Smith (Playing as Robert Neville) is the main character of the movie who's the only survivor left in New York City. Robert lost his entire family in the apocalypse when the virus was spreading all around the world.
There are many emotional scenes in the movie. What I loved the most is how the writer has pointed out the fact that Zombies might also have an emotional attachment towards their colleagues. In fact, many victims of the virus are looking for Robert to do a fatal mistake so that they can finish his game.
Robert is also doing some weird biology experiments to find an antidote for the virus. But, many unfortunate events happened in the story which is interesting and scary to watch.
Cargo represents the emotional attachment of a father towards his daughter. He wants to protect her from all the threats e.g Zombies. The film starts from very peaceful surroundings, where a family is happily living with each other until they discover some suspicious activities in their surroundings. Within a few hours of first suspicious activities, Simone Landers (Playing As Thoomi and little girl's mother) was bitten by a zombie.
Now, Martin Freeman (Playing as Andy and little girl's father) told her that she has 48 hours. After that period of time, she'll turn into a zombie. It's really emotional to see how a father is fighting to save his daughter. Watch Cargo (2017) to enjoy emotional dramatic scenes and the way Andy fought with bloody zombies.
3. The Rezort
The Rezort movie has a different concept than most of the zombie movies. In most of the movies, people are afraid of zombies and zombies are killing people, but in this movie, people are now killing zombies for fun purpose. A company has turned an open space into a resort with some zombies tied to poles and traps. Now, those who're having a fantasy of killing them can visit the place called Rezort. People seem to enjoy it a lot until something bad happened.
Because of some malfunction, all the security received fatal damage. Zombies can now walk out of traps and cells in which they're trapped. The real apocalypse begins when they start killing all the people they see. The fantasy hunters who were traveling the Rezort now need to survive against the zombies.
4.
Train To Busan (2016)
A virus attack hits South Korea and people are turning into flesh-eating zombies. The movie starts with the departure of a train from Seoul. The train is going from Seoul to Busan but people inside the train aren't lucky because some infected people are boarded. People really don't have an idea about the virus until infected people start turning into Zombies and then killing other passengers.
Now, safe passengers are running from train's one box to another to save themselves from infected people. Once the train arrived Busan, what they've found is that the city is already infected with the virus. It's one of the best zombie movies on Netflix so far.
5.
Rise Of The Zombie
In this movie, a passionate wildlife Photographer starts exploring some forests in the search of perfect shots. He loves nature and started exploring Uttarakhand's forests and was bitten by some mysterious creature. Now, he started eating human flesh and animals flesh as well.
The movie describes the slow process of spreading a Zombie virus. This movie hasn't gained much attention from people but it's still a good Zombie movie according to some people. It has some emotional scenes e.g when the man broke from his girlfriend and now he wants to explore the beauty of nature but was caught by the zombie virus.
6.
Life After Beth(2014)
Life After Beth is Zombie Comedy film released in 2014. In the movie, Zach is the boyfriend of Beth's and Beth died because of some reasons. It hurts Zach so much and now he seems to be heartbroken. He kept visiting his girlfriend's house and discovered that she isn't dead. Now, Beth is turned into a zombie but don't know that she's dead.
This movie has a lot of comedy parts and some emotional scenes as well. It's a mix of comedy, horror and dark side of being a zombie. This movie has received 5.6 ratings on IMDB and is a pretty good choice when looking for best zombie movies on Netflix.
It's remake/reimagination of Day Of The Dead(1986). In the movie, the people who've survived the apocalypse are trying to survive. They are using military bunkers and underground sheds to stay away from flesh-eating zombies. Few medical students are trying to create a vaccine with the help of a very unique zombie to stop the virus from spreading.
There are now many good reviews of this movie but it's indeed watchable in many terms. It has received only 3.4 stars ratings on IMDB and it shows people don't seem to like this movie. However, if you're a die-hard fan of suspense based and flesh-eating zombies, feel free to watch Day Of The Dead: Bloodline.
Conclusion
Zombies are one of the most loved fictional characters. Those are scary and interesting to watch. I've listed some top best zombie movies on Netflix which are rated high by viewers and have a good storyline and gives us scary moments. Drop down your comments and suggestions in the comment box and let me know your thoughts on this list. Don't forget to share this article with your friends if they do love zombie movies as you do.