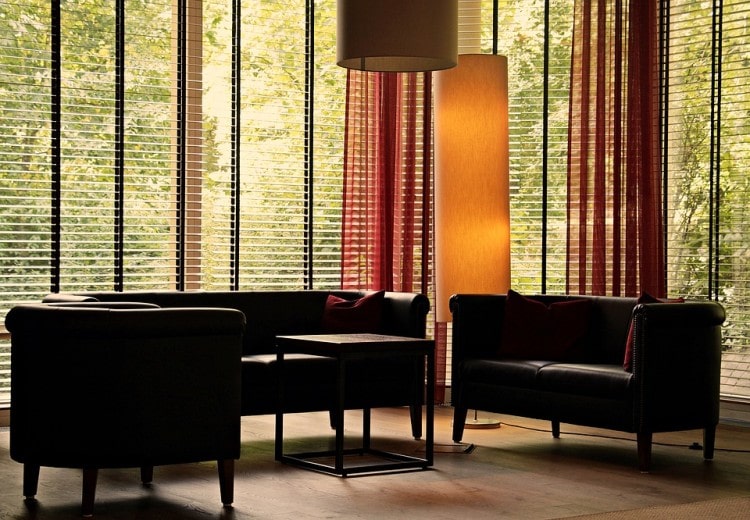 Interior designers all over the world are significantly hired and are handsomely paid for their creativity in building an entirely new look to your place. Curtains have been a part of the poetries and quotes for their influencing shade that depends upon the writer's perspective. As Susan Abulhawa narrates her scene that was gifted with tranquility when the thin curtains from her window got lifted up by the cool breeze. With time as clients developed their likeness and demand for natural lighting, types of window curtains evolved. Companies diversified their production with innovations in types and textures. However, service providers were opportune in giving the best fit design as per the request of their clients with expertise. Company logos like We have your windows covered, attract the customers with their motives, helping people in designing new offices, homes and other commercial venues. Vertical blind consultant Sydney is one of the leading companies, serving exquisite interior décor, specifically blinds and shutters for both internal and external use. Jean-Louis Deniot was ranked 1st as the best interior designer of the world in 2019. He succeeded by creating atmosphere and magically transforming the site with eclectic style. At the end of the day, this is all that we want around ourselves. And interestingly natural light can play an incredible role in enhancing the whole design.
Classifying the Types
Broadly dividing the window covers, we come across some of the most wanted forms of them. Drapescan be the first option for a lot of property holders pondering over while dressing French doors above and beyond the glass frame. Shutters give a clean and tailored look that blends in, not shouting for attention. You must be attentive with the custom-louvers that is mounting right on the glass frame. Similarly, Zebra Blinds, Illusion Blinds, Venetian Blinds, Panel Blind Systems, Decorative Screens, Stationary panels, Box Pleated Curtains, Tab Top Curtains and Rod Pocket Curtains are well-known in the modern world.
But according to the survey, the majority of the public stick to the conventional types of window covers that are curtains and blinds. Now the question is which one comes with more bounties? Before you invest in your luxurious apartment, ponder over these tips to get Wow Statements from your visitors.
Blinds vs Curtains
Let's talk the older cover first! A beautiful set of curtains draping from the rail contributes to the deluxe finish of the room. Blocking any sort of drafts from the window, giving a cozy and pleasant look and enhancing the lavishness by its features, is all that makes it so worthy. When bought with linings, especially blackouts, works quite well by filling in the gaps more efficiently as compared to blinds. Curtains give us the liberty to be imaginative by giving us various options with color, fabric and thickness of textures. Recent blind technology pushed the conventional curtain types to bring innovation. These new features are giving a striking aspectof sophistication. Sheer Curtains fit best for Scandinavian setting and airy atmospheres. Velvet Curtains being heavier, are better suited for cozy settings.Thermal-backed curtains, for extreme climates, prove to be good as they are energy efficient. Those who understand the black color of solar panels have a vivid idea of how black color absorbs the heat and keeps the warmth sustained. But some people don't find as effective as others do. According to them, these curtains also cover radiator and releases the heat out of the window. The abundance of color and design allow people of a different mindset to design as they pictured. But Why not the curtains? They are usually not found suitable for bathroom and kitchen interiors. They can't be placed for filtered light due to their fabric nature as compared to blinds. Hence, less durable as they get mouldy, moth-eaten or stained (especially bathroom curtains are more like to catch up moisture). As we know, price lays heavily on the material, but curtains are found more premium than made to measure blinds. Curtains may also result in reduced energy saving if they cover the radiator.
Blinds, on the other hand, are more useful and practical as modern office block and houses are more focused on energy saving for which they are inculcating more glass walls than concrete. These glassy structures are tricky for the interior designers to deal with because they can't allow all the shine to enter the workspace and create troublesome visions. Thus, blinds are amazingly filtering the customized lux. Vertical blinds and Venetian blinds are fanciful as well as professional fix. Blinds do come in various slat size and thickness, e.g. lined Roman blinds.Blinds are especially useful in kitchens for their lightweight and easy cleaning. Although it collects dust quite easily, a fast vacuum is easier to execute, rather than throwing curtains in the wash. If easier to handle, you can also search for a wipe-clean product. People with allergies may have a slight response to them. Unlike curtains, blinds do not cover the radiator and improvise energy saving. In this regard, even opened Venetian blinds are favorable against cold or heat.
Interesting facts about blinds and curtains that you didn't know
Marie Antoinette's Curtains from Fleur de Lys, one of the most expensive mansions in Los Angeles,owns shower curtains which worth $6,000. A beautiful and extravagant piece that is woven with gold. This leaves us imagining about the rest of the bathroom.
The Swarovski Crystal Curtain is a three-ton, 60-foot tall sparkling curtain with 100,000 crystals. This gave a beautiful show to the 2009 Academy Awards. These amazing cascaded crystals successfully became the star of the event.
Ever since Hunter Douglas created aluminum blinds in 1946, they have led as one of the most exquisite blind manufacturers in the world.
Remote Controlled Skylight Blinds & Shades, Cordless Zebra Blinds Mechanism and Smart Things Window Blinds are the latest and modern style blinds of this era.
Final word
Keeping everything in mind, one may select a particular style of curtain or blind for the room because the number of windows and dimensions to be covered will impact the cost directly.  But if you are obsessed with both types, we do have an escape. Allusion Blinds phenomenally combines the luxurious touch of curtains with the practical style vertical blinds.