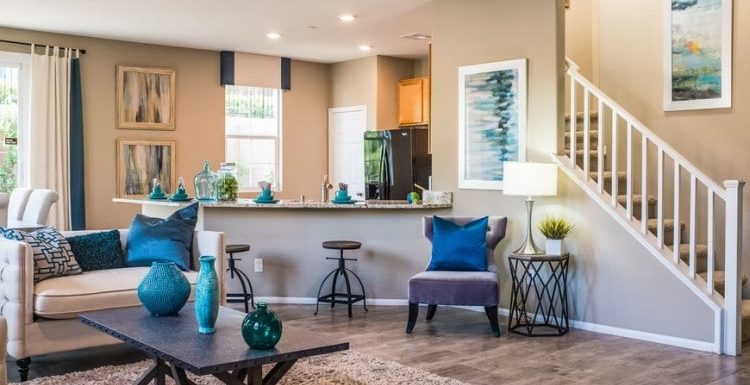 It can be boring living in the same place day in and day out, which is why it is important to make small alterations to your home now and then. Small improvements here and there can stop homeowners from getting itchy feet, and when you are actually ready to move to a new property, they can also boost the value of your home. Here are 8 bold ways to help you transform your home.
Install a Victorian Style Floor
A simple way to completely change the look of a room is to install new flooring. A brand new floor made with high-quality material will help bring a touch of class to your home. Not to mention, you can change a room's vibe by picking the right flooring. For example, Victorian flooring is an elegant choice that offers bold and beautiful results. You can create this style by placing one colored Victorian style floor tile with other colored tiles to achieve a geometric design. The great thing about Victorian tiles is that there are plenty of variations on the market.
Impactful Artwork
Art is completely subjective, which means you can't go wrong with adding a statement piece to your home. The artwork you choose will naturally reflect your personality, and it will help add character to a dull room. If you have no experience with art in the home, you can start small with one or two prints in the living room that go together. Alternatively, you can choose a sculpture to display in a prominent position in the home.
Stained Glass Windows
Stained glass isn't just for churches and period properties. You can add some color to your home too with some stained glass windows. Colored glass does a great job of enhancing the mood of a room while being entirely functional too. Stained glass windows can also be used as focal points in a dull room. When the light shines through, the glass will help cast a beautiful, colored glow through the windows. Adding stained glass panels to your front door will give you privacy while enabling light to reach your hallway.
Statement Light Fixtures
Statement light fixtures are a great way to boost the appearance of a tired room and can completely refresh the look of an old home. From a glamorous chandelier hung over the dining table to eye-catching sconces in the bedroom, there are many unique ways you can light up your home. Just make sure you choose a fixture that complements the surrounding area in which it will be installed. For example, a pendant light hung at just the right height can help you highlight your kitchen island, but it will do nothing for the aesthetics of your kitchen if it is hung too high.
Fantastic Flora
Stunning flower arrangements and leafy, green plants help breathe life into any home in both the literal and metaphorical sense. Fresh plants can actually help oxygenate your property while filtering out harmful toxins. Low maintenance plants that help boost air quality include spider plants, peace lilies, and weeping figs. In addition to helping you breathe better, the colors and textures of a house plant or a bright and cheerful bouquet of freshly picked flowers can liven up a dull room too.
Statement Feature Wall
Plain walls can make a room feel empty and lifeless. Luckily, a feature wall with a few statement details can easily rectify this problem. Simply painting one wall in a room a different color will make a huge difference. However, those who want to go all out can paint the wall then add freehand detailing or wall stencils, or pick use wallpaper that features an eye-catching design. Additionally, you can add wall décor, such as framed photos or wall art, to finish your statement wall.
Smart Upgrade
Statistics show that 8 out of 10 people own a smartphone, and if you're one of those people, why not upgrade your home to make it smarter too? Using a smart device, homeowners can now control the temperature by voice, turn off the bedroom light while at work, and see who's knocking on the door without physically being there. Upgrading your home in this way will give you more control, it can help improve your security system, and it can help you run your home more efficiently.
Atmospheric Fireplace
Fireplaces evoke feelings of warmth and comfort and can truly change the ambiance of a property. A crackling fireplace can be enjoyed by everyone in the main living area, while a small, cozy fire adds a touch of romance to the bedroom. Fireplaces needn't cost a fortune either. Wood or coal fireplaces are a traditional choice. However, with the right design, flueless gas and electric fireplaces can be just as charming.