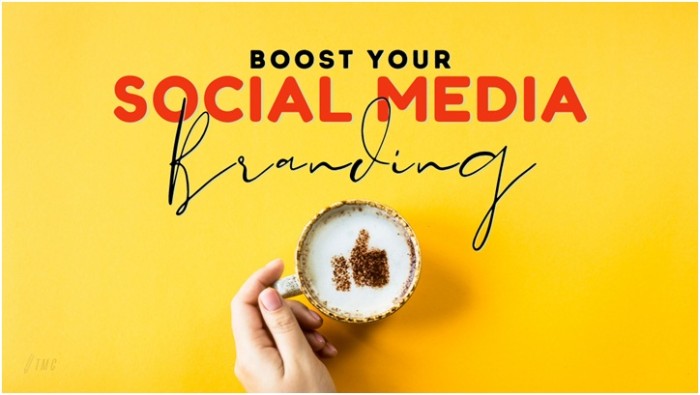 Social Media Branding is the strategy to manage the profile, identity, and market position of your brand, making it consistent across digital networks and platforms.
Consistency in engagement strategiesis key in any social media branding effort. The goal is to steadily grow in social media presence through the people that follow or support your brand.
When consumers begin to trust your brand, consumer referrals would be one of your most powerful marketing tools.
As you can increase brand awareness, generate leads, gain customer loyalty, and provide more personalized customer service, social media branding improves too.
Social Fresh says that 76 percent of businesses target brand awareness through social media. You need to take advantage of the potential that social media brings in establishing your brand and building deeper loyalty with your followers.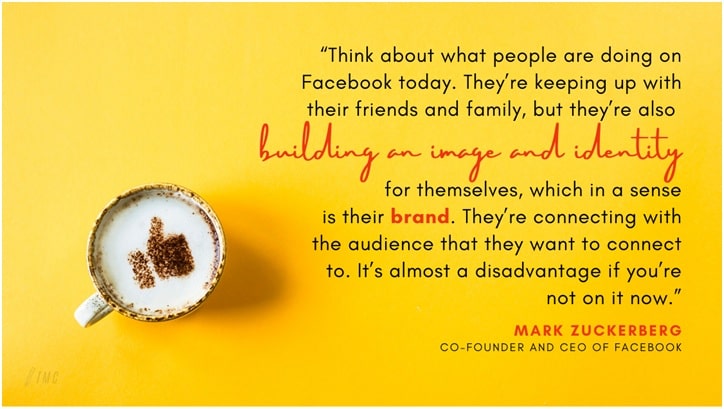 5 Effective Strategies for Social Media Branding
Check the following tips to optimize branding in social media:
1) Focus branding on the best social media platforms for your brand.
So many social media platforms exist out there, and although all of them are good, not every platform is going to be beneficial for you and your brand.
For instance, as great and convenient Twitter is, if your target demographic are consumers in their 50s and above, you will not find them on Twitter, and they will not find you there. But if you advertise and promote your brand on Facebook and Youtube, two social media apps that have audiences from this generation, then your social media branding strategies have the potential to succeed.
And success is translated into the number of social media conversions you get from a branding campaign.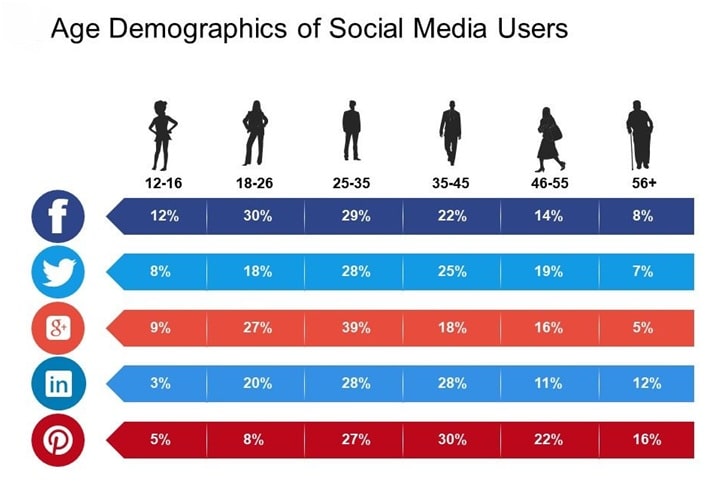 With over 2.6 billion MAU or monthly active users in the first quarter of 2020, Facebook is the world's largest social network. Over one billion active Facebook users in the third quarter of 2012, making it the first social network ever to do so.
2)  Protect Brand Authenticity
Your social media presence must be distinct and authentic, or you will not make an impact. Build and develop a unique identity, personality, and back-story.
Strategize how you are going to tell your brand's story in the best way possible through your posts, your design, your logo, and the like. Optimize campaigns to establish that uniqueness so users can tell you apart from the competition. Create fresh and original ideas that echo your brand's flavor in a sea of other websites in your niche. You need to be relatable, yes, but you need to have that edge in branding, so you are more memorable with your target niche.
Strive to give opportunities for your audience to experience your brand in a personal, unique way as well.  For instance, you can run a hashtag campaign where they send their pictures or videos. It could be a comment section added to your articles, or maybe engaging with your audience or viewers on trending posts and the like.
User-generated content (UGC) on social media is on the rise, bringing value to your brand and better user experience (UX).
For example, video is an influential UGC that connects your brand with your audience in ways other media could not. UGC videos about a brand are watched 10x more than official brand videos on YouTube.
UGC videos provide audience-trusted insights that can help consumers to trust your brand.
Pamper's UGC video campaign, "Love, Sleep, and Play," included UGC videos from different moms of their bundles of joy playing, sleeping, and enjoying time together.
Videos were sent through Facebook and edited into one video ad. It was a success and touched the hearts of parents supporting the brand, increasing their brand authority and conversions. The UGC video ad also earned them a lot of positive reviews.
https://www.youtube.com/watch?v=82IAe3usYJ4&feature=youtu.be
Even if you don't have a video content team, you can still produce videos like a pro with the right video editing software.
Whatever strategy it may be, it would be profitable to leverage UGC for social media branding. Story-based, user-generated content quickly gets millions of followers because it is more engaging than traditional content.
Leverage Brand Personalization Your Brand
Personalization vastly affects the interaction of the brand with your customers and boosts social media optimization (SMO).

More than 59 percent of consumers say that personalization influences their buying decisions, and 65 percent even say they are more likely to shop when a seller remembers their name and purchase history. Amazon has mastered personalization to a tee, evidenced by the millions of sales they get monthly from repeat customers and new customers. Personalization is definitely worth the effort.
Personalization endears you to customers and deepens their confidence with your brand. Again, maintain authenticity while trying to be relevant.
Check who's influencing your target audience. You don't have to imitate what these influencer brands or personalities are doing but get a valuable perspective into the qualities behavior and lifestyles that your target market relates to. This insight helps you promote your brand smartly and strategically.
Here is another sample of social media branding campaign from Coca Cola that garnered great success: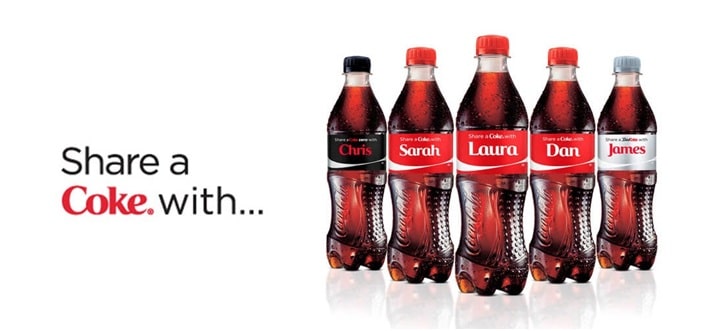 The "Share a Coke" campaign remains as the most popular personalization campaign to date. It successfully engaged consumers with their advocacy by personalizing brand logo labels with real consumer names. It encouraged sharing a coke with someone and gaining a friend, saying thanks, or simply spreading the love. Its #sharecoke hashtag spread like wildfire on social media.
4)  Create User-Friendly and Appealing Designs
Your brain digests images around 60,000 times faster than it does for text. Does design matter, then? Absolutely. You need to align your brand design with your social media marketing goals because your design can either make or break your campaign.
Your brain digests images 60,000 times faster than text. Design matters. Designs can either make or break your campaign.
For instance, when you see posts like below, you will immediately recognize it is Starbucks. It does not matter what the background is, what country that post came from, or what whether. When you see that cup and that logo, you just know it is Starbucks. The brand collects images from its users who send entries for their various #hashtag campaigns.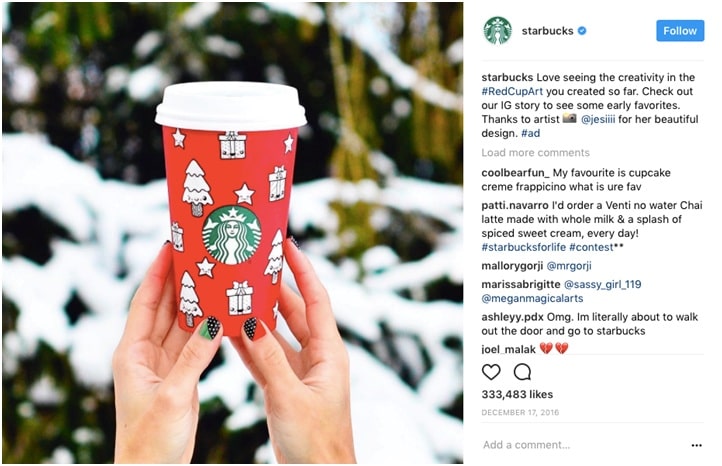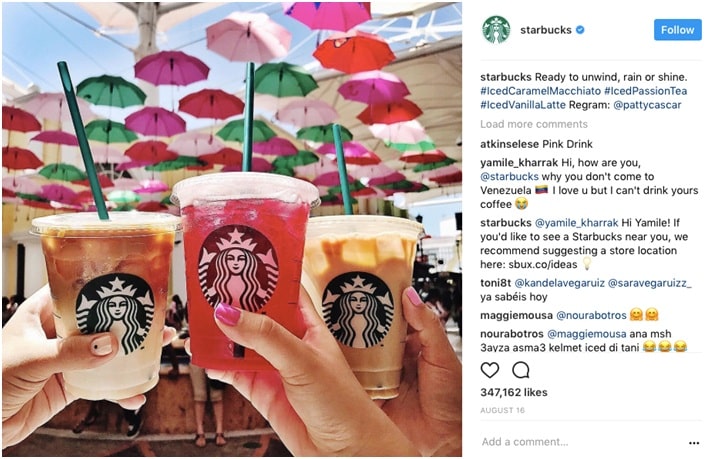 Use design trends that work well with audiences. From typography to use of empty spaces, colors, and themes. Stay fresh by being in the know. For instance, could you imagine Col. Sanders of KFC in any other suit but white? Representing him in another color would be breaking branding or identity.
So be mindful of designing your posts. Make it look consistent with your brand and identity while creating appealing images. Include high-quality images or videos to be more memorable for your audience.
5)  Master the Art of Storytelling through Social Media
Consumers will typically follow brands with a good story behind them. I can relate to your brand, what your brand is about, and how your brand is relevant not just to them but to society, you are likely to gain a loyal follower out of them.
Your brand must be cut above needs to be a cut above the rest. All brands want to be the first in their niche. But the competition is stiff. So, instead of competing for the top spot, carve your spot in that niche with creativity, originality, and relevance. You can do that through your brand's storyline. The story will sustain your following. The humanity behind your brand is what consumers follow more than your products, expressed through stories.
Conclusion: SMO is Key to Social Media Branding
A recent study says it takes just 10 seconds to create an impression with your visitors. You need to make an impact in those few seconds, or you might lose that lead or conversion.
What compelling story will you tell your audience in those 10 seconds that leave a lasting impression? How can you highlight your brand instantly that visitors stay and turn into valued consumers?
It is why social media branding is so crucial in digital marketing. With the intense competition in social media, businesses now need effective and reliable brand strategies. The key to social media branding is optimization. The right blend of social media optimization and branding strategies get you the followers, subscribers, and conversions you need.
Author Bio: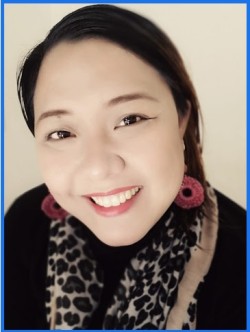 Mayleen Meñez worked for seven years in TV and Radio production, and also as a Graphic Artist/Editor. Finding her true passion, she devoted 15 years in NGO and community development work, where she experienced being a coordinator and teacher, travelling both in the Philippines and countries in Asia. She homeschools her three kids and reinvents Filipino dishes in her spare time. Writing has always been a hobby and pursuit, and she recently added content writing with Softvire Australia and Softvire New Zealand up her sleeve, while preparing for her next adventure in the nations.