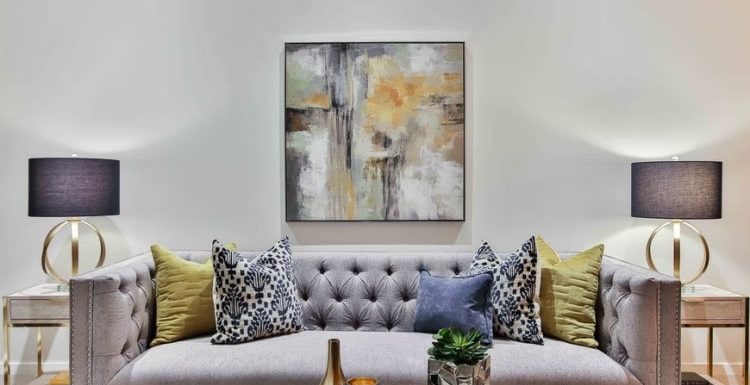 Your living room should be a place where you feel comfortable. A place to gather with friends and family, relax and enjoy making memories. No matter the square footage of your space, there are clever ways to redesigning a small living space to maximize function and style. Our tips will take your room from feeling crammed and cluttered, to cozy and calm.
Are you thinking about redesigning your living space to sell your home in the coming real estate market? Consider selling your home for cash in order to move into your new home-sweet-home at record speed.
Sized for your space
The number one tip for cleverly redesigning a small living space is to select furniture that is sized appropriately for your square footage. This means ditching the oversized sectional couch, and opt for a slender, bulk-free design. Consider getting dual club chairs instead of a sofa to save on space or go for a loveseat that offers a smaller footprint.
Try to select furniture that delivers dual purpose whenever possible, because clutter makes a room feel smaller. Maybe select an upholstered ottoman instead of a traditional coffee table. This makes for a comfy footrest and can function as a table when a stylish tray is added on top. Go for side tables that deliver a slender silhouette, and drawer storage to tuck the clutter away.
Trick the eye
When your space is limited, tricking the eye into thinking the room is larger than it is will be key. Try offering limited contrast between woodworking and the wall color for a more streamlined appearance. Hang drapes higher than the tops of the windows to draw the eye upward, giving the illusion of taller ceilings. Place mirrors wherever you can to bounce light around the space and trick the eye into thinking the room is larger than it is. These small tips can make a big impact in the overall feel of your living room.
Cohesive colors
A small space doesn't need to be all white and lackluster, however it is important to keep to a cohesive color scheme. You can add interest with pattern and differing shades within your color scheme but keeping to a cohesive look will make your room appear larger. Sticking to a unified color story will make your living room have a more streamlined and seamless look.
Go built-in
A great way to maximize space when you are redesigning a small living space is to go built-in whenever you can. Built-in shelving maximizes space and creates an effortless focal point. Built-in lighting saves on floor space and can create a cozy aesthetic. Try installing design-worthy sconces for a showstopping look that will maximize your square footage.
Amp up light
A light an airy space will naturally feel larger. This means maximizing any natural light you may have and adding light wherever you can. Try limiting window treatments if you can, and make them light and simple to ensure your sunlight is pouring in during the day. Add mirrors to the walls to bounce light and consider adding can lighting throughout the room for a bright look no matter the time of day.
Creative storage solutions
A crammed space is often due to clutter. Making the most of every inch of your room can limit clutter and subsequently make your room look and feel larger than it really is. Think about the vertical space you have. Add floating shelves to maximize your wall space and storage. Consider maximizing an unused corner or nook for a slender, built-in desk or cabinet for added hidden storage. Utilize any awkward architecture your room may have to maximize your space.
Draw they eye
When you're limited on space, it's always a good idea to draw the eye to a focal point in the room. Whatever this may be for you (think a fireplace, pretty windows etc.) thoughtfully arrange your seating to aim into your focal point. Playing up a standout feature in your room will make it appear more inviting!
Go vertical
Decorating your room with vertical space in mind is always a clever way to redesign a small room. If you don't have a ton of floor space, it's great to utilize your walls. Think of adding artwork, or shelving that sits high on the wall. These elements using your vertical space will make the room feel more cohesively designed and offer added function.
Leave a little breathing room
It can feel tempting to push all your furniture up against the walls in order to pool all your open space together in the middle of the room, but this can make the space feel smaller. Consider floating a sofa for space around the back and front of it, or at the very least pull your furniture a few inches away from the walls to give a little breathing room.