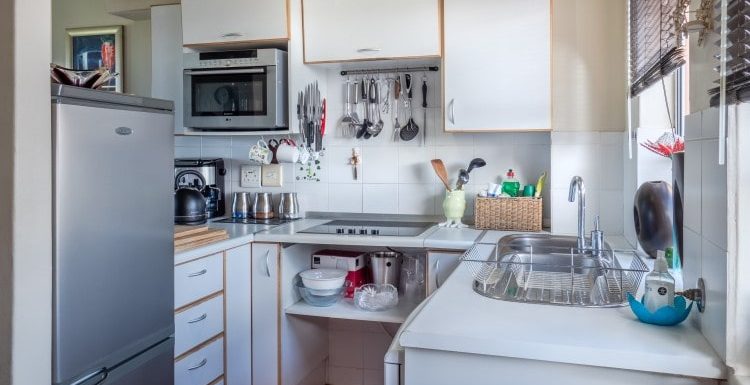 An organized kitchen is the ultimate key to bringing in the positive vibes in our homes. If you organize your kitchen properly it will save you time, money as well. You can easily clean it and most importantly you will enjoy your cooking time. Organizing involves space-saving solutions, which are related to storage space.
Basil homes is one of the best modular kitchen designers that provide a perfect beautiful modular kitchen along with ample storage space that organizes your countertops and keeps it clutter-free.
1. Create Cutting Board Slots
Cutting boards complete your kitchen, as it is an imperative tool that is heavily used. You get varieties in chopping boards and it is important to give your boards a proper space. You can go for a cutting board cabinet with vertical slot separators that prevent a messy pile-up.
2. Install a Pull-Out Pantry
Your kitchen might have different cabinets to store all the essentials, but did you know the pull-out pantry works well as it is helpful in accumulating required spices, dry goods, and cooking vitals. The pull-out pantry is superior, easily accessible, requires less space, and provides more functionality.
3. Stretch storage spaces to the Ceilings
If you have used almost every space of your kitchen for storage purposes and are still searching for some more, then stretched ceiling cabinets are a very good option. You can place them above your hood and windows in order to retain as much storage space as possible.
4. Closet Conversion
Closet Conversion, which is also known as a walk-in pantry. This storage option is important as you can use this for storing your baking essentials or even you can store any expansive collection. The shelving units in the closet offer extensive space for all your utensils.
5. Make built-in appliances
If you want to add that sleek and smokey vibe to your kitchen, then you can simply build everything in. All the required devices and cooking gadgets such as coffee maker, water dispenser, oven, and many others can all be built-in. This type of storage gives a less cumbersome appearance to your kitchen.
6. Above the window spaces
Window cabinets are always interesting. If you are falling short of space, you can use the area above your window. An elementary shelf above the window fills all the leftover space and can be used to exhibit plates, bowls, and art.
7. Label Everything
Labelling makes it easy to identify the kitchen essentials. You have so much stored in your kitchen due to which it might be hectic for you to determine all of it. Labels are the best way to organize your kitchen, as it avoids mess, saves time and most importantly makes the cooking process smooth. You can also purchase containers with clear tops, as it makes the ingredients more visible.
8. Put up on Display
We all purchase beautiful sets which can be displayed on the exposed part of your kitchen, as these sets give a perfect look to your kitchen and go well with the theme. You can always place elegant items on shelves that are uncovered and the rest of them can be tucked in cabinets. This gives an organized look to your kitchen.
9. Hide the appliances
Hiding appliances is the best idea to organize your kitchen. Appliances like toasters or microwaves can be stored in pull-out trays to keep your kitchen more organized. Hiding appliances also keeps it safe, accessible and keeps it well organized.
10. Containers for everything
Containers are specially designed for storing purposes and for organizing your kitchen in a better way. Make use of these beautiful glass-labelled containers to store your essentials in a standard way.
11. Repurpose old office supplies
Repurposing old office supplies means bringing things back to life with extra touch and elevating your kitchen. You can always recycle old material and can use it for placing special items that are required to stay out in the open. You can create racks that will hold the kitchen essentials and make them more accessible.
12. Hang all the Cutting Boards
Cutting boards are counted in vital cooking tools, therefore hanging them above the stove makes it handier. Hanging cutting boards standardise your kitchen by making use of less space.
13. Concealed Kitchen
Just the way the wardrobe conceals all the clothing material, similarly you can conceal your kitchen, which is a perfect solution for a small space kitchen. It is a complete game changer and keeps the complete space organized.
 14. Island Drawers Both Sides
Island kitchen gives a better space to your kitchen. You get a countertop that can be used as a table or even a space to place your essentials. You can add drawers to your island as this creates more space in a smart way.
15. Get a Bar Cart
A Bar Cart is the best accessory that can be used to organize your kitchen, as it provides a little more storage space that you are searching for.
16. Try the Floating Cubby
A floating cubby is a modern décor item that is specifically designed for space in the kitchen that gives an elegant look, providing storage space and style to your kitchen. It requires less space and gives more features.
17. Keep the Countertops clear
Always keep your countertops clean and clear. Make sure that the vital cooking tools and essentials remain on the countertop and the rest is placed inside the cabinets. You can also make use of the wall by hanging racks over the sink. This appears to be more organized and clears the space well.
18. Under cabinet glass shelves
If you want to have an organized kitchen along with an elegant look, you can always opt for under-cabinet glass shelves. These are designed especially for those sleek wine glasses to be hung up there offering a sumptuous look to your kitchen.
19. Hang a Plate Rack
Plate racks are always a good option, as this keeps your collection organized in a proper way and keeps it out of the way, makes it accessible, and is easy to grab.
20. Hang a curtain to hide open lofts
If you have an open space and utensils under there are exposed, you can always go for a curtain. Curtains are affordable and can be easily installed in the required area and hide the necessary place.
21. Add Wooden Baskets and Bins
Wooden baskets and bins provide ample space and work well as décor items for your kitchen. You can place this basket wherever you wish to. You can store anything you want as per your needs.
 22. Hang the Mugs
Just like a plate rack, you can use the copper pipe shelving to hold your coffee mugs with hooks and make them more reachable and give your kitchen a chic look.
23. Ornament the kitchen with an Etagere
Adding an open shelving unit will give you more storage space. This type of unit can hold bowls, books, etc. You can adjust the space accordingly.
24. Save some space with Swing Stools
No matter how small your kitchen space is, you always need a place for dining. Swing stools are always a better option as this can be used only when required and it almost disappears when it's not in use.
25. Install a pullout cutting board
It might get hard to clean the cabinets, keeping this in mind the pullout cutting board had been designed. The pull-out cutting board has a hole, that makes it easy to clean and you can easily pass the trash into the bin directly.
These are some of the unique kitchen storage ideas for your kitchen, hope these are useful for you.
Let us know which idea is on your Wishlist.
We would also like to know tips and tricks from your side.Kitchen Storage Ideas
Author Bio
Anamika Dubey is a SEO associate at Basil Kitchens, She has earned her master degree in science and after being a teacher for a while, she has invested her interest of study and research in writing, she is a skillful writer.