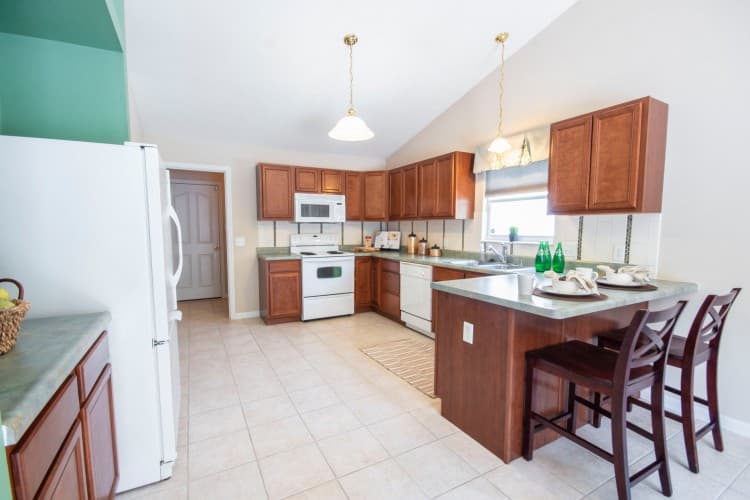 A lack of space is a common affliction. With more people choosing to live in flats or smaller houses, it's inevitable that the space available isn't always great. Especially when it comes to areas of the house such as the kitchen. Finding ways to navigate this lack of space, then, can be important in order to ensure good, clean, design.
And so, with that in mind, here are some top tips to help keep your kitchen design modern whilst still being beholden to the restrictions of a small space.
Utilise Wall Space
Increasing storage and making more working room in your kitchen can be one of the hardest things to do in a small kitchen. Which means utilising your wall space, as much as possible, can be one of the best ways to claw back some much-needed room.
Hang utensils, put in shelves to store items that otherwise clog up the counter and just try to leave no space unused. The tops of your cabinets? Great storage space. The top of the fridge? Also ideal. The space over your stove? You guessed it, prime storage real estate.
Check out a few online sources, look for some ideas on sites like Pinterest and you may be surprised by the different places you can carve out some additional storage. Remember, it doesn't always have to be horizontal!
Bonus Tip: Invest in some cupboard organisers. An added shelf or two inside your cupboards can improve your space saving by at least half.
Create Points of Interest
One way to distract from a small or cramped space is to draw attention away from the fact. And there's no better way to do just that than with some art, interesting decor or even simply just by utilising your countertop gadgets as decorative items in themselves.
An artistic piece on the wall is likely to drag the eye's attention and pique people's interests. Which can be just the distraction you need when it comes to a cramped space. Give them something vibrant, colourful or otherwise attractive to talk about instead. By doing so you could bring even the smallest of spaces to life in a way you might not have expected.
Kitchen appliances themselves can be quite beautiful in the modern world. So, don't be afraid to spend a little extra money on something which looks good.
Add a Little Leather
Even in a small space you can still give the appearance of luxury and expensive design. Leather is a premier material and so can make any space feel a little more designed, a bit more luxury and ultimately can improve the whole aesthetic feel of your kitchen. And you don't have to break the bank in order to add a little leather to your design!
For example, a few leather designer bar stools can really be the impressive element you need and they can come in an array of styles/colours to fit your aesthetic. Other types of leather accents in the room may also be a good way to achieve this. Such as leather handles for drawers, DIY leather labels, leather organisers and even wrapped knife handles in some cases.
Lighting
Even the smallest of spaces can be uplifted with some interesting lighting choices, so don't be afraid to experiment.
Expensive lighting can be great, but it isn't necessary in order to achieve a better look in your kitchen. Lighting can affect the perception of a room's dimensions, so even a few budget options can improve your small kitchen feel. Think about adding some mood lighting for areas, under cabinet lighting (this can highlight some attractive kitchen accessories as an added bonus) and even something like pendant lights can be great.
Re-Paint Stuff
You might be surprised by how a simple lick of paint can transform any space, whether it's your kitchen or otherwise. Re-paint your cabinets, paint the walls or even just paint the ceiling a brighter colour (bright colours can help with improving the feeling of size).
The best thing about this is the fact that paint is relatively cheap compared to re-furnishing completely. So, if you're working to a tight budget it can be the option that makes the most sense.
Final Thoughts
The trick to improving your small kitchen through modern design isn't a secret. You can use all of the modern techniques, just on a smaller, tailored, scale in order to fit in better with the space you have available.