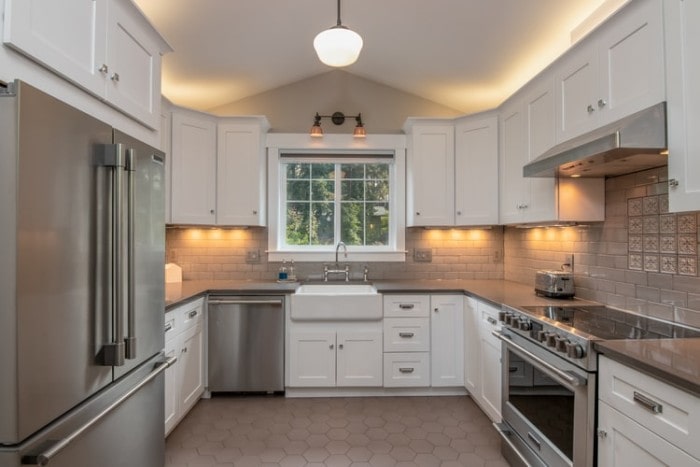 It's the one phrase you don't want crossing your lips after you remodel your kitchen space; 'It seemed like a good idea at the time'.
However, when you are dreaming of a kitchen remodel, you want to dream big and create a space you love.
That is why we have created our guide to common kitchen remodelling regrets, below. So you can make sure that you're not making mistakes that'll cause you to regret the money you have spent in the long run.
Creating a Kitchen Space that is Crowded
Your kitchen wish list may be long, but it is important that you aren't squeezing too much in a space that is too small.
For example, if you want a kitchen island, you'll want to ensure that it is surrounded by at least three feet of space around it and if you want a dishwasher, make sure you can walk around it even when the door is fully open.
Getting Over Excited with the Open Shelving
Yes, it looks great and it's popular. Opening shelving will allow you to show off all of your stunning cookware and trinkets, to make your kitchen look unique and truly yours.
However, you need to take a moment to consider which shelves should be open and which shouldn't.
Open shelves can be really useful for items you use often, such as plates and coffee cups, as they'll stay clean. However, using open shelves for infrequently used things, you'll find that they quickly build up dust.
Choosing Overly Luxurious Appliances
Unless you're planning on staying in your home for a very long time or having high-end appliances is really important to you, don't waste your money or splurge.
When you purchase an appliance from a reputable retailer such as Howards Electrical, leading provider of domestic appliances, you'll be able to purchase appliances you can trust, all at a great price.
Forgetting About the Rubbish
Another common kitchen design mistake is forgetting about the rubbish. There is nothing worse than having a gorgeous workspace and nowhere to discard rubbish.
Make sure you have enough room in a well throughout place for a bin, whether that's under a sink in a sliding system or a custom fit cupboard.
Not Properly Venting
Did you know, when cooking dinner for your family, you can release more than a pint of water into the air? That doubles if you are using a gas range.
When that water is improperly vented, it will seep into your walls, ceiling and appliances, causing mold and mildew. This is why you need to ensure that you have a proper ventilation system installed in your home, leading outdoors. This will also keep your kitchen clean and help to protect the structural integrity of your home as a whole.
If the opportunity of reshaping your kitchen into the space you've always dreamt of is tempting to you; don't be afraid! Follow your dreams, but just make sure to think things through. Don't allow your fantasy to turn into your biggest regret.