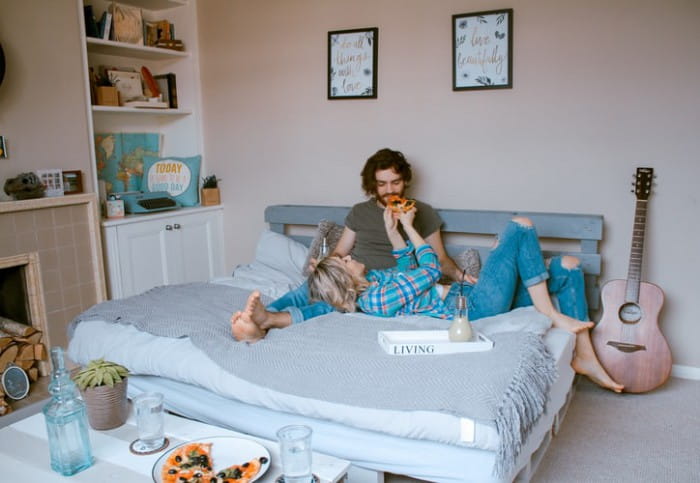 Encompassing a range of styles from the latter half of the 20th century, contemporary interiors are more than just a trend. They have become a standard in home design.
If you're looking to pull together a contemporary bedroom design, there are a few rules to follow. In this guide, we'll talk about the elements that make up a contemporary home and how you can make your bedroom warm and cozy despite being classy and modern.
Rules of Contemporary Interior Design
Tone-on-tone color palettes.
When redesigning your bedroom, the first thing you need to consider are the colors you will use. Contemporary interiors feature tone-on-tone color palettes and the most common choices are brown, taupe, cream, black, pure white, and grey.
Here are some more ideas to tone up your bedroom:
Incorporate dark hues. Dark hues add a nice contrast and look to your contemporary bedroom and make the area an ideal spot to cuddle up.
You can make your bedroom a little more laidback by adding shots of color through artwork, a striking floor rug, or a handcrafted accessory.
Balance the room. The best way to do it is to place a substantial piece of furniture opposite the bed.
Simple, classy furniture.
Contemporary bedrooms make use of slim, classic furniture pieces with smooth surfaces and clean lines. When shopping for furniture, choose those that don't have any carving or adornment. You can choose among wood furniture (light-colored like maple and birch), stainless steel, chrome, or even frosted or clear glass.
Few but carefully selected accessories
A few accessories can go a long way in making your contemporary bedroom stylish and comfortable.
Add a personal touch. The use of designer home accessories is a great way to make your bedroom pop while staying classy and stylish.
Warm wooden accents and a vase filled with fresh blooms are timeless classics.
Try mixing old and new styles.
An elegant tufted headboard can give your room a luxurious feel.
Add wooden ceiling beams. These are an inexpensive, smart architectural way to add warmth in your bedroom without taking space.
Natural fabrics.
Woold, linen, silk, and cotton can be used for a contemporary bedroom and that's because of their inherent neutral hues and unique textures. For the bedding, it's usually black and white. This classic color combo is not only stunning but also very stylish and works well with different accessories.
Consider these tips to incorporate fabrics in your room:
For a cozier bedroom, you can bring in bold patterns or colors with pillows, a rug, or a throw.
A faux fur rug, for example, adds a touch of warmth and luxury in your contemporary room.
Layer rugs in different shapes and patterns for an extra-comfy look.
Put an assortment of textured throws in soft neutrals.
Artistic lighting
Lighting is an important element in any home design, contemporary or not. But for contemporary homes, lighting is also used as an artistic statement. When it comes to lighting a bedroom, the possibilities are endless. Here are some of the best ways to make your bedroom more comfortable and cozy using lighting:
Add accent lights throughout the space. They can make your bedroom look instantly inviting.
Consider side lighting. This modern concept almost looks like the light is creeping out of the ceiling, creating a soft glow. Side lighting is built by installing thin bulbs across the top of the wall.
Bubble chandelier. This completely modern concept creates bubble-like effects coming from strong LED lights that make your room bright enough.
Whatever lighting design you prefer, always go for soft lighting choices.
Minimalism
Contemporary bedrooms are focused more on the bed, so there usually is minimum use of furniture and accessories. If you have a tight space, contemporary built-ins make room for additional storage. An interesting focal area, such as a photo gallery, a mini wall art, or a unique accessory is all you need to make your bedroom warm and cozy.
Pulling off a contemporary bedroom is easy. You just have to take note of all the rules discussed above, from selecting colors to choosing furniture and accessories, lighting, and fabrics. Make sure to incorporate the tips and suggestions listed in this post to improve the coziness of your bedroom while keeping it classy and modern.
Author Bio:
Leila Amber is a Design Trend Setter at Knothome and a passionate writer, home decor and design enthusiast. She has a keen interest in the content that inspires her to dig deeper into the practice and create helpful design and decor guides.