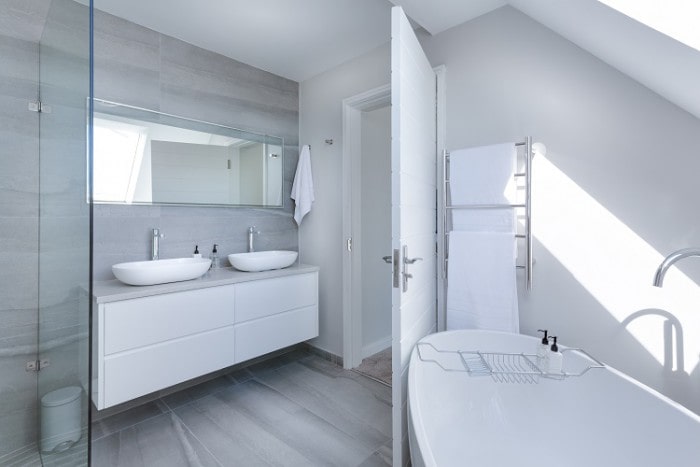 If asked most of the people which is the important area of their home, they will always answer its bathroom. If asked me I would also say the same. The bathroom is the one place that should be well-organized, neatly maintained and be kept clean. As hygiene is one of the important factors when it comes to the bathrooms, it is very essential that you renovate and remodel your bathroom space as and when needed. Whether it's remodeling a grand bathroom or a small bathroom, having great renovation ideas is a must. Few of the bathroom renovation ideas can actually help in revamping your bathroom space. 
5 cool bathroom renovation ideas
The Shower
One of the best and popular renovation choices for bathrooms is the bathroom shower. They even require most of the maintenance. An ideal shower is the one which takes less space, is easy to use and clean. If you are planning to remodel your bathroom then you can opt for a stand-in shower in a glass enclosure. This gives an aesthetic look to your bathroom and even makes it fully- functional. With the enclosure, the dry area and the wet area easily get separated. So now, no water will come into the basin area it will stay only in the bath area. The shower enclosure all helps in keeping the bathroom neat and hygienic. No accumulation of bacteria or hard water takes place. It also reduces the chances of people slipping in the bathroom due to the water.
Attractive wall tiles
When thinking of renovating your bathroom, one thing which will never disappoint you is the attractive wall tiles. They not only add style to your bathroom but also give depth to the bathroom without asking for any change in the fittings. If you have a bathroom with less and limited space, then the contemporary tile patterns and designs are best for you.
Tiles remove the dampness and are easy to clean. They are ideal fix for renovating your bathrooms. They add color and light to your bathroom giving it a natural look. If you want a funky look you can get floral wall tiles for your bathroom. They add monotone and deep colors to the bathroom and do a rustic pattern trick.
Tabletop basin
One of the brilliant renovation ideas for your bathroom is installing a tabletop basin which not only frees up the space but also makes your bathroom look much bigger than before. The additional space which is under the table can be used to keep a basket or cart in which you can store essential shower gels, soaps, perfumes, shampoos, and other toiletries. The tabletop basin comes with a lot of flexibility so you can install it according to your height.
Coordinated bathrooms with best bathroom fittings
If you're looking to renovate your bathroom and change it entirely. Then, you should go for coordinated bathroom designs that synchronize your bathroom fittings with the interiors of the bathroom. Your bathroom should speak about your personality. Therefore, choose a chic style and sleek designs keeping your preferences in mind. For example, you can choose wooden finishes walls with coordinated bathroom fittings. You can choose from a variety of designs and upgrade your bathroom quotient when you renovate your bathroom.
The lighting of the bathroom
The bathroom is a space in the home which is highly functional. With being functional, it has to be artistic too. Not all bathrooms can get the natural light that's why additional light is required to enhance the beauty of the bathroom. It's a fact that the brighter the bathroom is the larger it looks. A great way of enhancing the beauty of the bathroom is with ample lighting.
If there is no light and it's simply dark it will ruin all the bathroom renovations that you've made. There are ample of ways on how you can light up your bathroom. It could be with lighting for bathroom purposes or color LED lights to make your bathroom colorful and cheerful. A back-lit mirror is also a good option. You can even opt for shelves and cabinets with lights along. The lighting can entirely change the look of your bathroom space.
Whether it's about making little renovations or fully remodeling your home, a little bathroom renovation can help in making a huge difference in the look of your property. You can remodel your space in order to improve the aesthetic space with new, stylish bathroom designs. You can even opt for practical renovations like choosing a good shower design, a good hand shower, good LED lights, etc. Whatever and how you decide to renovate your bathroom space, always ensure that you use genuine bathroom fittings. The bathroom fitting should be of your choice, matching your style, personality and should fit in your budget.
Author Bio: Hi! I'm Maria roser. I'm a content marketer who has formerly worked with Fast Media. I'm a writer at day and reader at night. I like to write about things that are necessary for your bathroom wash basin. How to take care of your bathroom, how to make your bathroom look stylish etc. This article is aboutbathroom renovation.