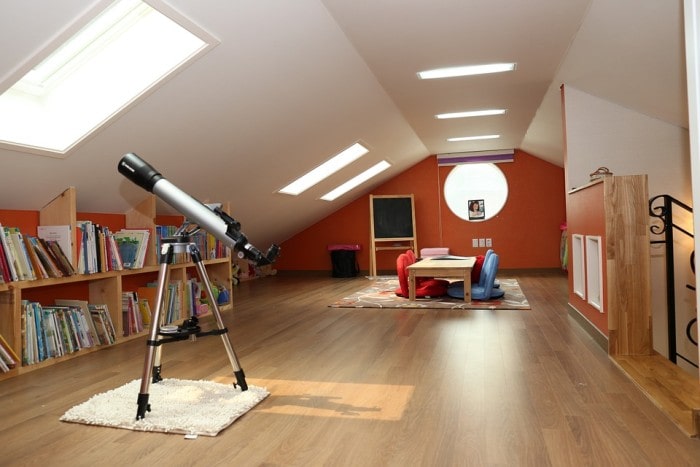 Carving out some extra space in the attic is a great way to maximize your home's square footage.  The attic space can be an excellent bedroom for teenage kids or a fantastic home office. However, to make the most of this space, you need to address a few challenges like sloped ceilings, low light, and hard to dress windows.
Once you have insulated the attic, built a subfloor, and wired it for electricity, you still have to decorate and make it feel like home. These three simple tips may not be conclusive, but they will completely transform an otherwise stuffy room into a haven.
Find the right window treatment
Attic windows are almost always on the slanted wall or on top. The first thing you should do when you decide to live in the attic is to check the roof condition. Will the windows allow water to get into the attic? Do you need to do some roof repairs and insulation? Are the gutters working well to prevent flooding?
If the windows don't open, you must ensure the air conditioning works in that space to prevent stuffiness. Once everything is in order, choose motorized shades that you can pull up and down easily. The right window treatment will help you control the light during the day and have some privacy.
Maximize space with white and lighting
There are two significant problems with attics: too little space and limited light. Painting the room white is one of the ways you can sort out both problems. The color white makes space look more spacious and brighter, so don't shy away from going all white. Since the attic is far away from the home entrance, you don't have to worry about bringing in mud or dirt into that white haven.
If you have any doubt about painting the walls, roof, and ceiling white, know that a white room feels like a big puffy cloud. Hanging a beautiful chandelier or pendant light will also add some aesthetic appeal, not to mention a whole lot of light. You can also add a couple of lamp lights for the desks to provide more light at night.
Go small with furnishings
The last thing you want is to congest an already small space with stuff. When bringing in furniture, you have to be very strategic about where each piece goes. For instance, unless it's a baby cot, the bed should go in the middle of the room so everything else can fit around it. If it's an office, the big office desk should also be at the center.
For the short spaces where the sloping walls come down, place custom-made shelves, cubbies, and other storage solutions. Be sure to utilize all those nooks and crannies by placing wicker baskets and boxes for storage.
Decorating the attic is not easy because you have to consider the height of the room and space. However, you can simplify it by taking measurements first before buying any furnishings. Bringing in some house plants and framed pictures is also a great way to make the space feel homely.