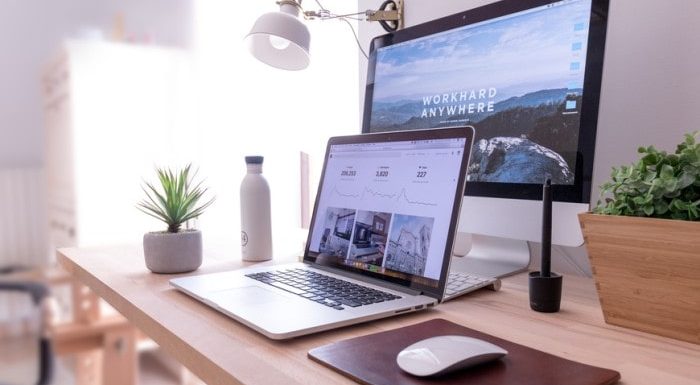 If you're working from home, chances are your desk is where you spend most of your time. Whether it's a cluttered mess or spotless and orderly, let this blog post help you create an environment that will make work more enjoyable for you!
We'll teach you how to set up the perfect workstation with cable management ideas and tips on creating a space to enjoy working from home.
Add Simple Artwork
Put up some artwork to create a focal point on your wall. Painting can help make a focal point in a room and is a great way to add some color to a room in your home.
Print out some of your photos, go to an art store, and purchase some pieces that you love! Traditional paintings are always a good option, but there are plenty of options if you want more contemporary artwork.
Consider using artwork to cover up cable clutter. You can do these several ways, but one of the easiest would be putting them on a picture ledge or mounting board and hanging it behind your desk chair!
Locate Everything
One of the activities you can do to arrange and locate your things is sorting your items by their categories. This includes separating them according to their types, such as papers, books, and other objects. It also includes categorizing them according to their material, such as metallic or paperboard.
Doing so will help you know where to look for a particular item that you need.
Locating things will not be difficult if you place them in their proper areas. If they are pens, for example, then put them all on the pen holder that you have prepared earlier. You can also use cable management devices to keep your cables organized and easily accessible.
If there is no specific area where you need to store the cable, just wind it up neatly and hide it underneath your table.
Break Space into Work Zones
Remote workers should have two computers for work and personal usage in an ideal world. More secure for the employer, and you can do whatever NSFW you want in privacy.
A home office isn't always possible for everyone, and having two computers isn't always feasible either. Place specific peripherals and an entire desk or table area aside for work purposes exclusively.
An example of this is when your laptop is connected to an external display and keyboard. It's personal time when it's on your lap. Creating a second work user account and partitioning your hard disk are also options you may want to consider.
A better work-life balance may be achieved by making even modest distinctions between work time and personal time throughout your day.
Organization Equals Productivity
Organization equals productivity should be your mantra. You'll be able to get more done with a clean and organized desk instead of a cluttered, disorganized one.
Organizing things involves not only physical space but also time management. It means that you need to set aside time for the important things to us, work or otherwise.
Organizing is a good thing to do, not just for your sanity but also because it will help you save time and money. You'll be more efficient with the things you have instead of spending time looking for something or having to go out and buy another one of those items.
There are various ways to organize. Some people like having everything out and on display, while some prefer the opposite of that, keeping things hidden away in drawers or cabinets.
It's essential to think about your needs and preferences and those of the people using these items. You'll want something that works for you, not against you.
Conclusion
Desk Organization Ideas to Help You Enjoy Working From Home is an excellent way for remote workers or those who work from home to maintain focus and productivity. To achieve this goal, you need power strip desk clamp to keep your cables organized and easily accessible. It's essential for the worker and their family members who may be sharing space with them too!
Setting aside certain areas of your desk or workspace exclusively for work purposes will help you stay focused on what matters most – getting things done.
When allocating time, it's important not just because it helps us get more accomplished in less time but also saves money by having items last longer when they're correctly cared for.
Finally, using organization equals productivity as a mantra can help.