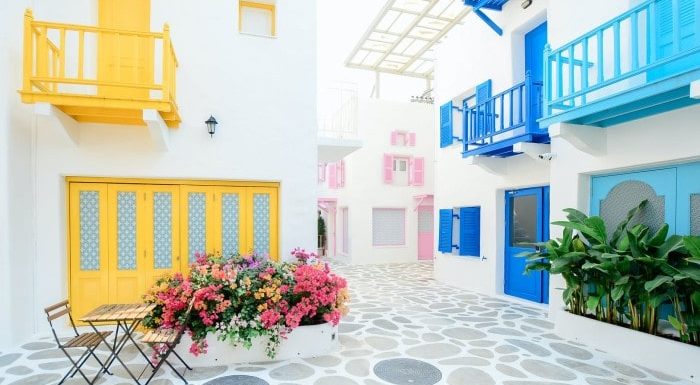 Whether you're looking to sell your home or simply want to spruce up the outside, increasing your curb appeal is the best way to do it. The term curb appeal refers to how good-looking the outside of your home is. For those looking to sell, curb appeal is crucial in getting potential buyers through the door. People judge books by their cover, so if your house looks great on the outside, then they're more likely to check it out. Not to mention, you want the outside of your home to reflect the inside! There's nothing wrong in looking to upgrade the outdoor aesthetic.
Driveway 
It's normal for driveways to get chipped and cracked over time. After all, your driveway is one of the most used areas of the home. Replacing a worn down driveway can seriously elevate the outside look of your home and give it a new feel. There are plenty of driveway designs to choose from depending on your personal style. One of the easiest ways to make your driveway look elegant for a budget-friendly price is with concrete. Smooth-finish concrete driveways are inexpensive and very sturdy so they can withstand major usage over time. If you're looking to add a high-tech aspect to your driveway, consider adding heaters underneath for the winter months to melt snow and ice without needing to shovel. 
New Garage Door 
Your garage door is just as important as your home's front door, if not more. Garage doors are large focal points that draw the eyes in. If you're looking for a quick switch that will noticeably upgrade the outside look of your home, look into a new garage door or fixing up your current one. There are various ways to upgrade your current garage door, including adding new hardware, applying a fresh coat of paint, or applying an entirely new finish that can change the color and texture. Alternatively, if you feel like your current garage door isn't salvageable, you can replace it entirely with something new. 
Fresh Paint 
Over time, it's normal for the paint on your home to fade. While some people like the muted look of faded paint, there is no problem in wanting to give it a little bit of an upgrade. In fact, even a couple fresh coats of paint can make your house look more vibrant and welcoming from the outside. Applying a fresh coat of paint is one of the best ways to add curb appeal and can be done through hiring a professional company or by doing it yourself. Adding some new paint lets you address any damages or areas that look a bit rough and faded, while adding instant value to potential buyers. A lot of potential buyers look for homes with minimal upgrades needed. Taking care of the outdoor paint could work in your favor when it comes to selling. 
Landscaping 
Landscaping is another excellent way to upgrade the curb appeal of your home. You can do your own landscaping by mowing the lawn, trimming hedges, and maintaining plants. Keeping your outdoor gardens clean and simple will make them easy to maintain while still benefiting the look and feel. If you want to add more color you can focus on landscaping that includes plants with a variety of different shades and vibrancies. If you want a landscape that fits your surrounding environment, like for example in a desert, you can opt for landscaping types like xeriscape that provides plants that are made for dry climates. 
Clean and Wash 
This may seem obvious to some, but your home can get dirty. Over time, so much dust, dirt, and other outdoor debris can stick to your home. Taking the time to clean the outside can help you gauge how much work needs to be done. Sometimes just pressure washing the house can help bring your home back to life. Other times, cleaning and washing the outside of your home can help you see what areas perhaps need some fresh paint and a little TLC. You can also pressure wash more than just your home's exterior and extend the cleaning to your driveways/walkways as a great way to freshen up your house and give it a well cared for look and feel.
The Bottom Line
Your curb appeal matters. Whether you want to sell your home or simply want to upgrade your space, taking some time to focus on the outside of your house can really elevate its look. There are a variety of ways to spruce up the exterior of your home that doesn't break the bank. Whether you choose to redo your driveway, change your garage door, elevate your garden, add some new paint, or do a little cleaning, your house can look as good as new.