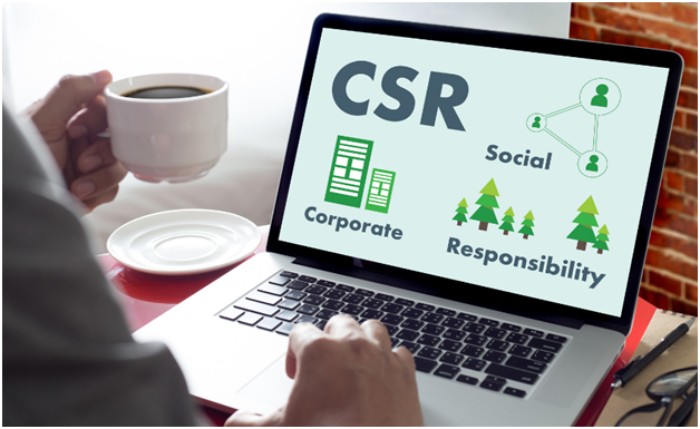 Corporate social responsibility (CSR) is more than just a once-a-year opportunity for businesses. It must be an ongoing part of any business strategy. CSR can be a consistent activity that can become an efficient part of your business process. It can be one of your digital marketing strategies that are linked to your overall brand objectives. These days, using social media for CSR can be one of your most innovative ways to spread good deeds and brand awareness.
Signing extensive checks or promoting every other cause on your business page, on the other hand, isn't the best way to go about it. Nevertheless, CSR and digital marketing have similar effects on your audience. They evaluate your message and its relevance to any current social situation. With this in mind, it is essential to note that CSR is a fantastic way to give back to your community while raising awareness of important issues affecting your industry or society as a whole.
CSR And Social Media
Social media is an essential component of developing a progressive communication strategy. When businesses genuinely engage in CSR activities, they reap the benefits of their efforts, such as increased brand awareness and higher employee satisfaction. Moreover, because of your visibility on their social media feeds, you are getting additional exposure and recognition from potential customers.
CSR initiatives are typically classified into one of four categories: raising awareness, incorporating ethical practices, reinforcing economic responsibility, and encouraging social sustainability. These can take various forms on social media, depending on the nature of the network and the target demographic.
How To Use Social Media For CSR Campaigns
To make out the most of your social media channels for your CSR objective, you need to ensure you use the right strategies. Here are some ways you can do it:
1. Target Your Focused Group
When it comes to social issues, amassing massive followings on social media isn't always the ultimate goal. Instead, it is more important to define your primary and secondary target users and try to keep your message efforts concentrated on them.
Your customers are not just your target market, but people also outside of your zone that could find the relevance on the significance of your campaign issues. Knowing who you want to reach out can eradicate the blurring of your campaign's mission. For example, you may try to get everyone to "like"your online campaign, but in the end, none of those people can turn up to do the actual social activity you are aiming to conduct.
2. Involve Your Followers
Making sure that the public can participate in your company's CSR is essential in your campaign. While telling and sharing to your audience what your company or business is dedicated to in social issues is vital, empowering people to help it execute holds much more power. Simply posting your activity is self-promotion, But involving your audience creates a sense of deep connection and builds brand community.
Posting and sharing can bring general awareness to your initiatives, but social media users' participation can get more benefits. It can enhance the impact of your CSR campaigns and drive credibility to your brand.
3. Know The Best Time To Post
Posting on social media for your CSR initiative can be a delicate task. You must ensure that you will do not appear to self-promote. Likewise, sharing too much content can turn your audience off and will overwhelm them. Whatever promotion you want to make will not be effective and will not impact your target audience.
What you can do is create a dedicated social media account for your CSR campaigns. You can use this specific account to update the followers of your activities, share reliable information, and drawing inspiration to your audience. That will help avoid audience burnout by sharing exciting content like facts, trivia, quotes, or social-related news. While it may add work to your content creation, you can quickly whip it using many design software for beginners available on the internet these days.
4. Make Your CTA Visible
Your CSR communications campaign should aim to move people to take some action. You can effectively do it by placing Call-To-Action or CTA on your social media platforms. Most companies use CTA to make a strong purchasing power. Some use it to encourage their audience to sign up for a subscription or click on a link to drive them to visit their website.
A strong CTA in your CSR communication can involve your audience in ways other than reading and sharing your posts. It can play an essential role in encouraging your target users to participate in your campaign or in a similar way. Aside from being a catalyst of change for other people, it can also help improve your reputation in your industry as you take part in social projects.
5. Show Your Core Competency
Looking at your company's strengths, rather than just what you want to do, is the best way to start developing your CSR initiative. It is all too tempting to get caught up in the network of social media trends and simply support the causes that are gaining the most traction. However, if you can't make a meaningful link between the cause and your brand, this can backfire.
So, once you've established your brand with sufficient connection with your audience, the next logical move is to choose a CSR campaign that complements your company's strengths.When shared on social media, it will make your CSR activities more genuine and meaningful.
6. Make Your Campaign Relevant To Your Audience
You must remember to pick a cause that speaks to your target demographic.Determining a cause that affects your overall industry can help you get traction. Moreover, your social media followers aren't always consumer-level. If your company operates in an industry where audiences are investors, influencers, or simply observers of industry events, this may lead to a potential partner in the future.
So, when you design your campaign, it would be wise to analyze metrics and analytics. Understanding how it will matter to your audience can provide a more meaningful impact.They can step up and contribute to your causes or at least be more aware of their choices.
7. Use It As A Communication Tool
The other thing you must learn to master to get along socially is asking and listening. The problem is that many companies make the mistake of flooding their news feeds with endless streams of content. But, of course, that goes without ever giving much thought about whether or not the information is relevant. Moreover, by just hearing what your customers and supporters have to say about your CSR activities, you will learn a lot about their preferences.
An integrated communications strategy can only be effective if your brand is willing to engage with your market. By investing in two-way communication for your CSR campaigns, you can draw a considerable advantage when using social media. Interaction with your customers will inspire a dialogue about the causes your brand is engaged in. It will show customers that you are dedicated to what you are trying to do with social relevance.
Final Thoughts
These days, social media platforms provide an excellent ground for quick and engaging communication among your CSR and sustainability projects. Your social media strategy can be vital in driving an online audience to take part in their social obligation. However, you must note it can be tempting to promote your CSR initiative repeatedly. While you can do this, you must try to downplay it to not come across as self-congratulatory with your audience. Instead, you can encourage and remind them to do their share of good deeds on any social or environmental issue. Make your stories naturally engaging, so you can inspire whoever they may be.