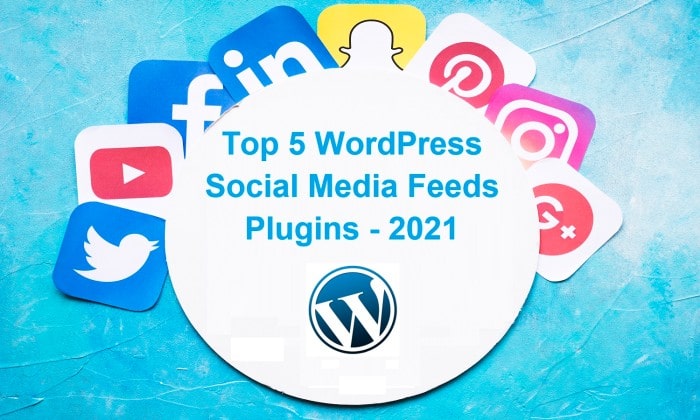 Social Media has over time emerged as a crucial part of any marketing strategy. It has gradually made a place itself for marketers for designing campaigns and upgrading their businesses.
Embedding social media feeds into the website can prove to be highly effective and beneficial for businesses and brands.
To do the needful, you require social media aggregators and plugins/tools. Don't worry; you need not be a technical expert. These tools and plugins are mostly simple to use and do the needful effectively and efficiently.
As a marketer or brand, you can make use of Social media and make your website more attractive, increase your engagement with the audience, boost your conversions and sales and bring in more traffic to your website.
5 Best WordPress Social Media Feeds Plugins to Boost Your Traffic & Sales:
There are so many social media plugins/tools available that it becomes difficult to select one.
In this blog, we have listed the top 5 Social Media Feeds plugins for your WordPress website that are easy to use and offer a lot of features.
So, let's get started!
1. Tagembed
Topping the list is Tagembed which is undoubtedly the best UGC platform using which you can easily collect, curate, and embed your social media feeds on your WordPress. With Tagembed you can efficiently collect content from over 15+ platforms and integrate it on various website building platforms. Tagembed offers the option to customize your social media feed using various layout options, themes, colors, fonts, and branding options.
With the Tagembed profanity filter available in the moderation panel, you can easily monitor the content before publishing. It also offers the option to analyze the performance of your feed on your website and keep track of the total impressions, clicks, conversions, number of visitors, etc. It has integration with various website building platforms like Squarespace, WordPress, Shopify, HTML, Wix, etc.
2. Smash Balloon
Another popular social media feed plugins using which you can embed social media feed on WordPress is Smashballoon. Smash balloon various features and is easy to use.It works seamlessly on Facebook & Instagram. This plugin lets you create many feeds you wish to embed. Moreover, all the themes are layouts are mobile responsive and work well on mobile devices.
Smash balloon has an API key registered with Facebook and Instagram. If in any technical glitch, you need not worry about fixing the issues.
3. Social Feed
Next on the list is Social Feed which is apparently a popular choice amongst website users.The social feed provides you with the option to customize the feed as per your preference.Social feed supports all the major social media platforms and efficiently collects content from all the platforms and embeds it on the website.
The major downside of this plugin is it is not compatible with YouTube. With that said, overall it is a lightweight social media plugin and does the needful well.
Apart from this, you also have the option to customize the feed as per your personal preference. It lets you show or hide any captions you wish to, postdate, and much more.
4. Feed them Social
Feed them social is another popular social media plugin using which you can create an attractive feed for Instagram, Facebook, YouTube, and Pinterest & Twitter.
Simple to use and effective, you can embed the feed anywhere on the website be it the sidebar, blog post, or landing page. Mainly all the designs are mobile-friendly and do not need to be optimized for various devices. Feed the social lets you add various buttons like follow and like to increase followers.
5. Embed Social
Embed Social is an easy-to-use WordPress Social media plugin using which you can easily display albums from Facebook, Instagram, Twitter and embed it all on your website.
All you need to do is embed a short code on your website and the rest will be done by the plugin. As you update a new post on any of the social media platforms, it will immediately get displayed on the website.
Talking about customizations, you get various options from themes and layouts to choose from. You can edit the picture, adjust the width and height as per your website and display your feed as a slideshow or a grid.
Wrapping It Up
And that's a wrap! Here was a list of the Top 5 social media plugins for WordPress that we highly recommend using for seamlessly and effectively embedding your social media feed on your website.
There are over 600 million daily social media users who actively scroll through their feeds and if as a business or brand you aren't taking advantage then you are certainly missing out a lot.
Social media is the place where you can connect and communicate with your existing as well as potential clients.
Embedding your social feeds makes your website's overall look much more appealing and attractive. Apart from this, you can tremendously increase your website traffic, user engagement, and boost your conversions and sales gradually.
Author Bio:
I'm Daisy and I'm a digital marketer & technical writer. I'm passionate about exploring and writing about innovation, technology, social media feeds, and digital marketing trends.