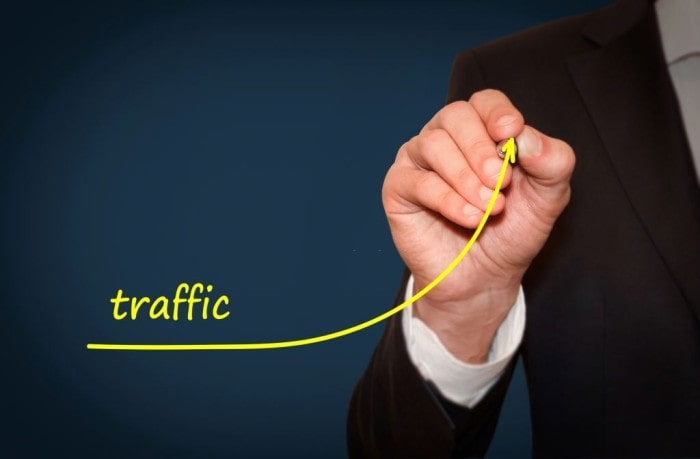 No matter how old your website is, everyone needs traffic to it. Your website means nothing and will not be a help in your business without people visiting it. In this article, you will learn several methods that will help to achieve impressive traffic analytics.
This guideline is for anyone who is looking for effective ways to improve a website's traffic. You've already read about 7 proven ways to get quality traffic on your website, so here we'll elaborate on this and suggest some new ideas.
What types of traffic exist?
Before you start working on your traffic, let's remind yourself that there are several types of traffic on the Internet that overall are called Organic and Paid.
Organic visitors do not follow other websites to reach yours. They find you directly through search engines and give you free traffic. Paid traffic is the opposite of organic because you need to pay for it. So if a person comes to your website after following the links you promoted on social media or Google that is paid traffic.
Organic traffic is a dream of every business. However, to achieve high and stable organic traffic you will spend a lot of time and effort. You can read this article to understand organic traffic better. If you are reluctant to wait, choose Paid traffic. You can target your audience and GEO. Just be ready to invest a lot of money in it, especially in highly competitive niches.
The Best Techniques To Increase Website's Traffic
Right SEO
SEO is the first thing you should try to make your website more attractive to Google and users. With the right SEO, your website can get a lot of organic traffic.
You can do on-page and off-page SEO. When you do on-page SEO pay attention to the following: keywords, title tags, header tags, descriptionsб sitemap. Off-page SEO is also necessary for your traffic.
Instead of doing all the work yourself, you can hire an SEO specialist that will help you to achieve better results.
Adopt Website for Mobile Devices
In the second quarter of 2020, mobile devices (excluding tablets) generated 51,5% of global website traffic (statista.com). This knowledge is enough to understand why your website should be comfortable for smartphone users. You cannot lose a big deal of potential traffic only because the website is not adopted for phones.
Mobile-friendly websites automatically fix the display based on screen size. Also pay due attention to design, download speed, ease of navigation, and quality of information.
Develop a YouTube Channel
When you look for something on Google, no matter what it is, you often see videos. And it is not surprising, because users like videos that can answer their questions. Most of the videos will be from YouTube, which is owned by Google and is the second most popular social media platform in the world. Not only small businesses but big corporations use YouTube to increase traffic to their websites.
Of course, you need to win the audience first. Your channel has to have enough subscribers and lots of views to be interesting for YouTubers and appear in search engines. Now many channels use marketing services to get views faster, like the best site to buy YouTube views.
You can create "how-to" videos that are really in demand now. Insert the link to your website in the description box or as subtitles. Remind people to visit your website for more information and to get some treats.
Reminders through Email
Pretty sure, you already know that constant communication with existing visitors helps not to forget about your website and encourages them to visit your site again. As regular coffee shop customers, they will eventually develop a sense of loyalty to your website. This is a fantastic way to drive traffic to your website.
Send the brief digest on your website`s news every one or two weeks, so you will not be annoying to subscribers. Check for email marketing plugins to use.
Regular Content Audit
You should always generate new content to attract new visitors. However, editing old posts is also a great way to drive traffic to your website.
Update previous content that is already generating good traffic. It is very likely that such pages are already well ranked in the SERP. Updating will keep them relevant and increase the chance of a higher ranking.
Strive for quality, not quantity. When you plan an update think of ways to improve your content.
Contact Influencers on Social Media
Influencers or opinion leaders are people that have many followers on social media. Certain groups of people follow them and trust their opinion. An influencer can be an expert in a certain field, a blogger, or just a housewife that posts interesting content. In every sphere of our lives, you can find an influencer – fashion, politics, sports, and even fishing.
You need to find opinion leaders for your target audience, even if they are not directly connected to your field of business. Offer a commission or free service to "become friends" with them and get recommended. This is a trend-setting method to promote your website since most of the users look for recommendations on social media.
Conclusion
In this article, we touched only on the most effective and easy ways of increasing traffic to your website. Of course, there are more. Tell us about your favourite methods in the comment section.
Thank you for your attention. Never look back on your failures, keep moving forward!
Author Bio:
Anna R. is a freelance digital marketing specialist. She is passionate about her job and always tries new things. Traveler, giggler, and friend of animals everywhere.