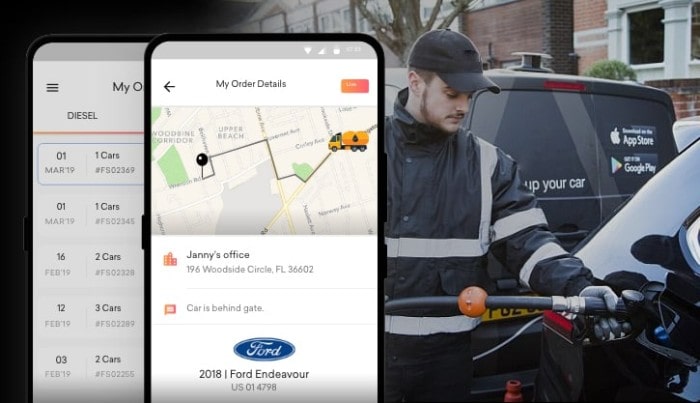 A decade ago, it was not easy to get things at doorstep. But with the growth of technology, in today's time, almost all the necessary things & services are possible to get it on the doorstep. It could be food, mobile phone, home appliances, bike and car rentals, taxis,  and more.
There is one service that is not so popular but could be a potential idea of ​​on demand app for the future. Fuel delivery is something that most people may not have heard of. This business has a lot of scopes to be explored. The market is still new and the competition is very low. And of course, this is the correct  time to start a business when the eCommerce industry is booming.
This article will let readers know about how to start an on-demand fuel delivery business.
Rules And Regulations:
Follow all the compliance procedures and make sure that all the rules and regulations of the country are followed to avoid some legal issues in the later stages of the fuel business. Your on-demand fuel delivery business must adapt to all the necessary criteria to be followed in development.
Get approval from PESO
It is important to get approval from the Petroleum and Explosives Safety Organization (PESO) for your business to operate smoothly in the market. You have to obtain permission and necessary licenses from federal and state officials. Don't forget to check the state law regarding special licenses, permits, and taxes.
Build It Infrastructure:
After getting all compliance and certifications, build a robust IT infrastructure that supports your fuel delivery business. For that, you will need to create a processing facility and a complete response system. Arrange the apparatus and assets to build these both. Include GPS in all the fleet as it is important for tracking and management.
The IT infrastructure should be such that allows you to digitize communication systems and informative to produce optimal value with service.
Hire HAZMAT Drivers:
Fuel is not only an expensive commodity but also inflammable in the terms of properties. Therefore, hire commercial  HAZMAT (Hazardous Material) drivers who could handle and deliver fuel to your customer safely. HAZMAT drivers are highly trained professional truck drivers who can successfully transfer inflammable materials.  They are not only trained for safe driving, but they can also handle the distribution of hazardous materials and adjust the routes on road traffic.
Acquire Tanker Or Truck:
To run a seamless fuel delivery business, you must acquire at least one supply tanker or truck. Although, you can not run this business without one. Ensure that your vehicle is installed with Mobile Defense Units (MDU). As your business gains good traction and grows financially, you can increase the fleet of vehicles and other technologies.
Collaborate With Fuel Providers:
Find out the perfect source from where you can easily get the fuel for your business. Tie-up with so many suppliers, with so many areas across cities, so the delivery of fuel to the required place shouldn't be delayed. Also, you can always get a  better price from different fuel providers that will ultimately lead you to a better margin. Make sure that you have collaborated with the right fuel providers to avoid fuel supply issues.
Digitize Your Business:
Digital transformation is shaping the future of on-demand fuel delivery solutions, so take advantage of the digital world to take your business to the next level. An on-demand fuel delivery system can boost your efficiency, increase workforce productivity, and make faster and better decisions. Therefore, your business needs to have an excellent fuel delivery app solution.
To start a fuel delivery business you will mainly require a customer app, a driver agent app, and a robust admin panel. Through the admin panel, you can monitor and manage all the operations and you will be updated on every detail of the order. You will also be able to manage and track the operation of drivers. Therefore you can manage all the workflow with one single app at your hand.
Your app must be simple, user-friendly, and easy to explore with great UI/UX. Besides, available your app on multiple platforms such as Android & iOS which will gain your maximum customer base. A fully featured mobile app will be the backbone of your fuel delivery business, therefore hire the best software development team out of the market.
Reports and analytics:
You will need strong reports and an analytics section. As you are dealing with highly inflammable liquids it will ensure safety. It will help in assessing various parameters that are important for the business. You can measure and control some crucial things like pressure and temperature.
Apart from this, it provides various data which helps in managing the overall inventory and supply of the product. This data will provide some insights, which will be helpful for working with some major business decisions.
Marketing and expansion:
Promote your business on major social media platforms such as Facebook, Twitter, Instagram, and even Google Ads to boost your online presence. For promotion, you may offer some discounts in the form of introductory offers. Additionally, create a package for customers ensuring monthly payments.
The target audience for your business is the people who utilize the internet on a daily purchase basis. By using an efficient on-demand delivery solution, you can easily analyze your visitors and plan your business strategies accordingly. This will soon result in higher profits for your business.
Wrapping Up:
For customers, it's a substantial substitute to the fuel stations.
Nowadays, is the right era to finance your wealth in the fuel delivery business as it is still in a blooming phase of  fast development.
Thus, don't excessively spend your time and find an appropriate developer to construct your On-demand fuel delivery software that would boost your fuel delivery wealth.
Author – Bio

Kunal Gohil, Product Manager of Gasswift, one of the leading on-demand fuel delivery solutions. He is a highly motivated entrepreneur who drives his organization with his exemplary leadership skills. His aim is always to strive for perfection and to come up with innovative gas and fuel delivery solutions.