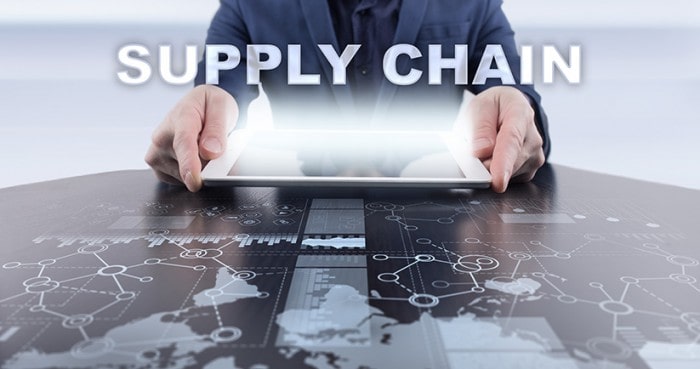 ERP is taking services and product industries by storm. Considering it to be the best business management solution so far, today's blog is about ERP for supply chain management. From managing supply chain to scheduling delivery, ERP has become the favorite application of various industries. The recent statistics reveal, ERP software collects over $25 billion every year and continues the growth by 10% to 20% yearly.
ERP for supply chain leverages manufacturing and distribution companies with greater visibility, enhanced speed, efficiency and customer satisfaction. To ensure optimum work efficiency, businesses use supply chain management ERP to increase their productivity and profitability.
ERP for Supply Chain Management
Production:Creating bill of material (BOM) for individual item and keeping a record of machines and labors have become easier with ERP software. The change or modification of information is updated in real-time. All the process related documentation are fed into an ERP system which can be accessible by multiple teams at the same time through personalized dashboards. Any last minute changes can be easily accommodated within the ERP software, which makes companies fulfil their delivery commitments.
Procurement:Supply chain management ERP is an effective tool to manage supply of goods and services across the chain. From warehousing to transportation all the activities involved in supply chain are taken care of by ERP software. Communications with vendors and suppliers can be logged into the system and automated for direct responses. These communication logs can be pulled out in real-time whenever required making it the most preferred feature for saving time.
Demand & Planning: The Demand & Planning module of ERP software helps companies assess their stocks. The inventories that are in-demand and will be required in nearing future can easily be identified. In order to create an end product, it is important to know what every single item required in the building. Depending on the complexity involved, some inventories can be stocked without any hassle while few would take months. ERP software demand generation graph for inventories based on the present demand and past demand trends. This help companies forecast the prospective need and better plan for future sales.
Shipment: Post shipping of the item, ERP software for supply chain will send automatically generated invoices to respective customers. ERP software acts as a central repository system for all the supply chain related information. The final quality check and packaging criteria can be decided and executed through a single platform.
Supply Chain Management ERP Benefits:
ERP for supply chain management has proved to be a boon to manufacturing and distribution businesses. Especially business operating from overseas or have multiple branches and deal with multi language and multi-currency are better benefitted by this platform.
Smooth planning of cycles
Efficient storage and resource management
After sales management
Distribution management
Inventory monitoring
Less delays
Improved SC network
Vendor assessment
Highest security of data
Demand forecasting
Shipment tracking
Logistics management
Cloud based operations
Flexibility
Global accessibility
Various cycle involved in supply chain like customer order, replenishment, manufacturing and procurement can be easily managed through ERP software. The hazards or performance gaps which otherwise would have arrived while dealing between supplier to customer are eliminated.
Enhanced Collaboration
Efficient supply chain management depends on the communication between multiple departments. Since there are a lot of cycles involved, it is important to understand the role and work agenda of every department. Even within a specific department which have multiple teams. Monitoring their work on daily basis through standups or emails become quite boring and time-consuming. If certain details are missed, it will result in failed scheduling, late delivery and of course reduced profitability. An ERP software facilitates communication between multiple teams through a single platform. Each team/ user can update data in their personalized dashboards, which will be accessed in real-time by fellow members. This will save a lot of time and also reduce data redundancy.
Better Decision-Making
ERP for supply chain management comes with predictive analysis feature. This business intelligence software understands the market demand and anticipates future trends through comprehensive analytics. When the management has all the data at their fingertips, it gets easier to make more informed decisions in the ling-run.
Choosing the Right Vendor
For any manufacturing and distribution company, supply chain management is a sensitive topicto handle and requires utmost attention. Choosing right set of tools and resources will simplify the process and add precision. Although most of the industry players will believe the fact that adopting an ERP system will act as a strong support system, it's not just about that. As much as important it is to select appropriate software and tools for a company, choice of right vendor should be a priority too. While selecting supply chain manufacturing ERP vendor, it is important to define end goal and establish a clear work scope. This will help vendors allocate right resources and understand the amount of support involved. Apart from this, it is important to assess the credibility of the vendor, their clientele, market reputation and skilled resources. New market entrants might fall short of experience in specific industry verticals which make them incompetent. Experimenting your established business with newcomers can hamper your brand reputation due to inefficient performances. Therefore, while selecting an ERP software for supply chain management, make sure you choose a vendor with versatile clientele and proven experience.