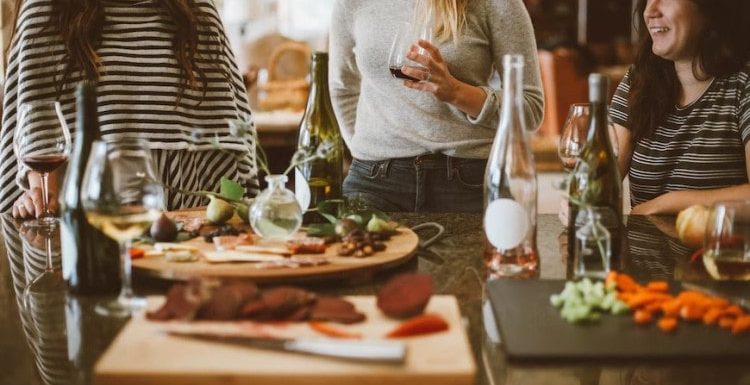 While going out for drinks can be fun, you don't want to be forced to go to a bar every time you want a cocktail. What if you're hosting an event at your home or having a few friends over? You should always be able to mix up something delicious to drink without scrambling for ingredients and tools.
To ensure your home bar has everything you need to craft a delicious cocktail, you'll need some essentials. Skip the red solo cups and substitute mixers in favor of quality barware that will impress your friends and family!
1.  Glasses
You're probably going to be mixing a few different types of drinks, so you'll need the right glasses for every option. While red and white wine glasses are simple to add to your collection, what else will you need? Check out these must-have glass recommendations to choose the best ones for your bar setup.
The Coupe Glass
This type of glass was invented in 17th century England and is ideal for champagne, margaritas, and martinis. The coupe glass is less prone to spilling than a martini glass and easier to drink from than a champagne flute. Versatile and elegant, it's an excellent option for most cocktails.
The Double Old Fashioned Glass
Named for a signature drink, this glass is exactly what it sounds like! You'll be able to double up on the Old Fashioned and enjoy up to 10 ounces in one glass. This is also a great choice for any soda and liquor mix, as well as mojitos, Long Island iced teas, and mint juleps.
The Collins Glass
Tall and slender, the Collins glass ensures you can top off cocktails with soda water or tonic. This type of glass can hold the most amount of liquid and is perfect for everything from a Paloma to a spiked lemonade.
The Curved Rocks Glass
If you prefer to skip the mixed drinks and enjoy brandy, rum, or whiskey on the rocks, this is the glass for you. With curved edges, you get a similar effect as a snifter glass, which encapsulates the aroma of the drink. You can also use these as fancy punch glasses!
2.  Shaker Cup
A shaker cup is a two-part container that allows you to combine the ingredients of a mixed drink and shake it up in one place. This type of cup will have a smaller half that you put on at an angle to keep the liquid inside and make it easier to grip. When applying the top half of the cup, it's a good idea to smack it in place to ensure a secure fit.
3.  Cocktail Set
You can find plenty of unique barware styles to suit your fancy when it comes to a cocktail set. From bronze and wood to silver and ivory, find a set that includes all these essentials:
Bar Spoon
The bar spoon is different from any dinner utensil you already have because of its extra long and narrow handle. The shape and length of the bar spoon are designed for diluting and mixing a cocktail in the shaker cup or a tall glass before serving.
Jigger
The jigger is your essential measuring tool when it comes to mixing cocktails. Usually, your jigger will come two-sided — one side measures a single ounce, and the second side measures two ounces. It's precise, easy to use, and a must-have for your home bar.
Strainer
Many cocktails require you to muddle fruits or cool them with ice. But these extra pieces don't belong in the final cocktail glass! To strain them out quickly and easily, you'll need a bar strainer that fits perfectly over your shaker cup. The Hawthorne strainer is a top choice with a simple design that fits over any mixing glass!
Muddler
The final piece of your bar set should be the muddler. This tool helps you release the flavors of fruit and herbs before mixing up the rest of a cocktail's ingredients. You'll prefer a wooden muddler because it offers a no-slip handle and a blunt, stable end to apply easy pressure.
4.  Mixing Glass
You might have heard of James Bond's traditional drink order … "shaken, not stirred." While many cocktails are designed for the shaker cup, some, like the dry martini, have an alternate formula. For these cocktails, you'll need a large mixing glass with a solid base so you can gently blend all the ingredients together without worrying about it scooting or toppling over.
5.  Pitcher
Are you hosting an event where the drink of choice will be punch or sangria? You'll definitely need a large pitcher to easily serve all your guests! Instead of mixing each drink individually, you can cut down on the work and blend everything beforehand in a pitcher. This way, your guests can also serve themselves whenever they need a refill.
6.  Ice Bucket
The ice bucket is a key piece of barware that you simply can't do without — especially if your bar setup is far away from the kitchen. An ice bucket holds the ice you'll be using to pour drinks on the rocks and shake cocktails in your shaker cup. It should be able to hold several drinks' worth of ice, keeping them cool for the long run with a double-walled build.
Your Bar Area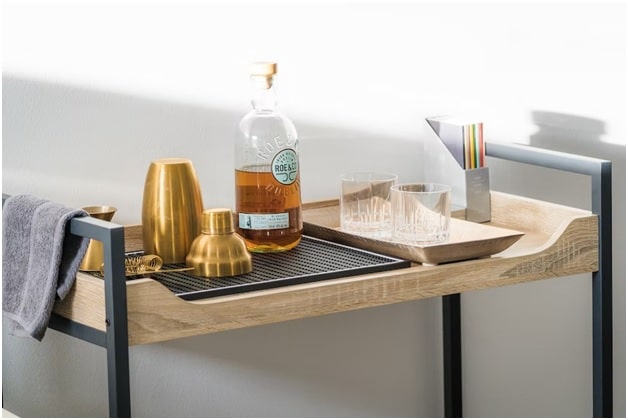 A bar area may be a home improvement challenge you're excited to take on, but you can also make do with a simple bar cart with a few shelves for your accessories. Create the bar station of your dreams when you explore a variety of configurations. Consider a rolling bar cart for compact spaces, as well as a corner countertop in your living room for more expansive locations.
However you set up your bar, the essentials on this list must find their way into your home. Find your set and design the perfect home bar to enhance and elevate your next party!