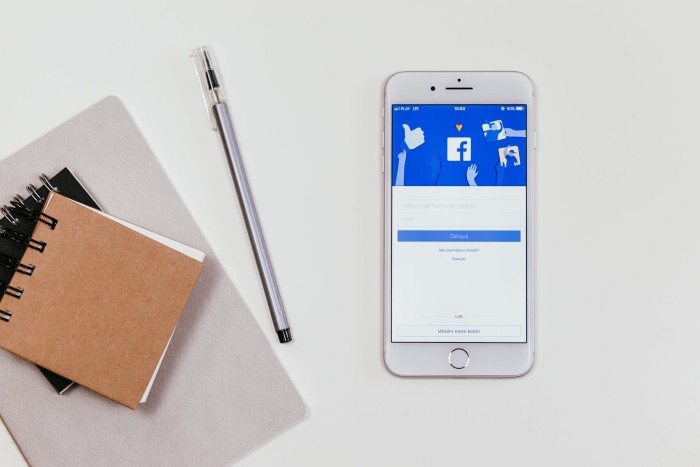 Facebook is one of the leading social media platforms on the Internet. Since its launch in 2004, the platform has witnessed a major increase in its user base and usage. With new features emerging every year, Facebook has come a long way from being a social media platform to becoming a giant digital marketing platform.
Companies making use of Facebook as a digital marketing strategy are aware of its manifold tools and techniques. To help you plan your social media strategies, we have listed below a list of 18 Facebook statistics that might serve helpful:
Facebook User Statistics
Older people are the fastest-growing group in Fb
Seniors over 65 years of age are the fastest-growing group on Facebook. The year 2019 witnessed a major increase in the use of this platform by people born on/before 1945. The percentage increase in senior people in 2019 is 37% compared to 26% in 2018.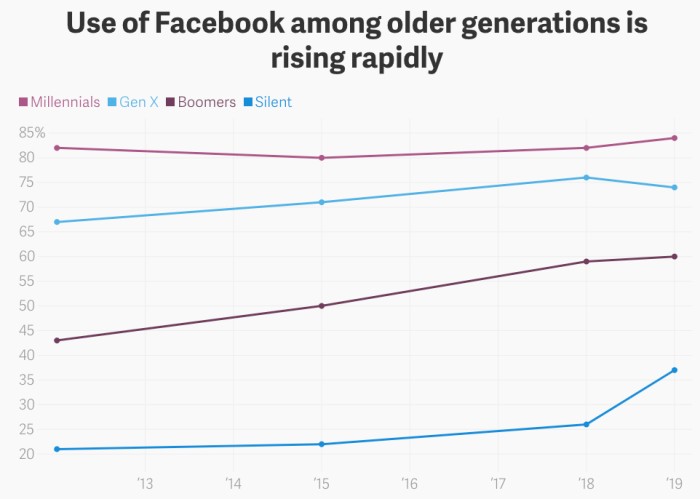 Facebook is a preferred social media platform for high-income earners
For 74% of people earning $75,000 or more, Facebook is the most preferred social platform. Linked remains in the third position with 49% reach with Youtube being the topper at 83%. This means that with the help of Facebook marketing, marketers can cater to those 74% high-income earners.
Facebook users residing in the U.S. or Canada amounts to only 10.1%
As compared to 15.9% in Europe and 41.5% in Asia-Pacific, only 10.2% of Facebook users reside in the US or Canada. But interestingly, around 47.8% of Facebook's ad revenue comes from the US and Canada.
Facebook Usage Statistics
Daily login stats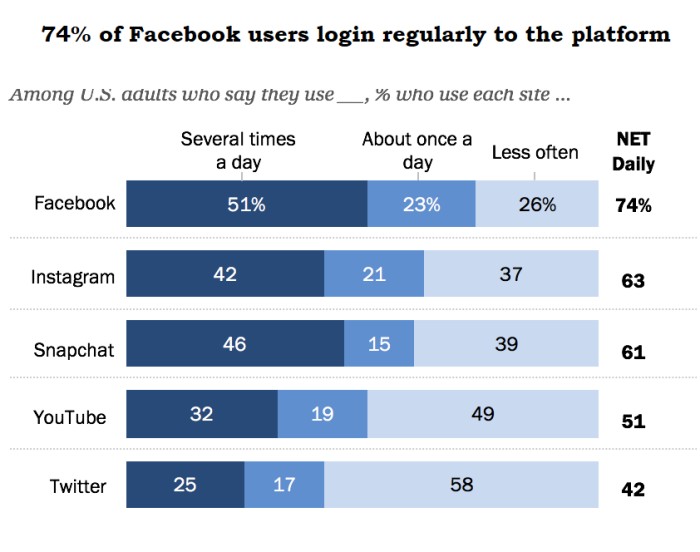 Around 74% of Facebook users login regularly to the platform. Around 50% of them login a couple of times on a day. As daily usage is still considerably high, keeping your Facebook pages updated and frequently posting relevant online content will help to a great extent in promoting your business.
Use of Facebook groups
1.4 billion people are users of various Facebook groups. Besides creating your own groups, posting online content on existing Facebook groups is a great way of interacting with your users and attracting new leads. Users value content posted in their favorite Facebook groups.
New users stats
A total of five new Facebook user accounts are created every second. With this you can make an idea of the pace at which your potential audience on Facebook is growing.
Facebook shopping stats
15% of social media users from US shops through Facebook. If you are not making use of Facebook to promote your products and services on this platform, you are losing out on a lot in terms of sales. However, make sure to maintain a good content mix to keep your users engaged.
Facebook stories
Though added quite late, the user base of Facebook stories has witnessed tremendous growth. Around 300 million Facebook users use Facebook stories on a day. Marketers should not miss promoting their products and services via stories.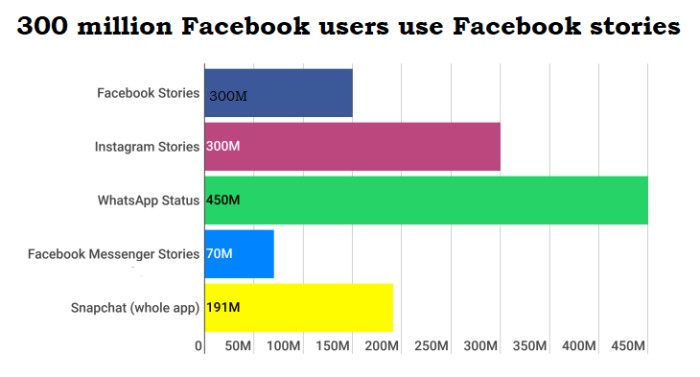 Promotion through stories is difficult and needs to be done with less text. However, the chances of them getting checked by your users are high as they appear at the top of the screen. Posts made through newsfeed often get lost amidst other content.
Facebook Business Statistics
Small businesses
90 million small businesses are using Facebook and its free tools like pages, groups, and Messenger to promote their business and increase leads. Only 24.6% of Facebook pages are using paid ads to benefit from Facebook marketing. That means that even without availing paid services, you can benefit a lot from Facebook.
Facebook marketing by US marketers
As per an estimate report from eMarketer, 87.1 % of US marketers will make use of Facebook in the year 2020. It ranks as the most used social network among US marketers with Instagram ranking at second (75.3%).
Facebook Ad statistics
Facebook Ad pricing
The average price for a Facebook ad decreased by around 4% in the second Quarter of 2019. With Ads becoming cheaper, marketing costs are bound to reduce.
The number of ad impressions for Facebook Ad increased by 33%
With a rising number of impressions of ads, it gets easier for marketers to reach a new audience through Facebook.
An average Facebook user clicks on 11 ads per month
An average Facebook user (men) clicks on 11 ads in a month as contrary to 14 ads clicked on by women. With these stats, we can say that Facebook ads are still prominent among users successfully attracting their attention.
Facebook's advertising revenue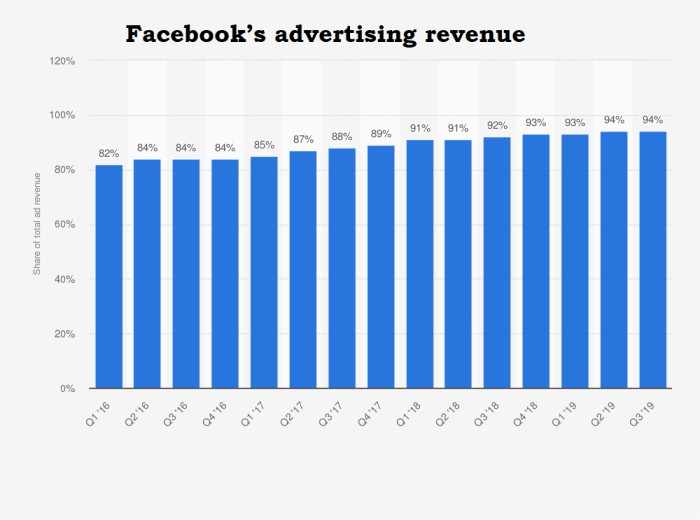 94% of revenue from Facebook advertising comes from mobile users and the reaming from websites. This is a major indicator of how differently both users are accessing the platform. Marketers should focus more on targeting mobile users.
Facebook Video Stats
Stats on Mobile-friendly videos 
Mobile-friendly videos on Facebook generate higher revenue amounting to more than half of the total Facebook video revenue. Marketers can make use of Facebook videos for revenue generation by adopting strategies to develop mobile-friendly videos.
Stats on video dimension
Interestingly, the dimension of your video also plays a significant role. Square Facebook videos get around 35% more views than that of landscape videos hence attracting more likes and engagements. Square videos appear attractive on mobile screens this catching the user's attention quickly.
GENERAL STATS
Active users stats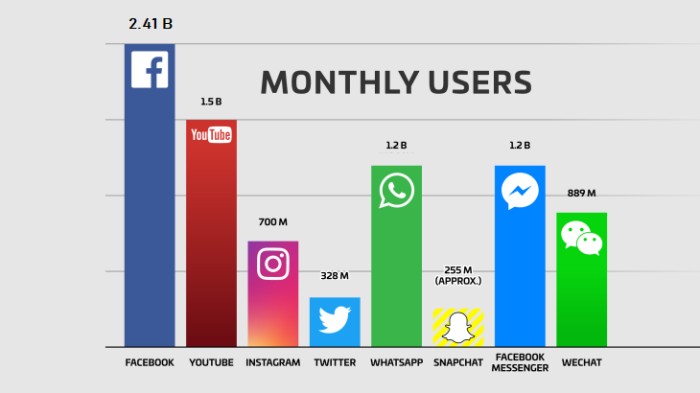 Facebook has 2.41 billion monthly active users worldwide. With such a huge active user base, the amount of new leads your business can earn every month is noteworthy. Hence, using this social media platform in your marketing strategies is a must.
Stats on most visited website
Facebook is the third most-visited website in the world after Google and YouTube. It is also the top Google search query. This means that a high percentage of people's time on the Internet is being spent on Facebook. Also, the top Google search query indicates that more and more people are knowing about it on a daily basis and trying to learn more about it.
Conclusion
With the help of the above-mentioned insights into trending Facebook statistics, marketers can more accurately design their Facebook promotional and marketing techniques. With growing completion every single day, marketers should leave no stones unturned in keeping their strategies up to date to stay on top.