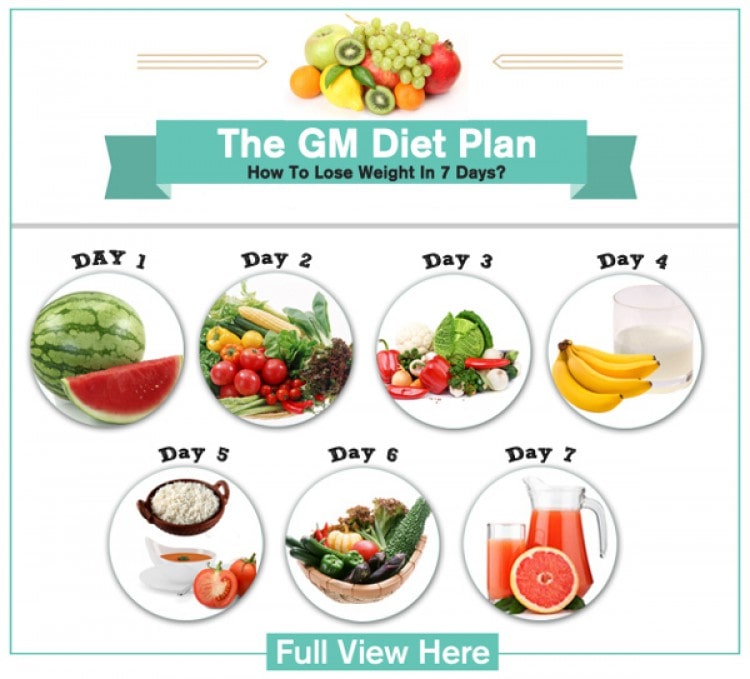 Be it teenagers, married women or working mens, everyone wants to stay healthy and fit. There is a very simple solution to this 'G.M.Diet'. It requires just healthy planned diet to be followed with dedication.
What is G.M. Diet???
It was developed around 1985 by 'General Motors' for its employees. Main motive of planning such a diet was keeping the workforce healthy and hence increasing the productivity of the organisation. Impressive results came out of this development, workers were able to reduce 10-12 pounds of weight which eventually resulted in increasing the efficiency and energy of the workers.
It is not difficult to follow G.M.Diet plan. The effectiveness of the GM diet should also be supplemented by a regular exercise routine.
What needs to be done!
This Diet Plan includes the intake of fruits, vegetables and starch.
People need to avoid intake of alcohol for few days and rely more on healthy diet.
Minimum drinking 10 glasses of water daily is very important for extra metabolism and energy.
Regular exercising will also add on to diet for the faster weight loss.
People can follow up the diet plan by deciding the meals for each day in a week:
DAY 1: Dedicated to ONLY "fruits"
On the day 1,people are required to intake only fruits in the entire day.
->watermelon(high in water content)
->grapes(fat fighter)
->oranges(citrus fruits help in burning fat)
->apples(zero fat and zero sodium)
->pomegranate(lowers appetite and flushes toxins)
->kiwi, pear(rich in fibers)
Bananas should be 'avoided'.
Starting with basic exercises is a good idea for beginning.
DAY 2:Dedicated to ONLY "veggies"
On the day 2,people are required to eat veggies that may be in raw form or boiled but not cooked with oil. Vegetables have lot of nutrients and fibre that will help your body to turn into healthier side.
->Boiled Potatoes
->leafy veggies
->mixed vegetable salad
->tomato soup
->cabbage salad
People can move onto slightly strenous exercises like surya namaskar, rope jumping, neck rotation.
DAY 3:"COMBO" day
Day 3 will include both veggies and fruits, not that difficult day. Same precautions have to be taken as taken on the previous two days(NO Bananas and NO potatoes).
Drinking lots and lots of water will make you and your body feel better.
Exercises like surya namaskar, squats, lunges can be done.
DAY 4:Milk and Bananas!
Yes, now you can eat bananas!
On day 4,you are required to eat bananas and drink milk majorly. Soups can also be included in the diet for the taste buds.
Bananas are the source for sodium and potassium for the body, not weight gain.
On the other hand, milk is the source for potassium and calcium.
Exercises like suryanamaskar, squat, spot jogging can be done.
DAY 5: Protein Day
This day is dedicated to proteins which are basically found in tomatoes, curd, paneer, soy milk, soya chunks in proper quantity.
Those who eat non-vegetarian food can have fish.
Drinking lots of water is a must.
Same exercises can be continued as done on the previous days.
DAY 6: Same as previous day
Previous day diet can be followed but avoiding tomatoes in the diet.
Sprouts will be a good option for this day.
Exercises should be continued.
DAY 7:All vegetables and fruit juices
This day diet will include all veggies cooked with minimum oil(oil should be avoided if possible throughout the diet).
Fruit juices can be taken.
Brown rice can also be added to the diet.
Meat should be strictly avoided.
Exercises should not be forgotten.
GM Diet Plan
Please include attribution to MavCure with this graphic.
Benefits of G.M.Diet
Popular method for weight loss
Cleaner body by detoxification
Toned body by exercises
Any Side Effects???
M. Diet is low in protein, thus person may suffer from sudden muscle weakness, dehydration and incessant thirst.
Person may also suffer from headaches, it will disappear eventually when body will start to accept this diet.
Famous G.M. soup!!!
Wonder Soup Ingredients:
Onions – 6 large onions
Green Peppers – 2
Tomatoes – 3
Cabbage – 1
Celery – 1 bunch
Water – 22 oz of water
chicken soup stock(if non-vegeterian, else not)
Directions:
Chop the vegetables and put it in a container all together.
Simmer till the vegetables are cooked properly.
Salt, dried herbs or spices and pepper can be added for seasoning.
ALERT: People who're suffering from hypertension, diabetes, and heart problems are advised not to follow the General Motors diet program