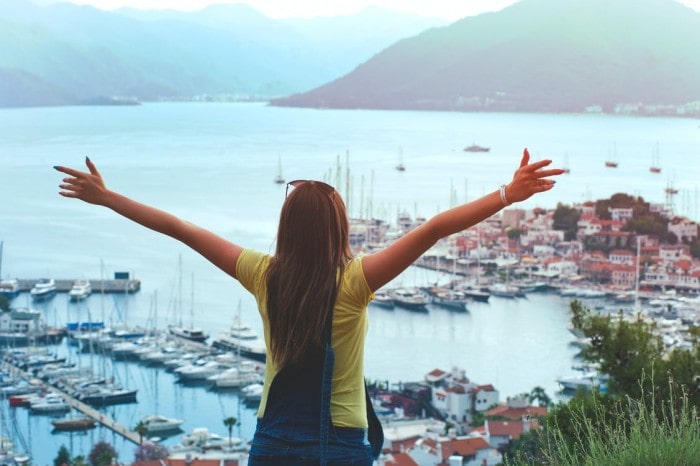 Exploring places all by you without a schedule or agenda often leads to delightful, remarkable experiences for life.
However, the life of a solo traveler isn't just about the glitz and glamour; proper thought process and extensive research go into planning the perfect break.
With this in mind, we'll be discussing five golden rules recommended by many pro solo travelers across the globe. So, jot these down and implement for your upcoming solo vacation:
Plan Ahead
You've got to plan for a solo trip. Yes, this doesn't have to be a detailed one — as you are on a quest to explore new cultures and traditions with complete freedom — but still, an outline of your tour are a must.
This includes the things you are expected to see and do in the said destination, hotel booking, flight tickets, and obtaining travel insurance.
Although these things seem pretty obvious at first, they can cause mayhem if overlooked.
Pack Light
A golden rule for first-time solo travelers is to pack light. Just for a second think how you would be able to carry bulky luggage at the airport searching for a taxi to your hotel room in Honolulu.
When packing your bags, take into account exactly what you need, so that you don't end up strangled and annoyed during your trip.
Ideally, a suitcase and one backpack should suffice, irrespective if you are out for a few days or weeks.
Arrive During the Day
You should land at your destination during daylight as this way you'll be able to easily navigate to new and unfamiliar areas.
Learn the Local Language
If you are planning to take a vacation in a destination where English isn't the first language, and then visit the local library for some translation books and guides.
Yes, you won't learn the new language in a few days, but at least make yourself familiar with some commonly used words — hello, thank you, excuse me, sorry, and please — to minimize any issues with the language barrier.
Housing Swap
As we know, staying in a hotel room is expensive, especially if you are traveling alone, therefore consider an indirect house exchange. For this type of house exchange model, you'll live in someone else's house even if they don't stay at yours. The other party receives exchange rewards which they can use for their future housing swap vacations.
Join a house exchange website, and browse the best property options, which are in proximity to public transportation, sightseeing, restaurants, and bars. Safety is a factor to consider when you are travelling alone, so it is best to avoid a house in a deserted location.
Get all the travel vaccinations you need in the region you want to visit and make sure you get vaccinated in good time before you leave. If you want to take advantage of the latest travel offers, you should definitely check out travel tips.
Make sure everyone knows the itinerary, so it's easy to create your trip for free. You can hire a travel agent or even plan your entire trip, but if you choose to do so, make sure you have a head start in the process. Plan all activities and day trips in advance so you don't wake up in the morning and waste your precious travel time.
If you want to be at your destination for a few days and then sit down, relax and pack, we recommend you book a tour at the beginning of your stay so that we can use this as a guide and tip for your rest time there.
Conclusion
Solo trips are tough, trying, and exhausting, but in the end, offer life-changing experiences, something which every time ignites our inner flame to see the beautiful world with no friends or family members around.
Just follow these easy rules, and you won't face a hard time, it's fun all the way.
Author Bio:
I am Bernie, a professional blogger my goal is to show people how they can travel the world on their own. Currently I am working with thevacationexchange.com