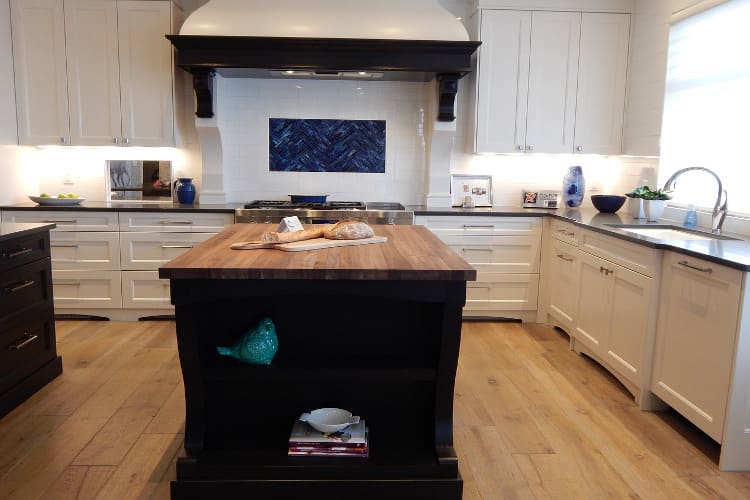 It's 2019, and this offers lots of surprises to home design enthusiasts. The interior design trends during this year are all about creating a luscious space by taking already established and traditional designs, and turning them into something modern using bright colours, textures and materials. Some well-known old trends are making a comeback, and some new unpredictable designs are taking over the stage rapidly. Also, for the first time this year, practicality is given some importance too, so not everything is about good looks anymore. Here are the most popular home design trends for 2019 so far.
Cork is back
Yes, you heard that right – cork is back in the home design game. Even though the opinions about it were contradictory in the past, we can't deny that cork is a very stylish material (if applied properly), which will bring lots of warmth to the house or home office. This year you can see it on coffee tables, chairs, lighting fixtures, and a lot more. Cork can be also applied on entire walls, because it absorbs sounds well, and you won't have to worry about the neighbours so much. So, you'll probably see a lot more of it in the foreseeable future.
Eccentric colour blends
Pantone's Colour of the Year for 2019 is Living Coral. It's a very vibrant yet mellow blend of warm orange and soft pink tones. It's nice, refreshing and revitalizing, but you should be very careful what you combine it with – it goes well mostly with white, different shades of beige, pastel greens and navy blue. If you're not careful with your shade choices, you can have a very bright disaster on your hands.
If you're not a fan of bright colours, you can try a lighter, almost beige shade of coral – it can be combined with more colours and it's perfect for bedrooms. When combined with blue, it creates a nice coastal background, which goes well with armchairs, lots of cushions, natural linen and patterned rugs. It's perfect for spring and summer.
Upholstered everything
I know what your first thought is – that upholstered furniture is a thing of the past. But the truth is, that the home design styles of the '60s and '70s are strongly featured in the 2019 interiors. So, don't throw away your old sofa with button decorations yet – they still have some style in them. During 2019, we'll see lots of material manipulations, like folding and pleating in cottons and velvet, huge stitches made from yarn, and a lot more. Our beds will also change a lot this year – the wooden bed frames will be replaced by classy upholstered bedheads in neutral colours.
Mixed patterns
Even the pattern trends in home design are escalating this year. The first mixed patterns were noticed during the New York Fashion Week a few years back, so it's natural that this year they will be all over the place. Such patterns would look great in the bedroom, creating a cosy and eclectic environment. Specialists also predict the return of patterned flooring, both carpets and tiles, as well as continuation of using bolder and brighter colours. The return to more individualistic designs is also a great possibility.
Contrasting concepts
Contrasts have always been cherished both in interior and exterior designs. 2019 is no different, really. Except for living coral, colours like raw white and beige are also highly praised this year. And designing the whole room in one tone or a few similar ones is a thing of the past. The home design trends this year include lots of contrasts. For instance, if the walls of your kitchen are painted white or in some other bland colour, the kitchen island or the furniture should be dark. The final effect is very tempting, because every element of the room stands out in its unique way.
Minimalism rules them all
Although it began back in the '50s as a sculpture and painting movement, today Minimalism is the It style in practically any area of life. Modern hipsters and Millennials in general prefer minimalist everything – clothes, accessories, art, tech, interiors. No wonder that the highest-praised home and office decors are ones with all-white walls and furniture, with very subtle bold-coloured accents, and without any unnecessary ornaments. It is certainly a look that brings a peace of mind and leaves a lot of space to imagination and creativity.
Metallic glow
Metallic decor accents, and especially warm copper, were quite popular in the last few years. It looks like the trend will be even more popular in 2019, with golds, copper and silver elements taking over not only the catwalks, but the interiors of our homes too. Copper and gold hues look especially in lighting design, and look both posh and cosy at the same time.
Texture mixes
Mixing textures is another great winter trend in home design. Overlay wood, stone, ceramics, and textile. Put your imagination to work, and don't be afraid to mix and match. Put a wood, or cork panels over brick walls, or combine wooden and ceramic accessory pieces in one place. Texture mixes emit an earthy sense of comfort and warmth, which is irreplaceable in winter.
Folding rooms and appliances
You have probably noticed that during 2018 space saving became a very popular topic in home design. People living in smaller spaces deserve all the same comforts and style anyone else would. Well, in 2019 this is still a very popular and awesome topic. Folding furniture, built-in appliances and even whole kitchens that can be folded into a single box, are becoming more common than you think. Now you can turn your bedroom into a living room with a few simple moves and without any heavy lifting. It's practically everyone's dream.
Author Bio: 
Melanie Johnson is a blogger and marketing specialist from Melbourne. She works for Fantastic Services Group, a home improvement contractor, that offers a wide range of services in the fields of cleaning, gardening, handyman and pest control services. Her work there also inspired her passion towards interior design and renovations.