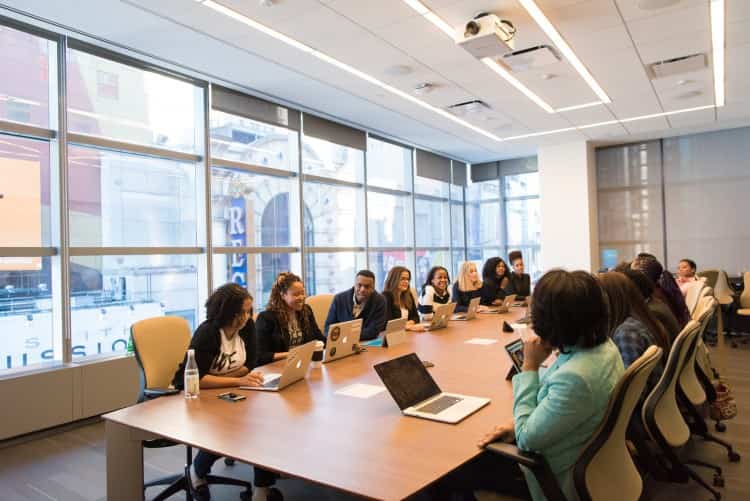 The secret is out and there's no more doubt about it- happy and comfortable employees are more productive and give better results. It's simple when you make the office feel like home, everyone enjoys working a lot more. It's not easy switching from traditional office layouts to something more creative and inviting, but that doesn't mean it's not impossible. Here are a few ideas on how to make your workspace welcoming for both your employees and potential new clients.
1. Add Colour Everywhere You Can
The most sterile and uninviting thing about most offices is the blue and grey colour scheme. The thing is, you can still look professional and serious while not sacrificing the inviting effects colour has. The main walls and furniture can stay white or grey, but the floor tiles can be quirky and colourful. Look for quirky carpets to put around the office and add that much-needed splash of colour.
You can also opt for purple, green, red, orange, or whatever other colour you want office chair. If you really want to make it interesting, each chair can be a different colour. Don't worry about matching the chairs with the rest of the office, they'll do just nicely with the colourful floor tiles and carpets. Desk lamps and office mugs can receive the same treatment. This approach is bound to make the whole space more cheery and positive for everyone.
2. Rethink Your Conference Room
Instead of the traditional big table with a lot of chairs in the room, you should try to make your conference room interactive. Think about it, meetings might just be the most boring part of the job. That's only because people don't really participate in them and just spend time scribbling notes and waiting for it to be over.
If you make the room interactive, it might prompt your employees to share their viewpoints and opinions, bringing back the true meaning of the meeting. Brainstorming sessions are bound to be more productive, too. All you have to do is use the help of technology. Opt for customized software and interactive whiteboards, for example. Even plexiglass mounted walls can prove to be useful surfaces for writing down ideas and concepts.
3. Get a Fresh Perspective
You could be racking your brain at how to redesign the office with no results. Sometimes it's just necessary to find a fresh perspective. Which colours would be the most inviting? What kind of décor should you use? Should you get new furniture, too? These are all answers you can't come up with by yourself.
One idea is to ask your workers for their opinions. After all, they work there and will be able to tell you exactly what would make the office more agreeable. Of course, with a lot of people, there are a lot of different opinions. In the end, many of them end up unsatisfied because you chose someone else's ideas over theirs. Perhaps it's best to seek for the professionals if you want to create an original and new office fitout. This way you end up with a stunning workspace without hurting anyone's feelings.
4. Encourage Employees to Add a Personal Touch
There's nothing that spells homey more than adding personal touches around the office. You should encourage your employees to decorate their offices or desks on their own. Photo frames of their families, quirky desk pieces, or even creative desk organizers can be part of the décor. Whatever they choose, it's bound to represent their personality.
The common areas can be decorated in a similar manner. You could make custom pictures for the office and hang them around for everyone to marvel at. If you want to make the whole team feel like a family, maybe you could arrange an office picture day. Whether the pose you choose is silly or professional, it's bound to paint a nice picture of your little community.
Conclusion
As you can see, to make an office truly inviting, attention to detail and thinking out of the box are essential. This way, you'll surely end up with a welcoming office which as a firm personal touch to it. In turn, your workers will be able to call their workspace a second home. These tips will surely get your creative juices flowing and give you inspiration for your new, awe-inspiring, office.