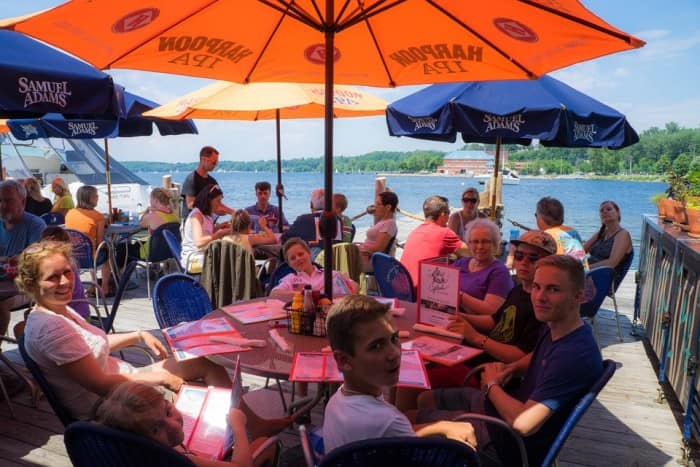 Your outdoor living space might be the place that you usually entertain guests, but if you haven't decorated and furnished the area properly, you might not be taking full advantage of the space that you have. Plenty of people want a beautiful and fun place to spend time with their family and friends, and with a little bit of work, you can have exactly what you need to make your patio, deck, or other outdoor entertaining space look stellar and have optimal functionality.
Furniture and Décor Ideas for Outdoor Dining Spaces
When you're going to decorate and furnish your deck, patio, or other outdoor living space, there are a few things that you must have to make the space functional and pleasant to be in. One of the first things that you absolutely must have is a set of chairs and a table. You should also consider getting a set of dishware and glassware that's specifically intended for your outdoor space. This way, you can coordinate the colours that you choose for the rest of your décor with your dishware. You can even have a separate cabinet where you store your outdoor dishware. If you plan on dining during the evening, you might also want to invest in some lighting.
What You Should Consider When Furnishing and Decorating Your Outdoor Space
When you're choosing your outdoor dining furniture and décor, there are several features that you should consider when picking your items.
Size of Your Outdoor Space
If you have a large deck or patio and only want to be able to have family dinners outside, you might have more flexibility when you're choosing your furniture and décor. If you have a smaller outside space or are interested in entertaining many people outside, you might need to plan more and be creative. One of the most important things that you should remember when you're planning on which furniture to use is whether or not it will fit in your space. When choosing a table, make sure that you and your family or guests will have enough to comfortable walk around the table. You also need to decide if you want any other elements to make the dining experience more pleasant. For instance, if you want a fireplace, make sure that you plan enough room. One option that you have for planning out your space is to measure the total area of your available space. Then, make a diagram to help your better understand where everything will go and how large your table and other pieces of furniture can be without making the space feel cramped.
Your Desired Style
Another one of your top priorities should be getting your desired style. If you have a mismatching of décor styles that don't make any sense together, it's very likely that you'll have difficulty enjoying the space and might not choose to spend any time outside even if you have the space and the furniture. If you put all of your effort into buying outdoor furniture in a décor style that doesn't make your feel at home, you'll regret that you didn't take the time to find a décor style that would actually work great with your personality.
There are several types of décor styles, and the colours, fabrics, and other materials that you choose will heavily influence the overall style. You can choose to make your backyard an oasis with bright colors, or you can create an English garden with wrought iron.
Materials
The materials that you choose will be a big determining factor in the style of your patio. There are also some materials that wear better or can be painted. There are a few things that you absolutely must decide when you're choosing outdoor furniture: the materials of the frame, the colours and materials of your fabrics, and the materials of additional features. Teak, wicker, and aluminium are popular materials for the frame of chairs and tables. Stainless steel, stone, and concrete are often used for tabletops, and you can even incorporate ceramic tile into some of your décor. For instance, if you want to have a bar area, you can use ceramic tile for the top and add bars tools around the bar so that you can serve drinks and entertain your guests at the same time.
Other Décor
You need to choose pillows to make your space cozy and comfortable. Try choosing pillows that contrast but still coordinate with the fabric of the chair seats. You also can also consider adding some tabletop décor to make the space even more inviting. A centrepiece made of plastic or synthetic fibers will liven up your dining area. Otherwise, you can also use candles to make the dining experience more intimate. If you live in a region that gets cold, you should also consider getting a fireplace so you can use your outdoor dining area longer into the cold months.
There are countless ways that you can style your dining area. Planning out the total space will save you the headache of realizing that you bought furniture that won't fit on your patio or deck. But you should also put some time into finding décor that you truly connect with, so get some colour swatches and start shopping online and in the stores.