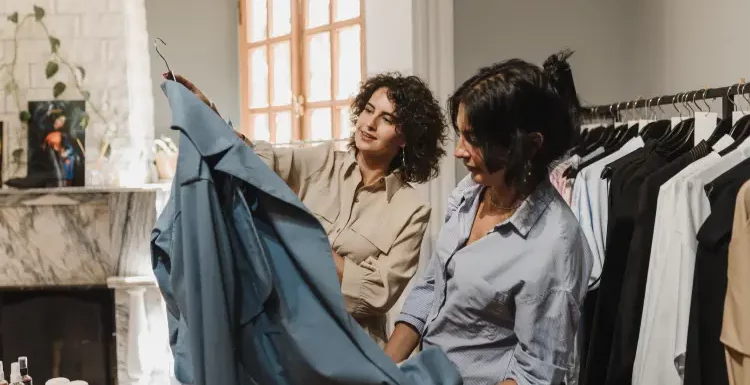 Have you ever stood before your closet, combing through an assortment of fashion clothing, and felt unsure of what to wear? Don't worry, we've all been there. When in doubt, one piece of clothing never disappoints – the ubiquitous, reliable, and versatile pair of jeans.
Jeans have come a long way since their invention in the 19th century, transforming from a humble garment for the working class to an icon of modern-day fashion. Regardless of your style preferences, a trusty pair of jeans can seamlessly adapt to any look, making it a staple in most wardrobes. The beauty of jeans lies in their versatility. With the right approach, you can effortlessly dress them up or down, suitable for everything from a casual lunch to a more formal event.
Dressing Up Your Jeans
Pair With a Blazer: A blazer can instantly elevate your everyday jeans, transforming them into an outfit ready for a business casual setting. Go for a monochrome blazer and jeans ensemble, or pair light-wash jeans with a darker blazer for a more contrasted look. Don't forget to accessorize with a chunky statement necklace or a sleek watch to complete the professional vibe.
Slip Into Heels: Denim and heels are a match made in fashion heaven. The combination adds an element of sophistication to your outfit, making it ideal for an evening out or a formal event. Stilettos can create a sleek, elegant look, while chunky heels can offer a more comfortable yet stylish alternative.
Embrace Silk or Satin: Swap out your everyday tee with a luxurious silk or satin blouse. The softness and shine of these fabrics juxtapose beautifully against the ruggedness of denim, adding an air of elegance and glamor.
Dressing Down Your Jeans
The Classic Tee: You can never go wrong with pairing your favorite jeans with a classic white tee. This simple, timeless ensemble allows your jeans to take center stage. To amp up the style, throw on a denim jacket for a trendy double-denim look.
Sneaker Time: There's nothing like a crisp pair of sneakers to bring a laid-back, street-style feel to your jeans. Whether you opt for classic white sneakers or a more colorful choice, the result is effortlessly cool and comfortable.
Cozy Up with Knitwear: For a cozy, relaxed outfit, combine your jeans with an oversized sweater or a chunky knit cardigan. The result is a comfortable yet stylish look perfect for a chill day at home or a casual outing.
Even in the ever-changing world of fashion clothing, jeans have held onto their spot as a favorite for their adaptability. Whether you're opting for a dressed-up look or a casual style, don't forget the power of accessories. A statement belt, a chic bag, or the right piece of jewelry can tie your whole outfit together, accentuating the look you want to portray.
In a nutshell, your favorite pair of jeans can be your most versatile fashion clothing item. Dress them up, dress them down, or create a look that sits somewhere in between – the possibilities are endless. So the next time you're facing a wardrobe dilemma, remember, your faithful jeans could be the perfect solution.
Understanding the Different Types of Denim
But to truly leverage the versatility of your jeans, understanding the different types of denim and their strengths is key.
Skinny Jeans: Universally flattering, skinny jeans are the perfect canvas for an array of looks. Tuck them into boots and pair them with a chunky sweater for a relaxed look. For a dressier occasion, team them up with a flowy blouse and heels. The options are truly limitless.
Straight-leg Jeans: These offer a bit more breathing room than their skinny counterparts and have a timeless appeal. They pair well with a simple tee and sneakers for a laid-back look, or with a blazer and loafers for a more refined ensemble.
Wide-leg Jeans: A favorite for their comfort, wide-leg jeans can also be incredibly chic. Paired with a cropped top or a fitted turtleneck, they can create a stylish silhouette. For a more formal look, try a crisp white shirt and strappy heels.
Bootcut Jeans: Bootcut jeans provide balance and proportion to your figure. Dress them down with a comfy cardigan and flats, or dress them up with a lace top and ankle boots for a touch of vintage elegance.
Styling Tips for Denim
Whether you're dressing up or dressing down your jeans, here are a few styling tips to keep in mind:
Fit is King: Regardless of the type of jeans, the fit is crucial. A well-fitting pair of jeans can enhance your figure and boost your confidence.
Play with Colors: Jeans aren't just about classic blue. Experiment with different shades – from indigo to grey to black, and even pastel colors for a more playful vibe.
Age is Just a Number: Denim knows no age. It's all about how you style it. Remember, confidence is your best accessory.
Denim is indeed the MVP of fashion clothing. It is a need for any wardrobe due to its adaptability and classic style. Regardless of the occasion, there is a way to style your favorite jeans to fit the bill. So go ahead, experiment with your denim, and let your style shine through.