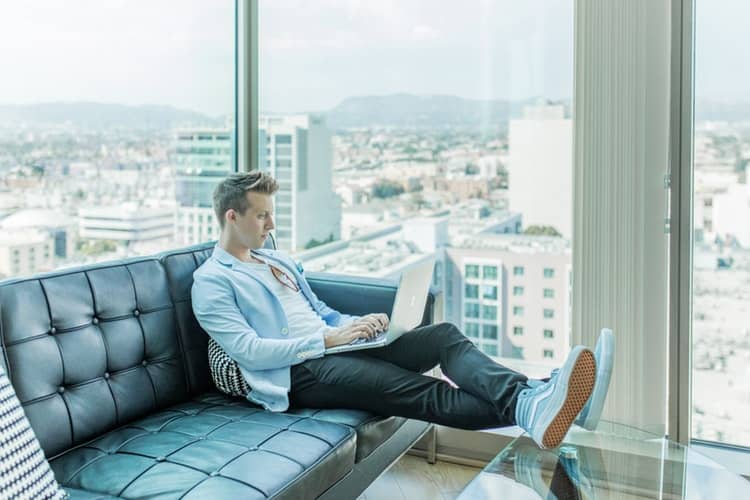 By now you have worked out that your content is continuously facing competition for attention. You constantly come up with new ideas and produce content around it, and then promote it until a new idea comes into mind.
But why, when you're working so hard, does your content fail to stand out? The answer is simple – you're not differentiating yourself. For your content marketing efforts to really show results, you need to do things a little differently.
Being ahead in the game
Remember, good content marketing is essential for distinguishing your company from others and encouraging people to perceive you as an intellectual leader. And it'll help when it comes to seeking business loans too.
Of course, keeping ideas fresh can be tough, particularly when your competitors are also focusing on putting up good content. And there's the added problem of whenever you have something exciting and new, your competition will have something that follows up on your success soon afterwards.
So, how can you ensure that your content strategy differentiates you from your competitor? Let's have a look!
Know the basics of your content marketing strategy
Your primary content marketing strategy is based on 4 key tasks. Since this serves as the foundation for all your content marketing efforts, you must focus on the following them.
Discover people you're reaching
You must know the difficulties your customers are facing. At the same time, you must also know what you must be doing to have a positive impact on them.
Discover how you can help them better than your competitors
Figure out the strategy you'll be adapting to deliver more useful and much better content than your competitors.
Find out how you can create content that really reaches them
Have the base strategies for promoting your content in mind. Discover the long-tail, relevant keywords that help your content with search engine rankings. Your aim should be to develop content that is worth investing in.
Know the purpose of your content
You must know why you produce content by analysing, updating, and auditing. Be sure of what you aim to achieve via content marketing and understand how content marketing ROI works to produce content that really stands out.
Tips to make content stand out
By adopting and incorporating the following tips, you can easily design a content strategy that differentiates you from competitors.
Have a strategic position in the market
One important way you to differentiate yourself is to make use of your content and show your unique outlook.
Before getting your brand in a good position, you must know the market you're targeting and find out what your competitors are up to. Know the creative direction they're going for as well as the kind of aesthetics and tones they opt for.
Of course, it is difficult to be completely sure about all these factors, but you can make a close guess by looking at their logo, output, and advertisements if they have any.
To really stand apart, you must first determine what exactly you are trying to stand apart from. Once you do that, you can make your brand unique in such a way that it fills a niche. So, take what your competitors are doing and either put an entirely fresh spin to it or do it better!
Pay attention to customer experience
Customer experience is also vital for differentiating your brand. Instead of thinking that there's only one ideal customer experience, work on finding out what exactly your customers are searching for. Different kinds of customers make use of different brands since they enjoy the unique experience that the brand offers.
That being said, your experience must also be in line with your positioning and should align with your brand's personality.
Never compromise on quality
You can create quality content that customers will love in many different ways. One way is to work out where your niche will lie. For instance, think about a neglected area where content is almost non-existent and good content will be highly appealing for the customers of that niche.
If you can appeal to such a niche that hasn't received a lot of attention from your competitors, then you can easily pick up a big following.
Another beneficial direction can be focusing on informing and educating your audience. First, find out the questions your customers often have and then come up with content that answers those questions.
Similarly, go to blogs and forums and search for the topics that are the most popular when people search for your brand and even for your industry. Once you have all the topics and ideas you can get your hands on, you can make effective content based on the information.
Adopt a long-term growth strategy
The internet now has quite a short attention span while the turn-around cycle is quite rapid which means your content won't be too effective for long. So, for instance, if you try to work this week's latest trend into your strategy, then your brand can appear to be very outdated in just a few weeks.
So, think long term while also extending your boundaries as much as possible. Look for areas within your vicinity that you can expand and even continue on with sustained growth.
One thing to note is while working on expanding your boundaries and reach, adopt strategies and methods that don't contradict the message or position of your brand.
Do the right segmentation
Usually, brands struggle when it comes to segmentation based on the needs and wants of different customer segments. While segmenting your audience, think about where each group is in their journey in terms of conversion, engagement, and loyalty.
Segmenting your content is also important. You can segment your content based on customer care, services, product lines, and pricing. Factoring in the relevance and geographical location is also crucial.
The takeaway
Differentiation not only affects your short term profits but also increases your brand's long-term viability. Think about it – if you're just a toned-down version of another brand, then why will people opt for your products or services? So, position yourself well and find your own unique angle!