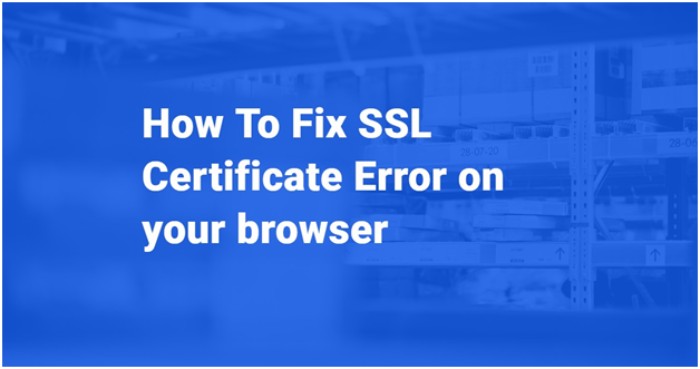 There's nothing as frustrating as facing an SSL error for website owners and users too. If you're sure, you have gone through all the needed steps of installing your SSL certificate. Only Chrome will tell you about something is going wrong with your site security. It might be alluring to give up your hands and give up totally.
It is irritating for users to reach the site, which gives the message "Your Connection Is Not Private" with the "Not Secure" alert in the address bar. Primarily if you could have maintained the site had been secured before that day. It should be focused that this message is there to guard you, and most of the time, it is certain. Message says that sometimes there can be an issue on the user's end to set off this warning. Happily, fixing these errors isn't too difficult. At times it is very easy to solve these errors. This blog post will guide you by some of the various steps to overcome SSL error and why the message is shown in Google Chrome. The proper steps are given for fixing your error.
In this post, you will study types of SSL error. Then we will walk through the various steps of how you can fix these errors in just a few simple steps.
Kinds of SSL Certificate Errors
There are many distinct kinds of SSL certificate errors that might occur on your site. Let's take a glance at the most basic ones below.
SSL Certificate Not Trusted Error
Name Mismatch Error
Mixed Content Error
Expired SSL Certificate Error
This webpage has a redirect loop
The server has a low ephemeral Diffie-Hellman public key
The main causes behind SSL Certificate Error on Google Chrome are:
The System Time is not real-time.
The SSL certificate has Expired.
Google Chrome is not renewed.
The SSL certificate is not installed correctly.
A Trusted Certificate Authority does not provide the SSL certificate.
The website is defended with an outdated 128-bit SSL.
The website is guarded with an outdated SHA-1 Algorithm.
Unfaithful SSL Client Certificate error. 
How to Fix SSL Certificate Error
Detect the issue with an online tool.
First, use an online tool to know the issue causing the SSL error on your site. You can use means like SSL Checker, SSL Certificate Checker, or SSL Server Test. These tools will check that an SSL certificate is installed and not expired. The site name is rightly listed on the certificate, and more for using this tool, copy-paste the site URL on the search bar.
Install an intermediate certificate on a web server.
If the issue is that your SSL certificate right is not trusted. In that case, you may require to install at least one intermediate certificate on your web browser. Intermediate certificates help browsers found that a proper root certification authority issued a certificate for the website.
Create a new Certificate Signing Request (CSR).
Suppose you are receiving a not trusted certificate message. This message means that you have not installed the certificate correctly. In that case, you can create a new CSR from your server. After making it, you can again issue it from your certificate provider. Steps will differ relying on your server. You can block out the step by step guide for creating a CSR on Microsoft Windows Server.
Upgrade to a dedicated IP address.
If you see a name mismatch error, then the problem may be your IP address.
When you write down your domain name into your browser, it links with your site's IP address. After this linking, it goes to your site. Usually, a website has its IP address. But if you use a kind of web hosting other than devoted hosting. This means your site might be sharing an IP address with many sites. If any websites from those does not have an SSL certificate installed. A browser might not know which site it has to visit and show a mismatch name error message. To fix the issue, you can update to a dedicated IP address for your site.
Get a wildcard SSL certificate.
If you are yet getting a name mismatch error! You might install a wildcard SSL certificate. This sort of certification will let you secure many subdomain names as well as your main domain. For case, you could get more than one domain SSL Certificate to reach all of the following names:
mysite.com
mail.mysite.com
autodiscover.mysite.com
blog.mysite.com
Change all URLs to HTTPS.
If you face a diverse content error on one of your web pages.In this case, copy-paste the URL into WhyNoPadLock.com to know the weak factors. Once you have put the factors, edit the page's source code. After editing, change the weak elements' URLs to HTTPS.
Refresh your SSL certificate.
If your SSL certificate is expired, you all have to renew it instantly. The renewal method change aspects rely on the web host or certificate authority you are using. But the steps stay the same. You all require to create a CSR, initiate your certificate, and install it. Here is a step-by-step tutorial for renewing an SSL certificate.
Wrap up
SSL error  messages can be a shock. But very often, there can be a smart solution. Especially on the user end.If you newly bought and installed an SSL certificate for your website from SSLs.com. That removes error messages in Chrome. I hope the post guided you in the right direction. for more details, visit our website.