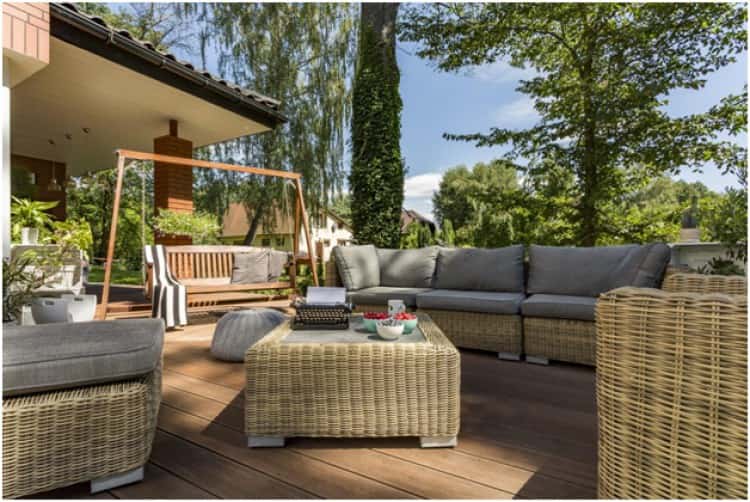 Wicker furniture is probably the most common type of furniture you will find in many homes around the world. It's the top choice of many homeowners because of its durability, charm and classy feel. It's also so versatile; it can be used both indoors and outdoors.
Unlike metal, plastic, resin or other types of furnishing, rattan furniture doesn't get damaged easily. This type of furniture, especially those made from synthetic fibre, can withstand a wide range of temperatures. With proper cleaning and maintenance, your wicker chairs or tables can last up to 20 years.
Things you need to prepare
Cleaning a piece of rattan furniture is quite a straightforward process. Before you can start the cleaning procedure, you need to gather the required items. Here's a complete list of things you need:
Microfibre cloth
Bowl or bucket
Dishwashing detergent
Toothbrush
Lacquer
Paintbrush or old toothbrush
Linseed oil
The cleaning items enumerated above are regular items in many households. In case you don't have one of these items, you can head to the nearest grocery shop. Surely you will find a bottle of linseed oil or dishwashing detergent in your favourite grocery store.
The cleaning process
Cleaning your rattan furniture isn't a lengthy process as long as you maintain them regularly. Do take note that there are different processes involved depending on where you use your wicker furniture.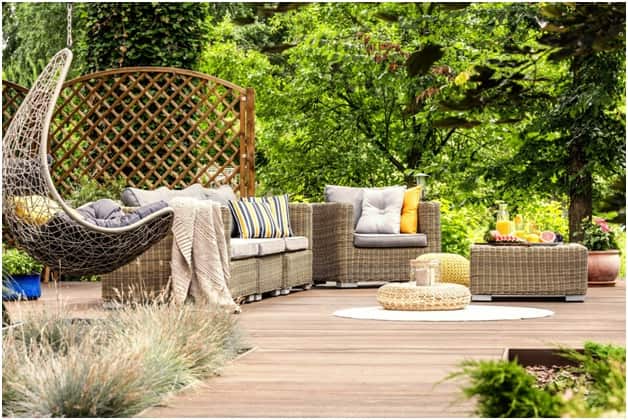 For outdoor wicker furniture
Outdoor furnishings get exposed to the variable weather conditions and temperature every day. To maintain the beauty and quality of your outdoor furniture, you need to invest time in cleaning them.
You should schedule a regular cleaning and maintenance job for your prized outdoor rattan tables and chairs at least twice a month.
If you don't frequently clean them, we recommend brushing off bird poop, dust and pollen. You may use an old soft-bristled toothbrush or paintbrush to work through the tiny crevices.
If you use a rattan chairs made from natural fibre, be extra careful in brushing off the dirt. This is to prevent damaging the material.
Then, for the tough stains, use a fibre cloth dipped in a dish washing detergent solution. Wipe the cleaning solution on the affected area to remove hardened or deep-seated stains.
If the stain won't come off, try using a pressurized water hose. Point the hose towards the dirtiest spots of the furnishing in order to wash off the deep-seated grime.
Pay extra attention to insect nests too. If you spot insects stuck in between the crevices of the furniture, we recommend removing them right away. You can use the brush or pressurized water to remove them.
After wiping and brushing the furniture clean, you need to let it dry. We suggest having it air-dried for a few hours before you add a top coating of lacquer. The additional coating will protect the furnishing from harsh weather conditions and temperature.
If you spot any cracks or scratches on your wicker furniture, apply a generous layer of linseed oil on the affected area. Watch as the oil instantly brings back the former pristine of your furniture. Linseed oil is a non-toxic, all-natural ingredient, so you don't have to worry if it's safe to use.
Aside from rattan furnishings, you can use linseed oil on your wooden tables, chairs and decors. The oil easily restores the beauty of any natural wood item you use inside your house.
For indoor rattan furnishings
While wicker chairs and tables are mostly placed in gardens, patios and poolside, a lot of homeowners use them in the sun room as well. Because indoor furnishings aren't exposed to varying environmental factors, they're way easier to clean as compared to outdoor items.
You can simply wipe off the surface to remove accumulated dust particles. If you think the chair or table needs a bit more than the ordinary brushing or wiping, you can use pressurized water as well.
Just be sure to dry the chair completely before you apply lacquer and carry them back inside your house.
If your wicker furnishings come with cushions or pillowcases, make sure you have them regularly. Otherwise, they would look soiled and unhygienic to use.
Other extra furniture care tips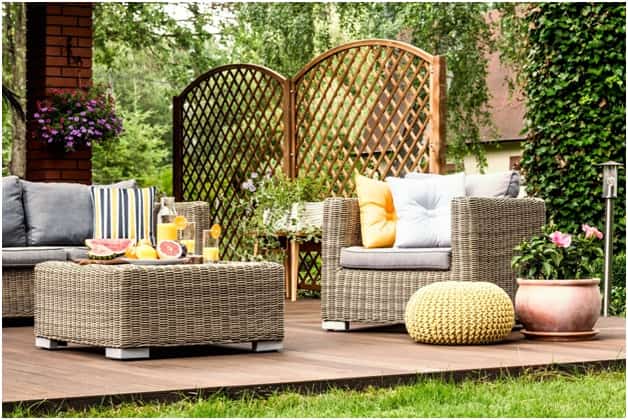 While wicker furniture is built to last long, you should be extra careful in handling them. For example, if you spilt beverages or food on the material, you must wipe it off with a clean and dry cloth. Don't leave stains unattended for too long because they become harder to remove. The stain might also cause permanent damage to your rattan furnishings.
If in case the furniture gets soaking wet, apply the cleaning procedure detailed above and dry the item outside. You have to be extra sure that the furniture is fully dry. If the furniture is made from all-natural fibre, you must attend to spills and stains quickly. Otherwise, your prized home furnishing might suffer from irreversible damage.
What if I want to store my furniture?
If in case you want to keep your rattan tables and chairs in the storage room for the meantime, we recommend cleaning them and applying generous layers of lacquer. For added protection, you may wrap them in a large plastic cover. This way, your furniture will maintain it's posh look until you're ready to use them again.
A highly coveted piece of furniture
Wicker furniture is a must-have for many types of houses today. The amazing weaving pattern of the material is perhaps its most attractive quality.
Whether you want a laid back outdoor space place where you can hang out or a fabulous and classy living room, a fine piece of wicker furniture won't fail you. You can choose from range of natural colours and design.
If you want to make the most out of your favourite wicker furnishing, we suggest understanding how you can maintain and clean it the right way. Our simple guide above has everything needed for you to enjoy your wicker furnishings for a long time. Keep the tips we shared in mind and apply them as often as you can.