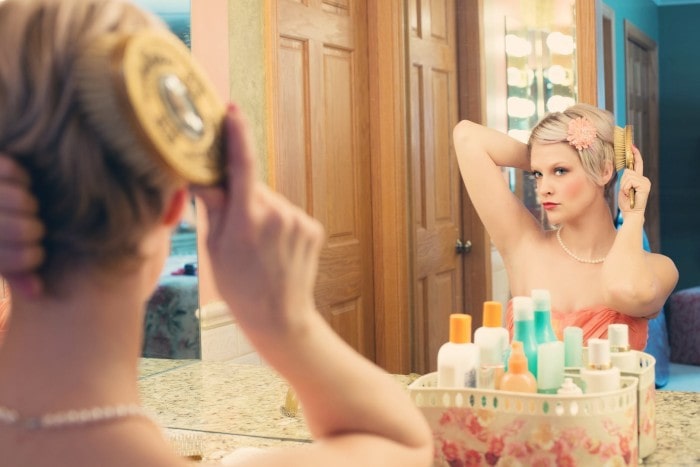 Everyone wants to look attractive for a date. After all, this is the first impression you may make on someone. How you make up for that date also depends of the type of date.
A casual date may simply need casual makeup, which will still make you appear attractive, but be more suited to a casual outing.
Dates which take place during the day need less makeup and makeup which brings out the light in your face, while for a night date you would need something a little heavier.
For a more important online date you will want to spend a little more time on yourself. It is worth spending some time practising beforehand so you have an idea of what colour pallet suits your skin type.
If you are unsure of which colour suit your skin type, you will find many department stores who have qualified staff at the make-up counter. They can advise you on the best colours, based on your skin tone and colour.
So, where to start?
The best method to adopt is to start with your skin and lips, then move to your eyes and finally to your hair.
The skin
Moisturiser
Begin with a moisturiser. Treat yourself to a warm shower with your favourite shower gel. Choose a moisturiser that suits your skin type. This should preferably be light and not too thick, so you clog up the pores.
Select a moisturiser that suits your skin such as dry, oily, normal or sensitive.
If your skin is a little blotchy you can use a tinted brand which will help to even the shade of your skin.
Think foundation and concealer
If you normally use a foundation cream, them apply it here. Additionally, if you need to use a concealer, this is the time to apply it.
After you have applied these, be sure to set them with a light dusting of powder.
By testing the products on the back of your hand, you will be able to see which colour best matches your skin.
Now your cheeks
If you want to have a casual look you can simply apply a little highlighter instead of using blush. Just run this across the cheekbones and nose and blend it in with a sponge brush.
Highlighter will give your skin a glow which is perfect for evening dates.
Many light colours like pink look good with most skin types although you can always see what appeals to you by rubbing some on your hand. A little of pink will give your cheekbones extra definition.
Lips
The lips
Casual dates are well suited to light, flirty colours while a serious date in the evening can stand a bold and darker shade of lipstick.
Pinks are great for the days, they look nice but keep things casual, while deep, dark shades are evocative and sensual.
Line the outline of your lips with a shade and then fill in the rest with a slightly lighter colour.
Sometimes nude is the best colour for lips as it blends with most skin types and colours.
Eyes
Start with eyebrows
You may not be lucky enough to have well shaped brows, but you can improve them by using an eyebrow pencil to fill them in.
Pick a pencil that is very close in colour to your hair and use it to make gentle strokes across the brows. Make sure that you go in the same direction as the hair growth.
Use a small brush to blend in the colour from the pencil. The type of brush that comes inside the mascara tube is perfect for this.
Eye shadow
For a casual date pick a simple eye colour that is quite light. For an evening date opt for colours that shimmer.
Brush the eye shadow along the bottom edge of the eyelid then blend upwards. Try not to have a line of colour, rather a slightly darker area at the bottom and lighter as you brush upwards.
If you like you can use two different colours. Begin with the base colour up to the crease and then add the second colour.
For a day date try light colours like peach, while for an evening date go for colour which is brighter than the first colour. Brush this on along the brow line, right below your eyebrow.
You may want to run a darker colour along the edge to slightly past the end of the eye. If so, select a colour which is darker than your skin and use a brush to blend the eye lid colours together.
If you have opted to line your eyes with eye shadow, then you can omit this part. If not, take your black liner and run it along the edge of the eyelash.
A liquid liner works best. A casual way is to use a matte colour that is slightly darker than your skin tone.
Eyelashes
The easiest way to create glamourous lashes is to curl them. Fake lashes work well but they tend to look fake and may be too 'over the top' for a casual date.
Add your mascara by brushing upon the top lashes and down on the bottom ones.
Make sure you add more than one coat, ideally three coats.
Hair
For a casual date you can simply wear a cute headband to keep things out of your eyes and stop hair flying all over in the wind.
Headbands
Headbands can be thin or thick, cute or bold, depending on the image you want to portray. The thickness also depends on the size of your face. A large face will look silly in a pencil thin headband, while a thick band on a small face will simply overpower it.
Try out a few different styles and see which one gives you the look you want.
Clips
For long hair, you can use an attractive clip to hold it in place. Part the hair down the middle and pull up one side, then attach with the clip.
Here you can use to clip to enhance the mood of your date. Romantic or bold, big or small, sparkly or plain, it is all up to you.
To sum up
While it seems that there is a lot to do to get ready for a date, you will find that if you are organised and have all your make-up in one place, it will not take so long.
What is important is that you feel and look your very best for that important evening!