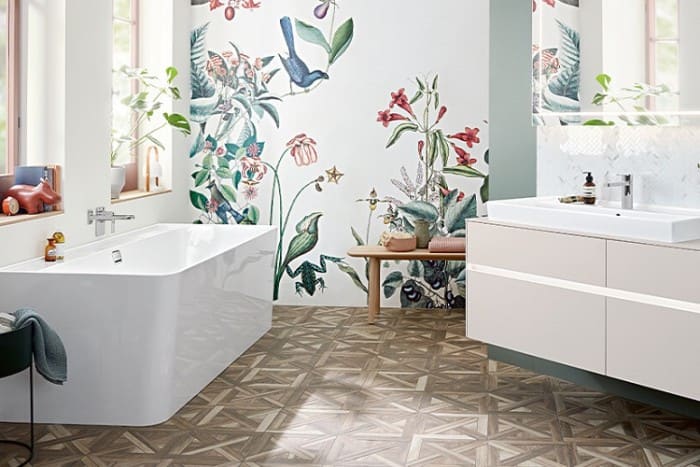 One of the biggest problems that come with decorating the bathroom lies in the fact that this is, actually, the single smallest room in your home. This means that you have to be incredibly frugal with the place but even then, you might not be able to fit everything. For instance, there are some who can't make up their mind on whether to get a tub or a shower, while there are those who are forced to go with the shower, seeing as how they couldn't possibly fit the tub, even if they wanted to. Keep in mind that, in the end, the place may still look cramped, even give you a sense of claustrophobia upon entry. Fortunately, there are more than several tricks that you can use in order to make the place appear larger. Here are some of them.
1. Going for lighter tones
The first question is the one of your bathroom's palette. You see, warm and dark colors make the place look smaller, which is just fine if you're aiming for a more intimate ambiance. However, if you plan to make the place look larger, what you need to go for is a tad lighter palette. Light blue and white are ideal for this scenario and such a thing is quite easy to achieve in the bathroom. After all, when it comes to picking your sanitary ware, white is considered to be a standard. In other words, all that you're left with is to pick the palette for the room.
2. Go minimal
The next thing you need to do is actually get some more space within the room. There are some cabinets that you don't necessarily use but that are still in your bathroom. Also, there are a lot of people who prefer to keep the washing machine in the bathroom. Well, provided that you have limited space in your bathroom, you can opt to place one in the kitchen instead. This way, you get some extra breathing space in your bathroom to utilize. Remember, your bathroom should still be functional even though it's minimal.
3. Reinvent your plumbing
When it comes to your plumbing, there's so much you can do in order to save space. For instance, in some places, the pipes are not in the wall, which makes any repair and maintenance easier by takes too much space. Other than this, by going for a tankless water heater, you can save a substantial amount of space in your bathroom, seeing as how these fixtures are simply too bulky. Nonetheless, before making any radical move, you need to consult plumbing specialists. While it does make a difference, your bathroom's plumbing is crucial for the room's functionality. Therefore, you can't afford to leave anything up to a chance.
4. Use your walls
Regardless of how tight the place actually is, chances are that your walls are partially or completely empty, which gives you some extra room to actually work with. For instance, by mounting a shelf or a rack on the wall, you would be able to easily access them while utilizing the space that would, otherwise, be left unused. Wall mounting and even ceiling mounting are just two of the methods that you can use to make your small bathroom look bigger.
5. Transparent cabinets
One of the simplest ways to make the place look bigger is to go for transparent furniture. Now, before we proceed, it's important that we mention the fact that while this takes the same amount of space as a choice of the equivalent non-transparent furniture piece when it comes to visuals there's a major difference. First of all, your view is less obstructed, which leads you to perceive the room as bigger or less cluttered than it actually is. In other words, it's a simple, cunning and effective optical illusion. Provided that you don't actually go for transparent, at least avoid too dark or too bulky.
6. Install a mirror
The simplest visual trick that you can use, in order to make the place look larger, is to mount a mirror in order to make the place look larger. Keep in mind that while this is just an optical illusion, it makes the place look more spacious and less claustrophobic. Most importantly, it makes all of this possible on a budget. Be honest about it and ask yourself just how much space does your bathroom actually need? How much of this space do you actually use? If it's a visual boost that you're after than a mirror is a way to go.
7. Utilize the light
Perhaps the biggest problem that you have here is properly utilizing the light. First of all, a low-hanging fixture (like a pendant light) is not necessarily a good idea, seeing as how it brings the ceiling closer to the floor, thus making the place look smaller. Therefore, a simple and elegant downlight is the way to go. Other than this, you will have a limited amount of natural light within the room. This is why installing a skylight (a more expensive option) or hanging a mirror (a frugal option that we've already discussed) might help improve this.
In conclusion
The very last thing that you need to take into consideration is your own personal preference. Sure, you can make the place look a bit bigger but how much is too much? Some people see their bathroom as their own personal sanctuary (even a private oasis). In other words, while you do want to make the place look somewhat bigger, you definitely shouldn't obsess over it.
Author Bio:
This is Kate Mclean from Sydney,I am a blogger and mom of 2 daughters. I have graduated in Mechanical Engineering two years ago.In my free time I write blogs on home improvement issues like plumbing and exterior decoration because I really like to share my ideas and thoughts with others who are interested in home improvement like myself. I am recently involved with Tallis Plumbing Company projects.