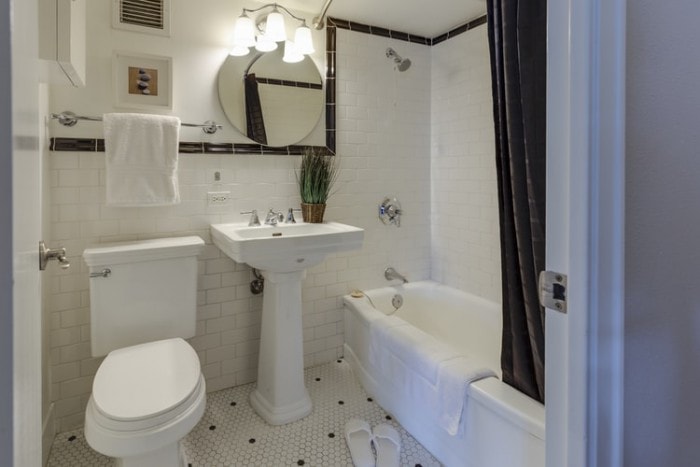 When you're designing your bathroom, you have to work with what you've got. Some bathrooms are smaller than others, but that doesn't mean that they have to feel like it. You can always introduce some practical design decisions which will make your bathroom look and feel spacy. Here are a couple of ideas you might find useful when deciding what to put in your bathroom.
Get Clever with Mirrors
Every bathroom needs a mirror. You need to be able to look at yourself first thing in the morning. It helps you get ready for your day. However, mirrors have some hidden and practical uses in design as well. 
A well-placed mirror will help you give a spacy vibe to your bathroom. Instead of a regular bathroom cabinet mirror, you should consider going for something big. A large mirror will make your bathroom feel twice as big, even without any other additions. Best of all, it also evenly spreads out any natural light that you introduce to space. This also gives it a comfortable and open atmosphere. 
Pick a Freestanding Tub
Your bathroom's bathtub is going to take up a lot of space whichever way you look at it. It's a bulky thing that needs a lot of space to do its job. If you want your tub to look smaller and more compact, you could always change its shape.
A bathtub with side covers takes up a lot more space than it needs to. By removing these and making your tub freestanding, you're saving a lot of floor space and making the tub look a lot smaller. Plus, this kind of look can go brilliantly with some more chic bathroom designs. 
Keep It Wall-Mounted
Your tap might not seem like something that takes up a lot of space. However, it splits your faucet space in half and makes it awkward to place items and hygiene bags on top of it. No compact bathroom design has space for regular taps that take up a lot of room. 
A wall-mounted faucet gives you a couple of benefits. For one, you have a lot fewer awkward metallic surfaces to clean. It also makes it easier to wipe down the counter space beneath the faucet. The extra space is a big bonus as well. 
Use Smart Paint Patterns
The pattern you use on your bathroom walls ahs a huge effect on how the room feels. Think of striped pattern shirts and how they affect body shapes. Vertical stripes add some height while horizontal ones work for making something seem wider than it is. It gets a bit more complex when you introduce some complex patterns into the mix, but the principle is the same.
For bathroom designs, colours help with emphasizing certain traits. A great way to add some height would be to paint halfway up a wall with one colour and then fill the top half with another colour. It's going to make your bathroom feel taller, while also looking gorgeous. The effect is even more prominent when one of the colours is white.
Add Some Shelves
Most small bathrooms are only limited in terms of horizontal space. The vertical aspect is still there, and it can be used in some interesting ways. There's no limit to what you can do with shelves. You can use them for towel and product storage. The higher you put them up, the more practical space you can free up on the lower end.
Showers are especially good places to install shelves. These can hold products that you normally keep all over the bathroom and help save up lots of space. A wide black shower shelf will perfectly blend in with your bathroom backdrop and barely feel like it's taking up space. Install one or several of these and you can bet that you won't regret the extra practical storage.
Think Multifunctional
Bathroom furniture needs to be attractive and compact. Why not make it a bit more practical as well? You can cut down on the amount of furniture you need by having pieces that are multifunctional. It's an easy change to introduce to your bathroom. 
A small freestanding chair can double as a spot to put your laundry basket, as long as it's flat and open at the top. You can add a sliding shelf to your bathtub to help store shower amenities. Get a basket that can be used to drain and hold clothes once they're out of the washer.
Conclusion
There's no reason your bathroom should feel small and cramped. There are many clever ideas you can incorporate into your bathroom design and give it a bigger vibe. As long as you put some thought to it and make some small changes, you're going to get the bathroom of your dreams, no matter how big it is.