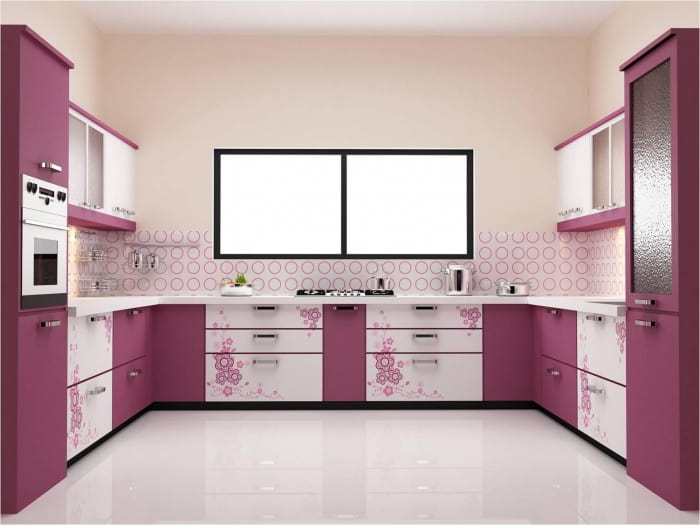 The interior design of our home says a lot of things about our personality, choices, and taste of living. Whether it's our living room, bedroom or kitchen, home decor plays a leading role. And when it comes to renovating our old house or when we plan to buy home, we often take the kitchen design lightly and don't put a light of attention to it.
This is where we miss a major chance of revolutionizing the entire home interior design just by doing a little. For many of us, the kitchen is the most important corner of our home but only a few looks at it with an artistic perspective. In this piece, we will tell you how you can revolutionize the entire home interior design by modular kitchen furniture.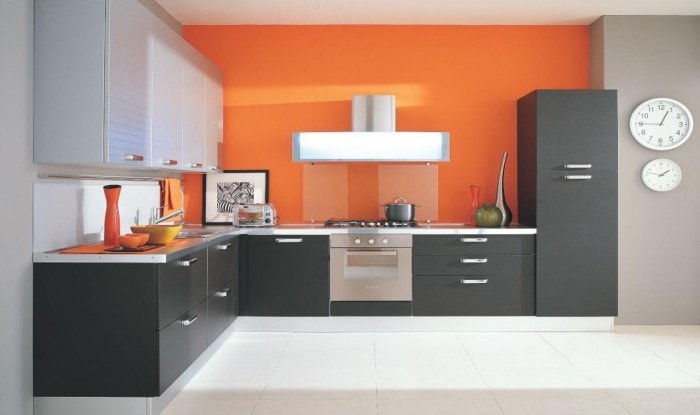 With modular kitchen design, you can easily ramp up the interior design of your sweetest home in a little time. Let's have a look at some of the key and amazing ways of revamping the entire place by modular movables and give a fresh look to your kitchen.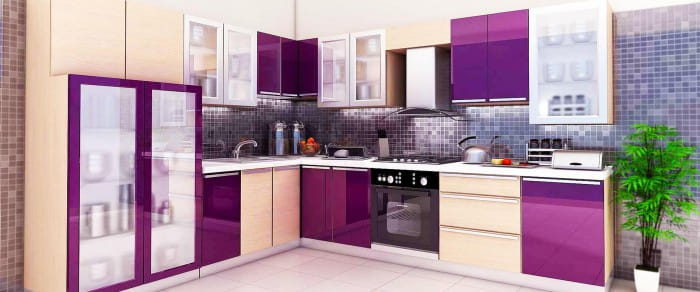 Say Good-Bye To Old Countertop:
It's time to say goodbye to the mid century and boring countertop. Open your phone and search for some good countertop designs and accessories online. There are so many types of kitchen stations available in the market you would love to have them in your place also.
If we talk about some modern countertop stations, there are many popular designs available. Right from L-Shaped, U-Shaped, G-Shaped to Island type work stations, you have got a lot of stunning options. The main reason behind going for these types of design is that it not only revamp the interior design but also give you a ton of storage space. Keep your loved kitchen appliances, utensils and expensive cutlery organized and flaunt them in style.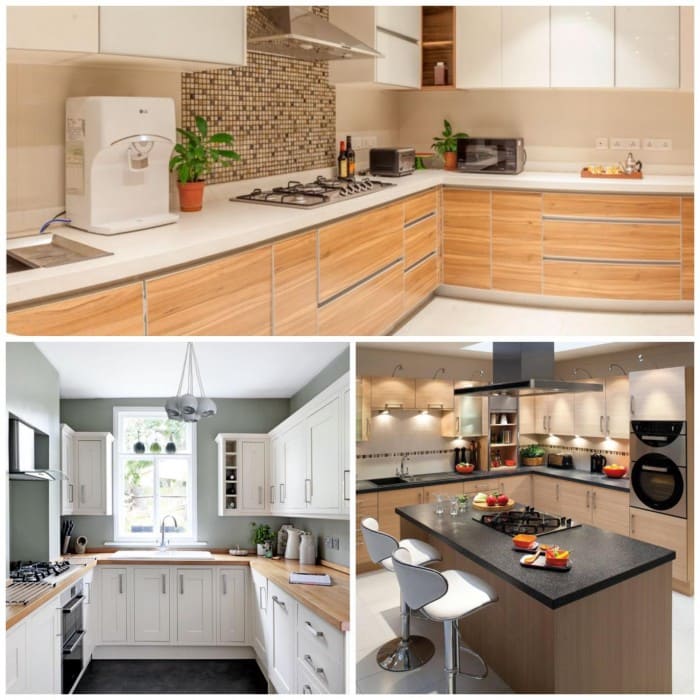 Quick Countertop selection guide for your modular kitchen:
L-Shaped– if you have a compact kitchen, go for this design, You can also use it as a small dining table. It easily fits in every size.
U-Shaped– This design looks amazing and also saves you a lot of space as it utilizes the wall adjacent space and gives you plenty of space to move around.
Island Type– If your kitchen has an ample amount of space and you are looking for some extra space, this makes sense. This is a big centre countertop which can be used for multiple purposes.
Modular kitchen cabinets
Cabinets can bring a fresh and appealing look to your kitchen and ultimately to the whole interior design of your place. When we are talking about the modular home accessories, we just can't ignore the charm of kitchen cabinets. They are available in a lot of different designs, material, and styles.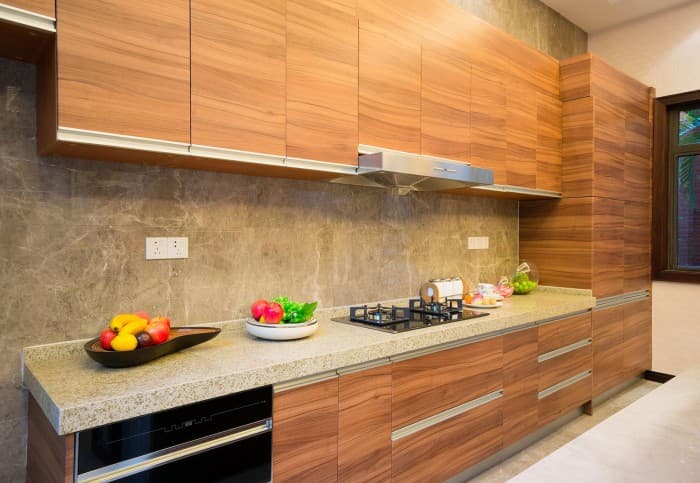 If your kitchenette is compact, you should choose a lighter shade kitchen cabinets as it will make it feel more spacious. And if your kitchen is having an ample amount of space, go for a bigger size dark colour movables. Another trending concept which is liked by a lot of people in the wide range of open cabinet design.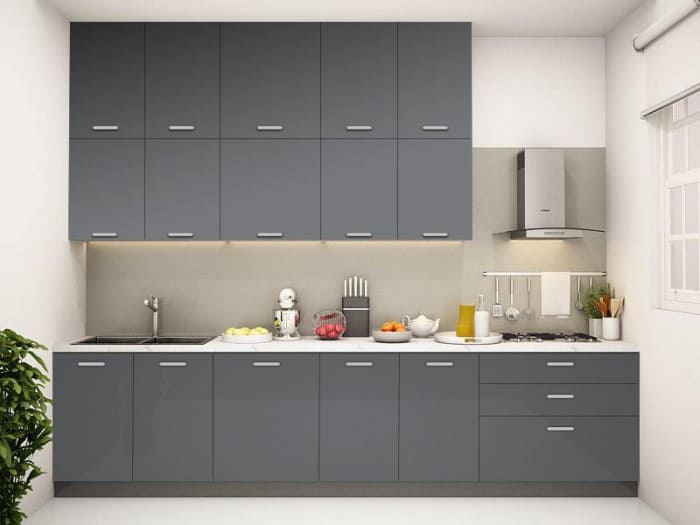 Ask your kitchen designers to go for open style compartments based on your overall theme. In addition to this, these cabinets can be cleaned quickly in a hassle-free manner and give a minimalistic look.
Open Modular Kitchen with amazing wall decor:
Yet another smart idea to revolutionize the entire interior design of the house is to go for a stunning open modular kitchen with vibrant decor. This setup looks spacious and gives a bold appeal to the entire home design. For open kitchen space, you can use wall sticker or wallpapers to match it up and glam it a little.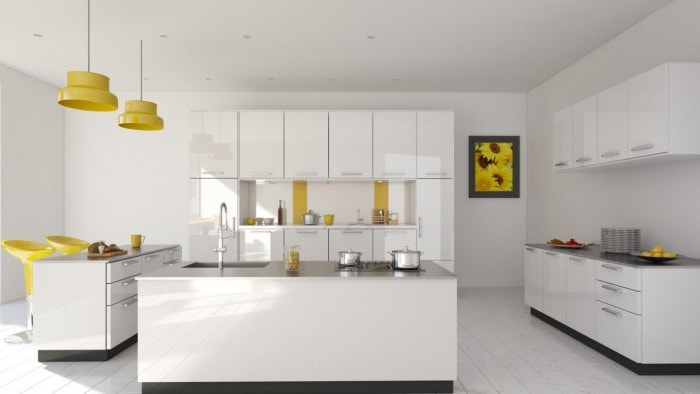 L-Shaped countertop goes perfectly well with the open interiors. You can also use it as a quick dining table and an additional space to keep some fancy decor products. As they are super easy to clean and maintain, you don't have to worry about the station.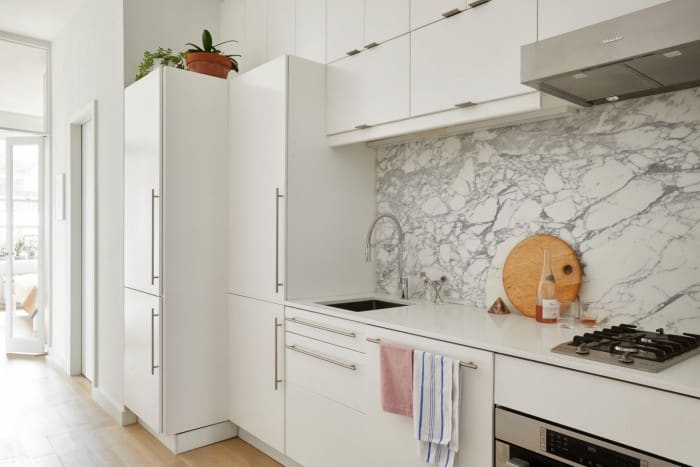 Appliances set up at your kitchen:
Appliances are the soul of your cooking junction which adds value to your home's interiors. You should get a customized cabinet in which you can fit in the oven, dishwasher, refrigerator and other useful appliances. Replace your old and noisy chimney with a compact one. This will not only save a lot of space but also give a fresh look to the overall place.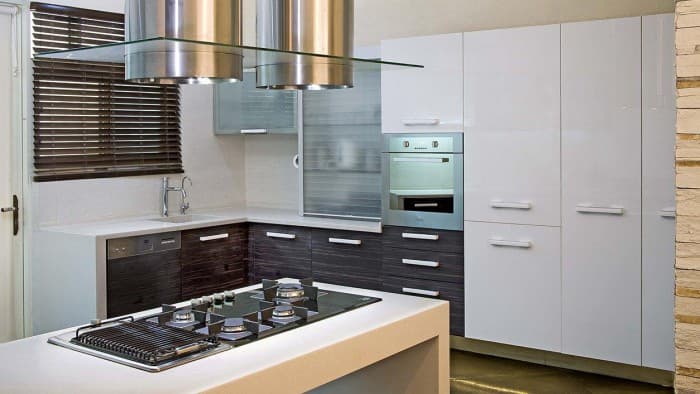 To complement your newly designed kitchen, take out your phone and browse some good home decor items online. Get a nice wall sticker or a beautiful table lamp for your living room or spare kitchen space.
Wall Attached Dining Table and chairs:
If you are having a compact kitchen or just want to have some extra space to move around, wall attached dining table is a good choice. This type of setup goes completely flat in parallel to the wall and also looks minimalistic. You will find a ton of stylish wall attached dining table for every kitchen size.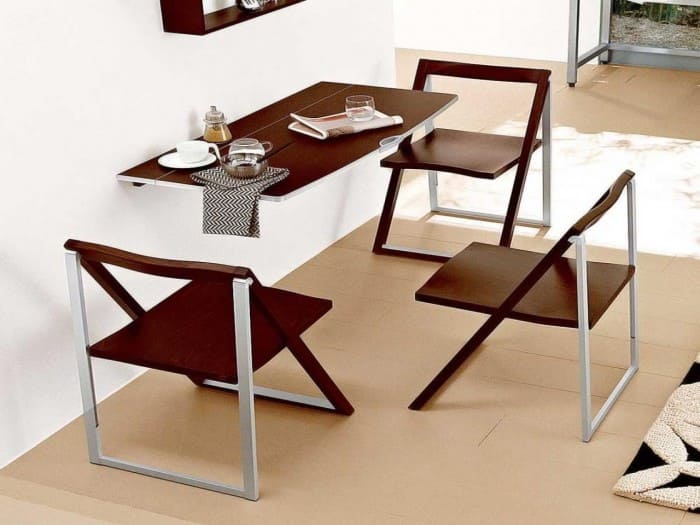 The chairs are convertible too when not in use, just fold them and keep inside which is not possible in a full-fledged table and the chairs come with them is also bulky to shift from one place to another.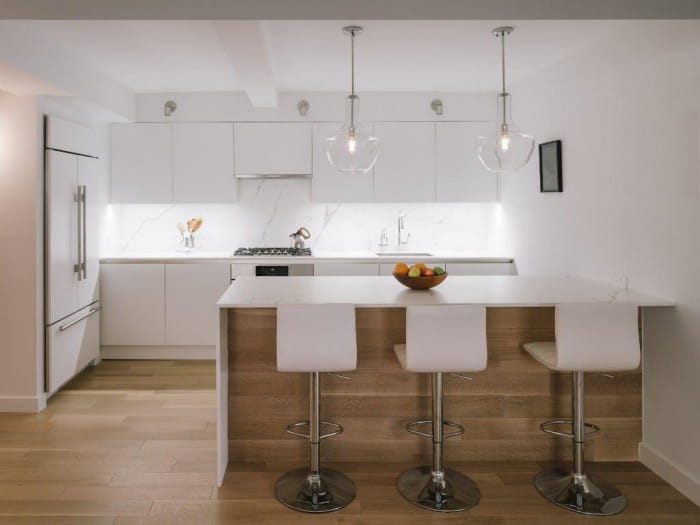 These are some of the coolest ways to revolutionize your entire place by leveraging the beauty of modular kitchen furniture. Whatever your requirements are, you can fully customize your modular furniture as your home's theme. Visit your nearest furniture store now or browse amazing products online. Check out a wide range of products for your sweetest home and make every corner an art piece.