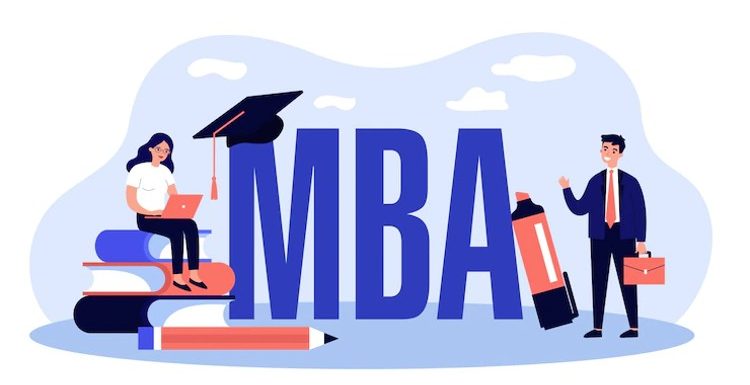 The biggest dilemma that bothers every business administration aspirant is to decide which MBA program is the best choice for him/her. With high salary career potential, an MBA degree is one of the most sought master's programs by many students.
The MBA program demands a candidate to be well-prepared for completing a tough curriculum during the program duration, along with building various business communication and technical skills to fit into high-paying management positions. But before that, the aspirant needs to prepare hard for the tough entrance exams like CAT, GMAT, SNAP, XAT, etc., which itself demand a lot of hard work. You don't want to put in this much hard work when you don't know what your MBA goal is.
This article helps you list out certain criteria about yourself and the MBA programs, after which you can easily figure out the best match between you and your MBA course.
1. MBA Program Accreditation
A quality and recognized accreditation with a university or college ensures the trustworthiness and certification of the program. The accredited colleges demonstrate their qualification of high-quality education standards, which is verified by the third-party learning commissions established by the Government authorities.
There can be two forms of accreditation: national and regional. The regional accreditation provides a more prestigious image to the college for undergoing a rigorous process of qualifications. National accreditation is more vocational and trade career-focused, with a quality accreditation process but not as prestigious as regional ones.
With the MBA programs, there can be specific accreditation for the programs, which shows its industry-focused career prospects.
2. Admission Procedure
Most students aim for the top b-schools for their MBA program, but it is not that easy. The top b-schools and even the middle-level b-schools have various criteria and qualifications for different programs. You need to study the specific program admission requirements for each B-school you're aiming for, and then prepare the following documents for those programs, if available:
GMAT, CAT scores: a proctored test which is used to determine your aptitude IQ, mathematical IQ, and verbal ability IQ in comparison with other aspirants.
Official graduation transcripts and GPA: this is mostly needed by foreign universities and b-schools.
Work experience: Most of the top MBA programs and top b-schools require at least three to four years of work experience, as it provides industry insights into the class for practical learning.
Letter of recommendation and SOPs: You need these documents to convince the b-schools to accept your application.
3. Program Duration
Most of the MBA programs run for an average of 12-18 months, depending on the student's ability to finish the program. It also depends whether you opt for a full-time MBA program or a part-time MBA course, depending on your career requirements.
If you're working you can also opt for an online MBA program, which can easily help you study and complete your degree in 3 years, and you can focus on your work at the same time. There are various online MBA courses in India which provide industry-oriented programs for quality career development and learning experience.
4. Cost Comparison – Online and Offline
With the COVID-19 pandemic halting the physical attendance of schools and colleges, various top b-schools and MNCs collaborated to provide online MBA learning to their employees or any graduate working aspirant. The online MBA program saves a lot of education costs, provides opportunities to earn along with learning, and helps explore different job opportunities.
5. Curriculum of MBA Programs
Another important factor to be considered while selecting the right MBA program for you is the curriculum of MBA courses. The curriculum is almost the same in different b-schools for the MBA programs, involving certain credits to be completed within the program duration.
But, it also involves extracurricular activities like student exchange programs, industry visits, internships, and various business competitions, which count as important credentials on your resume after finishing your MBA program. Also, you need to look for the research and development activities in the curriculum, as good research opportunities provide better career growth and development prospects.
6. Specific MBA Programs
Now comes the major part of the discussion, which MBA programs are available for selection.
● Sales & Marketing
If you have an interest in communicating with people, influencing masses, and ability to convince people with your words, sales and marketing is the best choice for your MBA program. It can help you prepare for different roles in branding, advertising, market research, strategist, or product management.
Common curriculum includes global marketing strategies, strategic market planning, digital marketing, market analytics, product research techniques, etc.
● Finance
Aspirants having a good understanding of numbers, investment, and other capital market happenings, must go for finance as a field of MBA. But, if you have a similar work experience or background in commerce or banking, then only you must opt for this. This MBA stream provides opportunities in finance and banking institutions for roles like investment banking, finance analyst, finance officer, etc.
● International Business
If you want to work in MNCs or plan to move abroad, international business is the right choice of MBA for you. The coursework is designed to train you for various international business management roles like export specialist, international trade officer, import-export trade expert, etc.
You can also explore other career options like global supply chain management, international business law, etc. for various business roles.
● Human Resources
Another lucrative MBA program for aspirants is human resource management. Almost every company in the world needs a system to hire the best fit human resource for the company with the required skill set and knowledge. For this, the program trains and provides quality learning of various human resource management methods.
7. Alumni Network
The most important factor to look for while selecting an MBA program is the b-school's alumni network. It represents the strength of a business school and its reputation through the overall success of its alumni. You need to find answers to some of the questions which will help you find a suitable MBA program.
How big and diverse is the network?
A b-school with a large and active alumni network can provide ample opportunities for graduates. The bigger the network is, better chances of companies visiting the campus for placements are. Networking is a big factor which is beneficial for students to grab good opportunities after graduation, and you get to learn more about different fields before applying for the job.
What is their engagement with the industry?
A bad sign for any business school is inactivity or low engagement of its alumni network. Staying in contact with the b-school after graduation, can provide various benefits in the long run. You get to hire a lot of potential candidates in your company, and gain good influence in the industry and campus.
Final Thoughts
This article helps you to understand different criteria which can help you select the best MBA program fit for your profile. You need to find the right match between your career goals and different parameters of MBA programs – costs, curriculum, field of course, duration, etc.