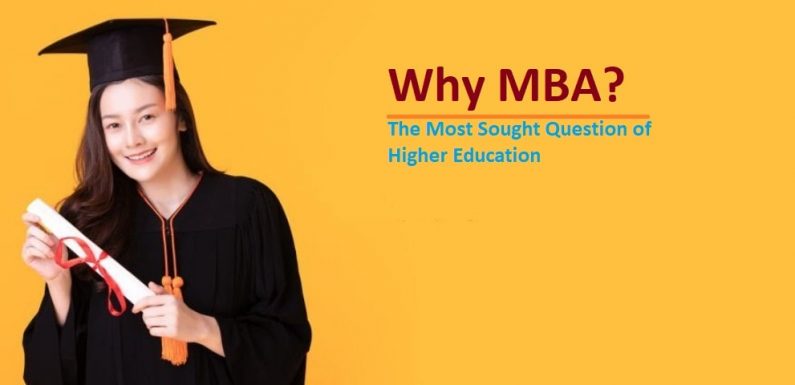 As soon as graduation comes to an end, individuals look for a suitable post-graduation course. MBA (Masters in Business Administration) is one of the most pursued post-graduation programmes. We have come across several people who jump to get admissions into the top B-schools but fail to answer one simple question – Why MBA.
Irrespective of specialization, an MBA degree provides training in various aspects of business. But then, it is absolutely okay to know "why MBA" should be next on your cards after graduation.
When graduates or working professionals evaluate the value of MBA programme, the best possible reasons that comes to mind is adding business skills to resume, maximising potential and increasing the number of opportunities. Here are the top 10 reasons why you should pursue MBA in any specialization of your choice –
1. Getting an MBA degree boosts your confidence
One of the best reasons why you should pursue MBA is that it helps you boost your confidence. The feeling of having accomplished and completed a business post-graduation programme can instil a sense of confidence which is critical to corporate success. In the corporate world today, companies require managers or management trainees who are not only confident and can take the initiative, but are team players as well, who can boost the team morale for better productivity. With an MBA degree in hand and work-social life balanced well, you will definitely gain a sense of achievement which would in turn boost your confidence for good.
2. Helps in gaining a different perspective
While pursuing your MBA, you are exposed to a wide variety of challenges, socio-economic scenarios and also connect with people from different backgrounds. From small issues and problems, you begin addressing issues that impact thousands and millions of people in the real world. Such exposure is quite helpful in honing your ability to look beyond the responsibilities and role assigned to you and connect with the team/organization. As you gain a different (global) perspective on common issues, you will also learn to think strategically, which will guide you towards taking efficient steps for the problems you face.
3. Improves your knowledge in your area of specialization
One of the major reasons why students pursue MBA in a specialization of their choice is to increase their knowledge in the domain. Finance, Marketing, International Business or Entrepreneurship – pursuing an MBA in any of these specializations will help you gain theoretical and practical knowledge, helping you understand how businesses operate. So when you think of why MBA in marketing, finance or IT, you can understand that holding a specialization degree will gives you the skill and knowledge edge over non-MBA degree applicants/workers.
Without knowledge, you will only be shooting in the dark without any idea about the outcomes. Whether you are looking at professional growth in your present company or want to establish a network for your own business, knowledge in your area of specialization could really be the difference between success and disastrous failure.
4. Networking with influencers/players from the industry
When it comes to the corporate world, networking and relationships matter a lot. Right from joining as a student, you get to be with individuals who are career oriented and focused. You get to meet and interact with industry experts and veterans as well, which will add to your learning experience. From CEOs of companies to highly experienced business gurus – you get an opportunity to get influenced by the experts and learn from them. Apart from that, you also become a part of the vast Alumni network with access to important resources and information about jobs, corporate events and opportunities.
5. MBA helps in personality development
Personality development is another advantage of pursuing MBA. Not just subjective knowledge and practical learning, the development of soft skills in an individual is also a necessity. MBA helps an individual develop his personality by honing their thought process, fine tuning the communication and strengthening logical ability. Pursuing MBA will help you improve your personal relationships and make you more presentable in front of peers as well as colleagues. From discussions to debates and interviews, MBA helps you achieve the communication and personality standards which otherwise would have taken a lot of time and efforts.      
6. Helps in establishing credibility to send a message
Becoming an MBA graduates from a B school in India will not only help you here, but also in other countries. The course and its credibility is not limited to India – whether you are in USA, UK, Australia or Germany, your MBA will still be counted as a specialized degree program to help you establish yourself as an expert in the field of your specialization.
As the MBA course is country-agnostic, you will surely find many global firms in different parts of the world, being headed by Indian MBA graduates. Being an MBA not only gets you the respect among your peers and in the corporate circle, but also helps you establish an authority as your skills and expertise has been certified with a degree program.
7. Develops entrepreneurship values
In today's competitive time, individuals are focussing more on starting their own venture, instead of going for a corporate job. It is the era of digital start-ups and we often find many people opting for the same, setting up their own organization. With an MBA to back you up, it is easier to start the processes, establish a corporate identity as well as get investors for the venture. Along with the right technical expertise in marketing, HR and project management, MBA helps you in planning as well as optimization of resources in the most efficient and effective manner – the set of practices which would help you expand your business venture in the future.
8. MBA helps you open the door to top hierarchy
How often have you come across individuals who have been working in technical background for decades without any opportunity to move up the corporate ladder? Most of the engineers and commerce graduates who join as technical specialists or workers become stagnant and are limited due to their skill test. After having completed your MBA and getting your skills and expertise certified, you get the opportunity to move up the corporate ladder and become a part of the management. In most of the Fortune 500 companies, you will mostly find MBA graduates from all over the globe in senior management or board of Directors.
To move up the hierarchy, you either need to be absolutely different and ahead of all your colleagues, or be an MBA graduate with experience in the field. Without an MBA to back you, the road to the boardroom is quite difficult – quite frankly, almost impossible.
9. Helps you choose new career paths
Another huge advantage of pursuing MBA is that it lets you change career paths easily, without raising a question on your skills and expertise.  For example if you are a finance consultant in a firm, you can switch to Data Science, Business Analytics or International Business after having done your MBA in the specialization you want. Completing your MBA in the specialization of your choice opens doors to new career opportunities and makes the career transition smoother.
After having given years to a company and feeling the burn-out, many individuals leave their job, only to find themselves doing the same work all over again for another employer. The well-deserved break to assess and change the career path just never arrives unless you choose to take the same and use your MBA degree to change career paths. From software engineering to management and from financial advisers to investment bankers – these are all possible because of MBA.
10. Improves your employability with increased salaries
Last but not the least, an MBA degree on your resume increases your chances of being employed by organizations. In many studies and independent surveys, it has been found that most of the companies, irrespective of their industry hire MBA graduates every year. Having pursued your MBA, you can work for some of the top organizations and companies in the world. Pursuing MBA brings you to the path of thought leadership where you are able to think strategically, improve products and services, optimize resources and contribute to operational growth. If you are an MBA graduate from one of the top B schools, you wouldn't have to look for job options – companies and recruiters will approach you and fight to take you on board.
Another common trend which has been observed in the corporate sector is that getting an MBA also increases your salary. There is no growth but most of the companies value MBA graduates and tend to offer increased salaries and compensation packages to these individuals. Needless to say, MBA helps you in your professional growth as well.
Assessing your career goals and aspirations
To pursue MBA, you need not have pursued a graduation course in business (BBA). Whether you are a logistics officer, a software programmer, an operator, a lawyer or a businessman – you can still choose to pursue MBA and get the skill edge you need to surge ahead. However, you should be clear about your career goals and not pursue MBA just because it offers better job opportunities and higher salaries.
Pursuing MBA is an expensive process which would also require efforts and time. So, take a step back and think – "why MBA" and how could it make a difference for you. After all, without a career goal and having realized your aspirations, pursuing MBA would be similar to following the herd.